How to Find the Right Product Engineering Company in Post COVID-19
Every crisis makes businesses stronger as the world cleans from those that have not created value or built good relations with customers. And it doesn't really matter whether you are a CTO of a Seed Startup, or an Enterprise Consultant – startup vendor management looks beyond the classical sourcing tasks. It explores how to establish strategic business models, drive growth by collaboration and create value for your product.
The most common stereotype whilst outsourcing is that people are primarily looking for the expenses to decrease.
Meanwhile, truly successful businesses view outsourcing services as a strategic partnership: like additional resources, deeper expertise, a pile of advice on smoother development (here's the first hint – do you only consider this as a way to save money? Think again!)

1. Be prepared and make the thorough company research
Before any solution can even be proposed, everyone needs to be on the same page as to what went wrong. This can be the most difficult part of the process because team's will be working with minimal data for most of the time. And anyone knows is that the part isn't doing what it's supposed to be doing. Similar to the discovery phase at the start of the project.
Each project is unique therefore a fix for one won't necessarily work for another. But a general technique is listing down the most probable causes for the failure and going through them one by one. The difficulty of this technique relies on the level of involvement that team's had on the project so far.
If they're the ones that wrote the code from scratch it shouldn't be too hard to do. If they're inheriting code from someone else, that complicates things a bit.
Here are some things you wanna ask before granting them with your project:
Do Founders have the startup-focused experience?
What do they know about scaling, traction, business models, various accelerators?
What is their size of the team? Are they too big or too small for you? How fast and in which way can they allocate and switch the team members for you? (is there a unified coding standards that would mean you're not depending on certain people in it?)
What is the technical leadership of the team? E.g. If the team has CTO, what is his/her philosophy? What's their coding style: CTO is a proponent of complicated systems and microservice architecture or develop software in favor of quick iterations?

2. Check up the team's experience
Successful IT partner has a solid base of technical knowledge within your specific industry. Establishing well-rounded selection criteria will help you to choose the most appropriate partner to meet your exclusive needs
Validate your vendors in a matching matrix score based on the experience of your industry, previous work with similar projects, the implemented key features, experience with your region, market, stack. It might look like this but should be narrowed to your specific needs and focus.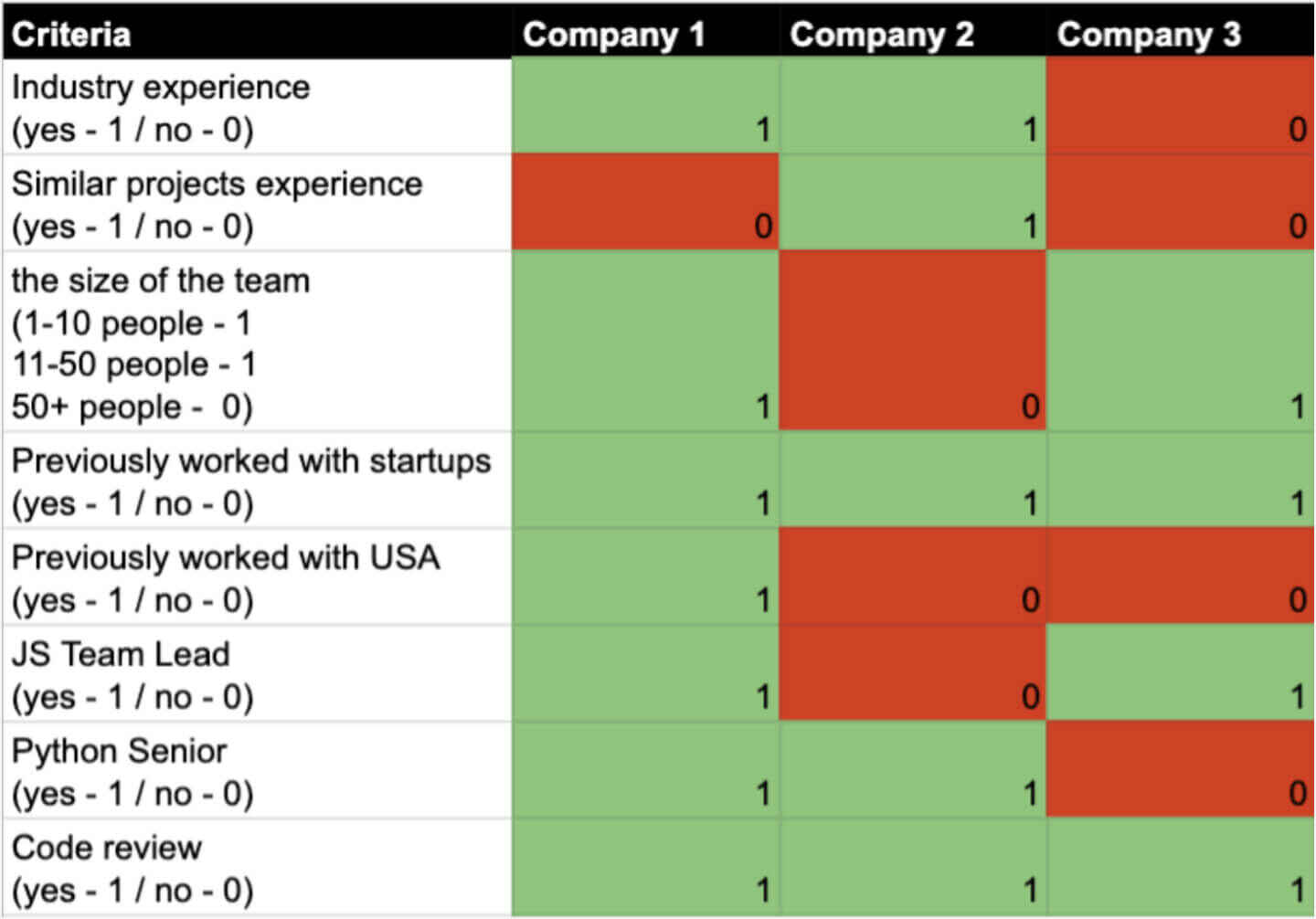 3. Be extra researchful
One of the most frequently overlooked aspects of strategic vendor choice is research on the messed up projects.
Companies usually don't achieve excellence at one fell swoop – and no game is won in the first 10 plays. As an old saying goes, a good company is not the one that does not mess up projects, but the one that learned how to deal with them. You would like to know how they coped with the most interesting and complicated issues. The most robust partnerships will exist when companies have values that are aligned and can be shared. Values are the underpinning that catalyzes a strong relationship and prevents all kinds of conflicts and messed up projects.


4. Bring them in your business
Strategic vendors, where they are genuinely strategic, should be a matter for cross-functional concern. You should invite relevant personnel, stakeholders into the meetings to discuss performance, opportunities and the future. Fruitful vendor collaborations can not only fortify your relationship but also deliver tangible benefits (value and clear plan) for both parties. Understand first, if the company is ready to think and brainstorm with you on new ideas, rather than just easing the W-2 tax form filling – it is the kind of strategic mutually beneficial approach you should be seeking for.
Do they offer any ideas on smoother and swifter development? Or any new features?
Will they be your best ally when you want to scale or attract the investors' attention?
What are their successes with previous partners: how they helped to iterate the product quicker or prepared for the conftest, accelerators and any other pitching event?
5. Find out if they have anything to lose in case of mess up.
Gathering data and reading reviews on various social media and other platforms can enable you to make informed decisions that will bring progress in selection. Analyze social networks, their Upwork accounts, Clutch, Facebook, Linkedin, any other platform. High-quality marketing enables your partner to increase brand awareness and capture profitable trends. If they lose this authority, they might completely lose the business.

Avoid during Startup Vendor Management Process
Well, everybody is of great acumen in advising what you should do while choosing the right software development outsourcing company. To be more progressive,  check the "STOP" list of what you hardly need to evaluate the vendor's proficiency!

1. Checking the code snippets and quality of code in the previous projects.
While it might seem highly counterintuitive, you can be easily deceived by the code taken from the latest project. Software development companies might take the snippets from the best projects or show you the code of another developer. Be careful here! It's better to interview the developer on your own and ask more product-specific questions.

2. Having the main selection criteria – technical versatility.
The company might be of utmost reputation in terms of development and technical skills. In fact, they could have previously been working with the big marine companies, but won't have laser focus experience with the startups. Thus, there will be lingering uncertainty and increased risk in understanding and management no matter how rapidly the company dives in the project.

3. The amount of Senior Developers.
Senior Developers working on your early stage project could play bad jokes. In our experience, what differentiates senior developers from junior and mid-level ones is how they use skillsets and approach problems. 
The skills used by a senior developer in a small startup aren't the same as those used by one in a big company — there are a few clear qualities that all experienced software folks with a "senior" title have. That's definitely a plus, when time spent in the deep end lends itself to an intuitive knowledge of where problems will occur 10 steps down the line. But very often, Seniors are not able to produce quick MVPs and POCes.

Takeaway
To sum everything up regarding choosing the right software development partner, outsourcing might be one of the biggest return on investments during postcoronavirus period. Given how the world has finally believed in remote work and practiced it, we're brave enough to assume that this should be a more and more usual scheme for products all over the globe. 
Take the time you need to find a startup development outsourcing partner that is effective and supportive of real collaboration. Put this as your goal and you won't ever doubt such a decision.
Remember, your vendors are business leaders just like you, and a good relationship benefits both. 
Care to choose the right software outsourcing vendor, on considering overall value and the potential for a long-term relationship will create (not even bring, cause that's passive and business is everything but "passive").
Do you want to start a project?
Drop us a line for your project thoughts or for sharing the news about your company. Yes, we check this mailbox frequently!