We at WeSoftYou understand the importance of finding the right banking platform for your business needs. In today's digital world, having a
reliable and secure banking platform
is essential for smooth financial operations. In this article, we will compare two popular banking platforms – Railsbank and Moov – to help you make an informed decision.
Understanding the Basics of Banking Platforms
Before delving into the specifics of Railsbank and Moov, let's start by understanding what banking platforms are all about. A banking platform is essentially a
digital infrastructure that enables businesses
to offer financial services to their customers. It provides a range of functionality including account management, payments, transactions, and compliance. Banking platforms have revolutionized the way businesses operate in the financial industry. They have streamlined processes, reduced costs, and improved customer experiences. With the advent of technology, businesses now have access to a wide array of banking platforms that cater to their specific needs and requirements. Both Railsbank and Moov excel in these aspects, but they do differ in certain ways. Let's explore each platform in more detail.
What is Railsbank?
Railsbank is a global banking and compliance platform that offers a wide array of financial services. It provides businesses with the tools and infrastructure necessary to
create and manage financial products
. Railsbank's platform is highly customizable, allowing businesses to tailor their banking services to meet their unique requirements. With Railsbank, you gain access to a network of banking and payment partners worldwide, streamlining your operations and ensuring regulatory compliance in various countries. The platform offers a comprehensive suite of features, including account management, payments, and transactions. One of the key advantages of Railsbank is its user-friendly interface. Businesses can easily navigate through the platform and make the most of its features without the need for extensive technical knowledge. This makes it an ideal choice for businesses of all sizes, from startups to established enterprises. Furthermore, Railsbank provides robust security measures to protect your financial data and transactions. It employs advanced encryption techniques and follows industry best practices to ensure the safety and confidentiality of your information.
What is Moov?
Moov is another robust banking platform that facilitates seamless financial services. It provides businesses with the necessary tools to
handle payments, account creation, and transaction processing
. Moov is known for its simplicity and ease of integration, making it a popular choice for startups and established businesses alike. Moov offers an API-first approach, enabling developers to easily integrate the platform into their existing systems. This allows businesses to leverage the power of Moov's features without disrupting their current workflows. The platform supports multiple programming languages, making it accessible to a wide range of developers. One of the standout features of Moov is its support for multi-currency accounts. This is particularly beneficial for businesses operating in international markets, as it allows them to seamlessly manage transactions in different currencies. Moov also provides advanced fraud detection and prevention mechanisms, ensuring the safety and security of your financial transactions. Moreover, Moov offers extensive documentation and developer resources, making it easy for businesses to get started and make the most of the platform's capabilities. The platform also provides regular updates and improvements, ensuring that businesses have access to the latest features and enhancements. In conclusion, both Railsbank and Moov are powerful banking platforms that offer a range of features and functionalities to businesses. Whether you are looking for a customizable platform with a global network of partners like Railsbank, or a simple and easy-to-integrate solution like Moov, these platforms can help you streamline your financial operations and provide a seamless experience to your customers.
Key Features of Railsbank and Moov
Now that we have an overview of both platforms, let's explore their key features and functionalities.
Railsbank's Unique Features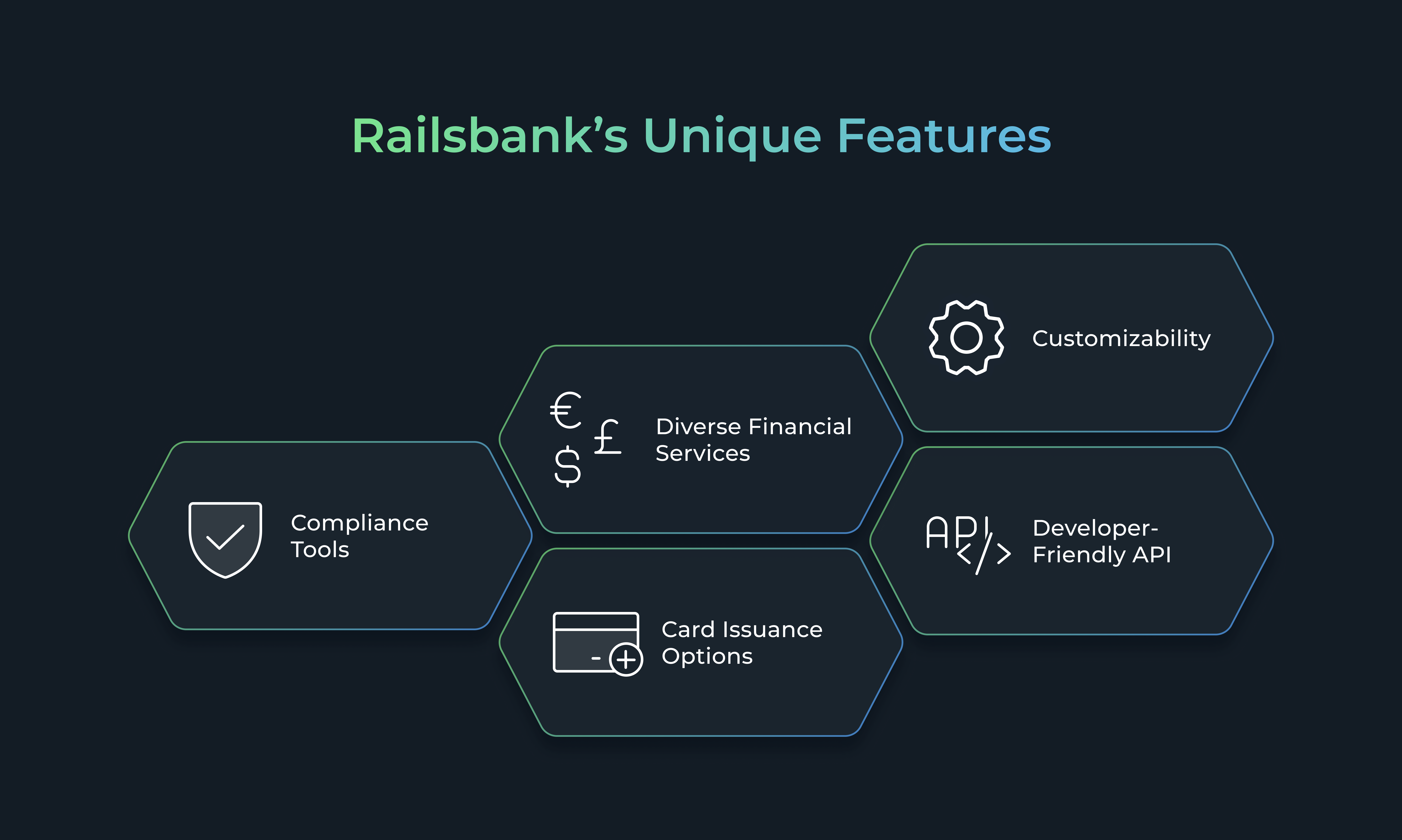 Railsbank prides itself on its comprehensive set of features that cater to the diverse needs of businesses. One standout feature is the ability to issue virtual and physical cards, allowing businesses to offer their customers convenient payment options. With the ability to issue virtual cards, businesses can provide their customers with a seamless online shopping experience. These virtual cards can be easily generated and used for one-time purchases, ensuring the security of the customer's payment information. On the other hand, the option to issue physical cards enables businesses to cater to customers who prefer traditional payment methods. Additionally, Railsbank offers robust compliance tools to ensure regulatory adherence. They have
integrated Know Your Customer (KYC) and Anti-Money Laundering (AML) checks
into their platform, streamlining the onboarding process for businesses and enhancing security. The KYC process is crucial for businesses to verify the identity of their customers and prevent fraudulent activities. Railsbank's KYC integration simplifies this process by automating the collection and verification of customer information, saving businesses time and resources. Furthermore, the AML checks help businesses detect and prevent money laundering activities, ensuring the integrity of their financial transactions. Moreover, Railsbank provides businesses with a range of financial services, including multi-currency accounts, international payments, and real-time transaction monitoring. These features enable businesses to operate globally, manage their finances efficiently, and gain valuable insights into their transactions. Furthermore, Railsbank's platform is highly customizable, allowing businesses to tailor their financial services to meet their specific requirements. Whether it's creating personalized card designs, setting transaction limits, or implementing custom rules for transaction monitoring, Railsbank offers businesses the flexibility they need to adapt to their unique needs. Lastly, Railsbank provides businesses with a developer-friendly API, making it easy to integrate their financial services into existing systems and applications. This API allows businesses to seamlessly connect their platforms with Railsbank, enabling them to leverage the platform's features without disrupting their existing workflows.
Moov's Unique Features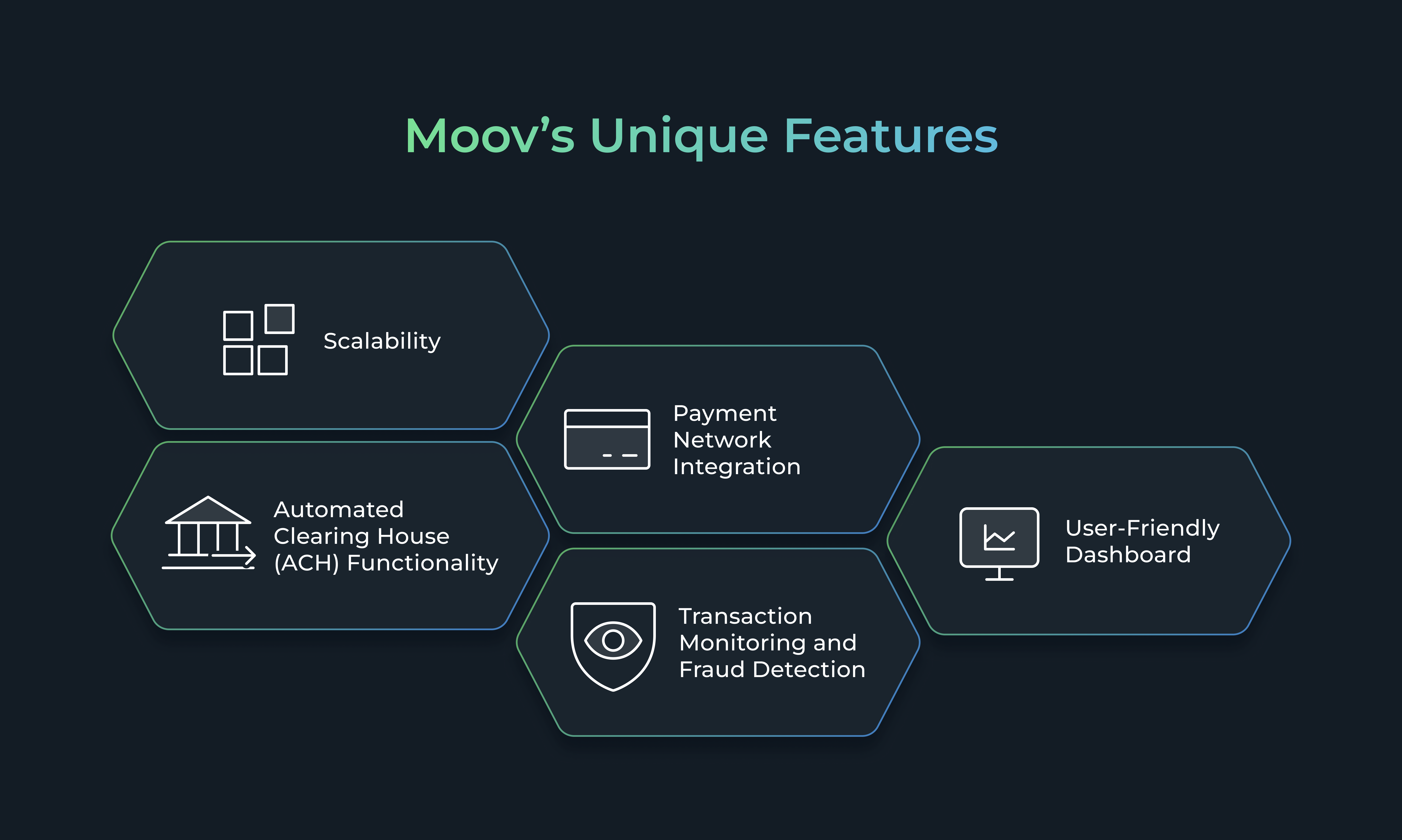 Similar to Railsbank, Moov offers a range of unique features that set it apart from other platforms. One notable feature is Moov's Automated Clearing House (ACH) functionality, which enables businesses to initiate and process electronic payments efficiently. With Moov's ACH functionality, businesses can streamline their payment processes by automating tasks such as fund transfers, direct deposits, and bill payments. This not only saves businesses time and resources but also reduces the risk of human error associated with manual payment processing. In addition to ACH, Moov also offers businesses the ability to integrate with various payment networks, including card networks, digital wallets, and peer-to-peer payment platforms. This integration allows businesses to offer their customers a wide range of payment options, enhancing convenience and customer satisfaction. Furthermore, Moov provides businesses with powerful transaction monitoring and fraud detection tools. These tools analyze transaction data in real-time, identifying suspicious activities and alerting businesses to potential fraud attempts. By leveraging these tools, businesses can proactively protect themselves and their customers from fraudulent transactions. Moreover, Moov's platform is built with scalability in mind, allowing businesses to easily handle high volumes of transactions as they grow. This scalability ensures that businesses can continue to provide seamless payment experiences to their customers, even during peak periods. Lastly, Moov offers businesses a user-friendly dashboard that provides them with valuable insights and analytics. This dashboard allows businesses to monitor their payment activities, track performance metrics, and make data-driven decisions to optimize their financial operations. In conclusion, both Railsbank and Moov offer a wide range of features and functionalities that cater to the diverse needs of businesses. Whether it's the ability to issue virtual and physical cards, robust compliance tools, or seamless integration options, these platforms provide businesses with the tools they need to manage their finances efficiently and securely.