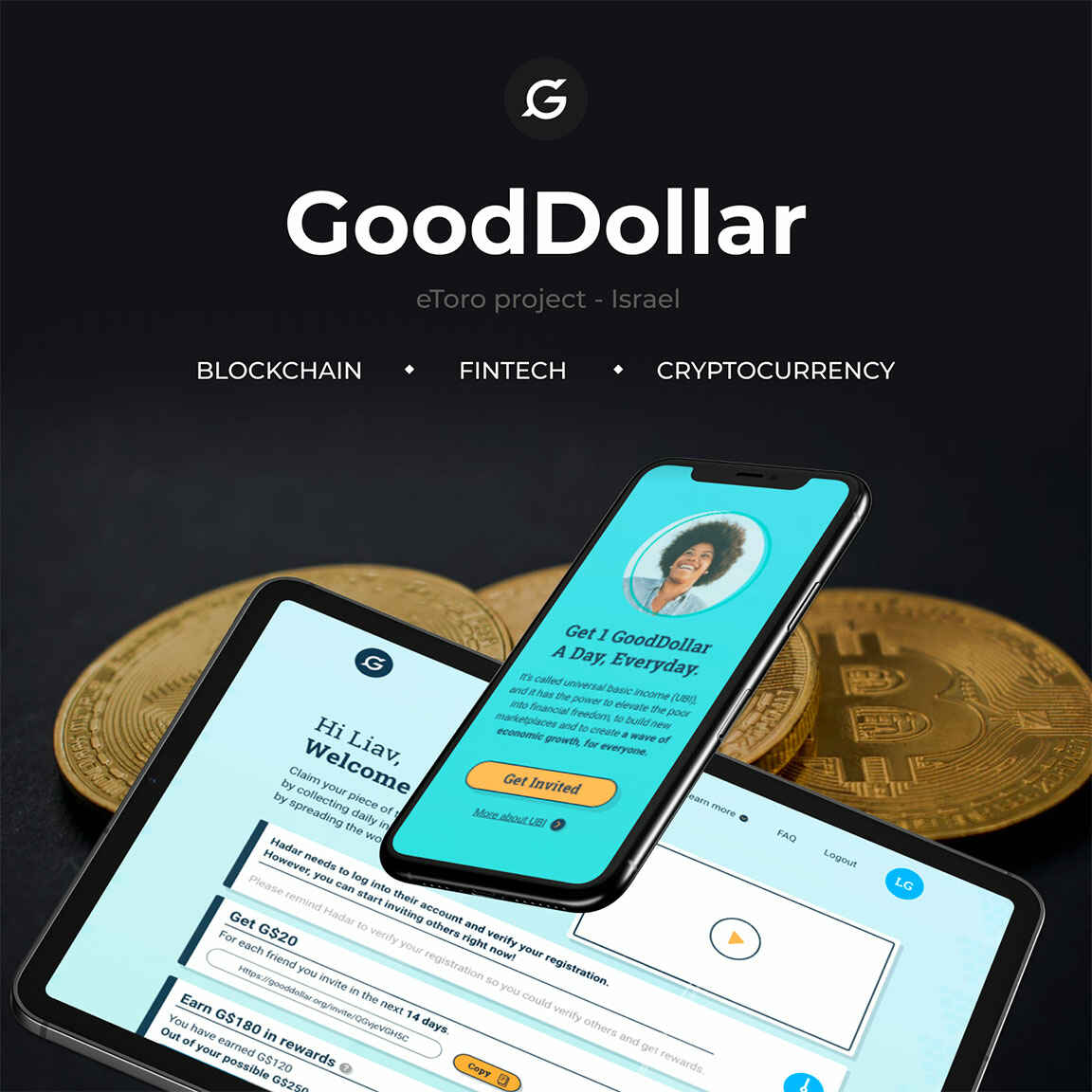 eToro blockchain-powered project geared towards a global distribution on the principles of the universal basic income.
The merging of blockchain technology, growing support for UBI, and the realization that wealth inequality could be reduced and may finally converge into a new global economic system that would give all humans the financial freedom to pursue their purpose and happiness.
Solution
integration with a cryptocurrency wallet
integration with 4+ marketing analytics tools
realtime user dashboard
custom invitation referral models
Team members involved
Full-Stack Developer, QA Specialist
Project idea
The idea was to build a new, global, open-source cryptocurrency – called GoodDollar – to distribute money using the principles of universal basic income (UBI). GoodDollar for – the ultimate purpose of reducing wealth inequality through blockchain technology.
Challenges and Objectives of the project
GoodDollar (one of the E-toro's projects of the well-known company) is a people-powered framework to generate, finance, and distribute global basic income. It provides a baseline standard of living and reduces wealth inequality through the creation of a universal basic income (UBI). The goal of the project was to develop a web application for new protocols and smart contracts to deliver a "trickle-up" value structure that places money in the hands of those who need it most. This is the reverse of the conventional trickle-down approach to capital, credit, and interest-bearing money. G$ coins are liquid and convertible to other cryptocurrencies and will be available to buy and sell directly via the GoodDollar GoodReserve smart contract.
Cooperation Process and Results
The client has contacted WeSoftYou to support a legacy product, that was acquired in the CIS. We allocated a dedicated team for this project to shape the solution to the client's pain.
We have successfully dealt with the legacy side and developed a brand-new website with the same functionality. Also, the WeSoftYou team has comprehensively implemented the new functionality into the main system and favorably modified the third-party part into new supported modules and components. We completely established Mautic (an analog of Google analytics) and worked on changes in the dashboard and all its functionality.
The dashboard was redesigned in a UX/UI-friendly way to attract more users and generate more revenue. Having only the legacy code and low/high fidelity wireframes, WeSoftYou has developed a 100% working prototype. By that, we've helped eToro is launching a new economic model and protocol for value generation and distribution as a universal basic income.