At WeSoftYou, our core philosophy is based on the principles of collaboration, trust, learning, transparency, predictability, and efficiency. We combine our broad technical abilities with our diligent creative process to deliver quality software solutions to our clients.
Our emphasis on quality has paid off, as we have recently been named a Top App Developer in Ukraine by Clutch!
What is Clutch?
Clutch is a ratings and reviews platform for B2B service providers. They rank companies based on work portfolio, market presence, and types of clientele.
Client feedback is also a big factor in the awards process. Clutch.co's leading companies have been vetted for quality and performance, and we are happy that WeSoftYou made the list.
What clients say about us?
One of our former clients was an IT company called Tika. WeSoftYou provided front and backend development for a web-based software product for Tika. They gave us 5 stars in all four of the categories!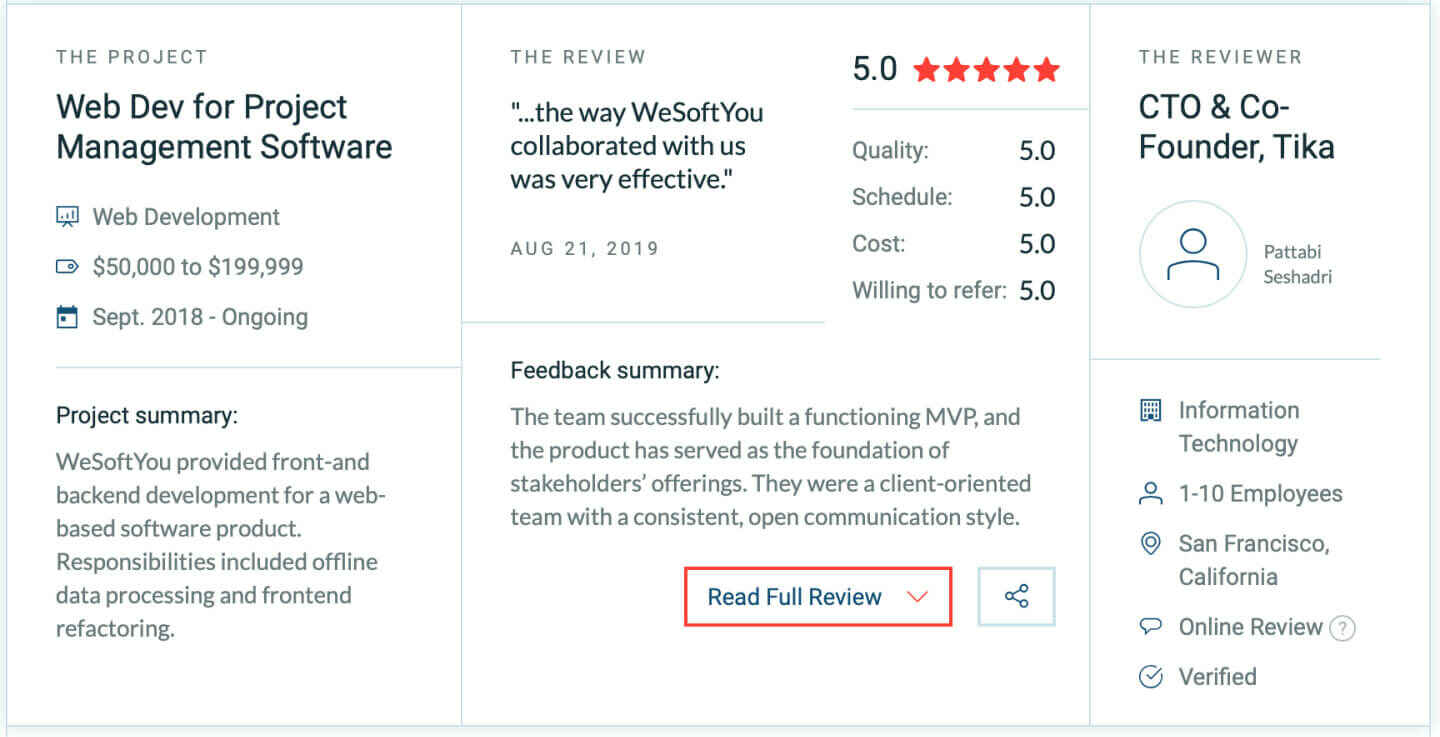 The CTO of Tika also said:

"The team at WeSoftYou successfully built a functioning MVP, and the product has served as the foundation of stakeholders' offerings. They were a client-oriented team with a consistent, open communication style."
Client feedback is so important to us. It helps us improve our development services with every new project, and also makes sure we can maintain client satisfaction with every project. We will always deliver an end product that the client is satisfied with, and will keep working with the client until we get there!
Who else writes about us?
The Manifest, Clutch's sister site, highlights top B2B service providers by showcasing their notable projects and former clients. WeSoftYou was listed on The Manifest, and you can go there to check out our diverse development technologies.
DesignRush, a leading B2B marketplace connecting brands and development agencies, recognized WeSoftYou as one of the Top Fintech Software Development Companies.
You can also go to another website called Visual Objects to identify the best Ukrainian firms for mobile app developers. We are excited that WeSoftYou is listed on Visual Objects, which is a place where prospective clients can go to visualize our mobile app development capabilities.
A mobile application can reinforce the brand value and catch the attention of your target audience. An effectively designed and developed app can help sustain the brand image and keep customers coming back.
Why us?
At WeSoftYou, we want to help you develop apps that customers will keep coming back to, so you can keep your target audience engaged.
We were founded by dreamers, and we understand that we can bring value to many start-ups all over the world with our app development capabilities. Being named a Top App Developer in Ukraine by Clutch helps us reinforce our dreams!
Contact us today about how we can make your business grow with a fresh new mobile app!