Although 2022 had been a year of new crypto winter inception, the realm of DeFi still saw many encouraging news. Most notably, they dealt with the general global adoption of digital assets and crypto-related technologies.
In a recent market study released by DappRadar, the number of people using decentralized apps, or DApps, daily increased by 396% over the previous year to 2.4 million. This is just 5.8% less user activity than in Q4 2021.
Given the growing rate of blockchain adoption and decentralized apps usage, dApp development looks like a thing to consider: not only are these applications trendy, but they also enable a range of benefits like enhanced cybersecurity and a range of exciting mechanics for your community, if to name a few.In this dApp development tutorial, we will tell you how to build a dApp, what technical nuances to pay attention to, and how long the entire process takes. We will take a look at the most popular dApp development mistakes. Having developed over 20 dApps and crypto projects, WeSoftYou will also share its experience in the sphere of decentralized apps, talk about related cases, and provide professional insights.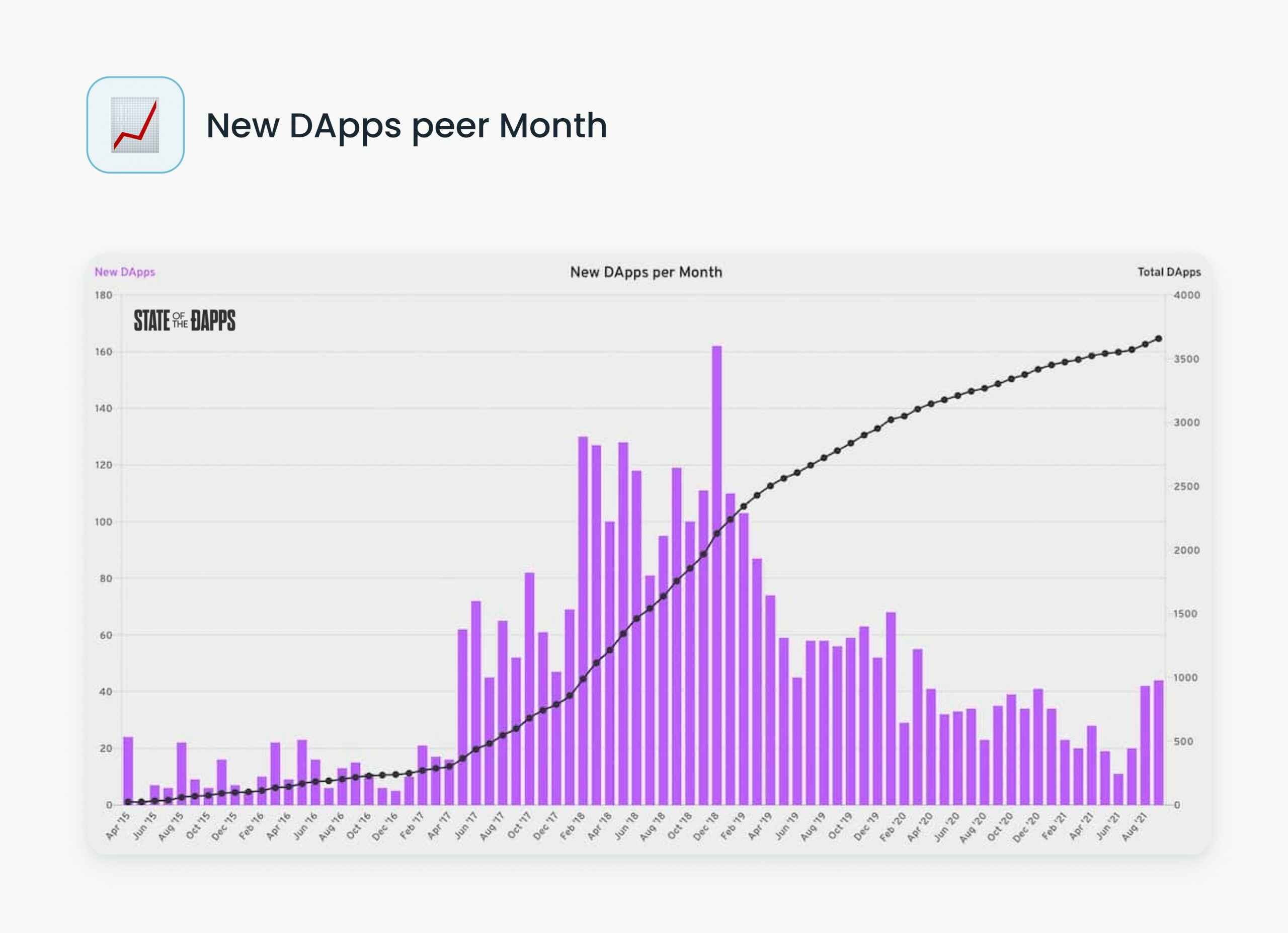 How to Choose a Blockchain to Build a dApp?
If you've decided to create a dApp for your company and are now looking for a blockchain platform, you might be perplexed by the variety of options. The most well-known and trustworthy ones will be listed below, along with their advantages and disadvantages so you can make an informed decision.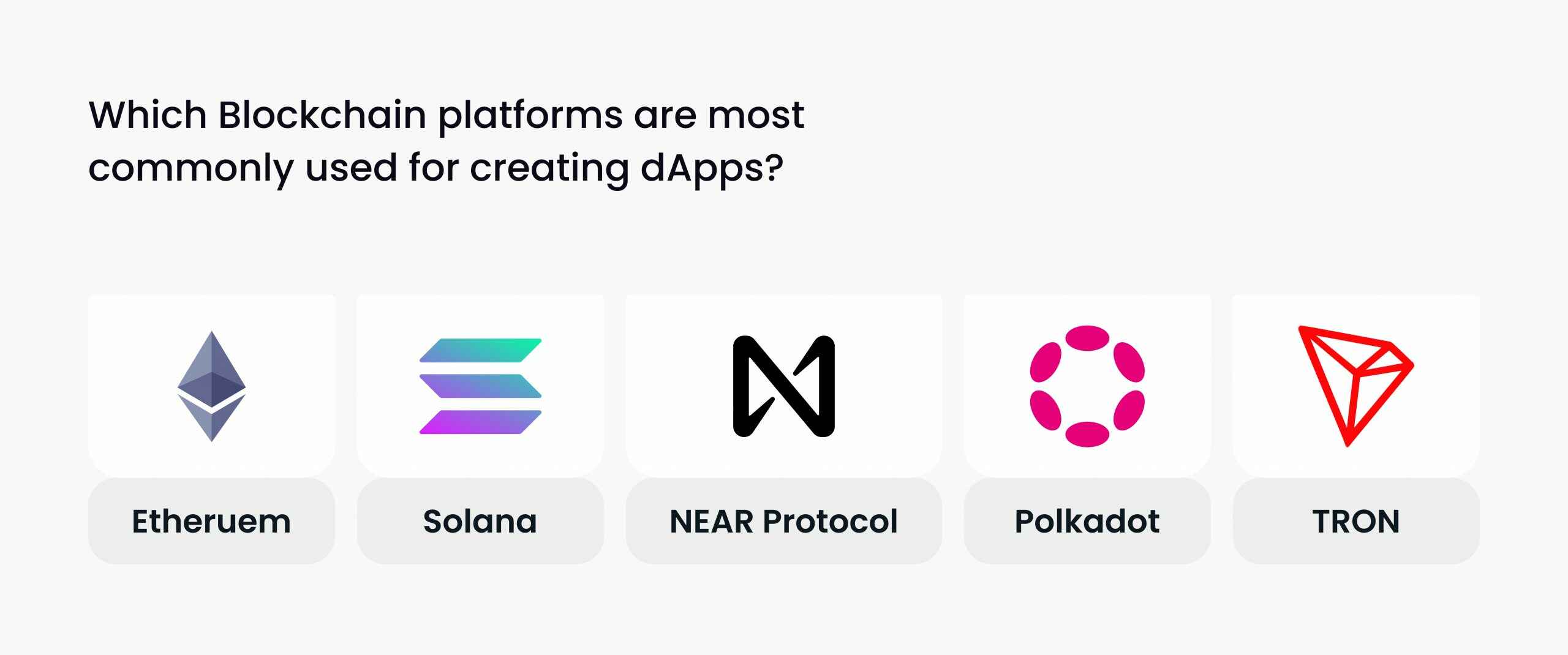 Ethereum
The blockchain platform that is most well-known is, by far, Ethereum. Because it has its own language, Solidity, and leverages the Ethereum Virtual Machine (EVM) to create SCs, it is regarded as the ideal platform for dApps. Besides, you won't have any trouble locating competent dApp developers who deal with this platform if you pick it.
However, the Ethereum network is overcrowded. For this reason, building dApp on it will entail future upgrades in development to cope with the scaling issues.
Solana
Another cutting-edge alternative for blockchain dApp creation is Solana, particularly if you're interested in DeFi products. Written entirely in Rust, Solana is quick and scalable enough to be utilized as a preferred dApp choice. It can handle thousands of transactions per second.
Because of the low number of validators, which is both Solana's carrot and a stick, it cannot boast a great degree of decentralization. If you need scalability and a seamless SCs operating experience, Solana could be your best option. However, you should be aware that it has a smaller user base than other, more well-known blockchain platforms.
NEAR Protocol
The key benefit of NEAR is its unmatched scalability, which enables it to compete with the most well-known platforms like Ethereum. This is why NEAR will be the best option for quick development or tight deadlines.
NEAR is incredibly versatile and can be scaled exponentially. Therefore, developers utilizing it for dApps may quickly produce the result. In turn, NEAR's architecture aids in overcoming the computing difficulties that plague its rivals.
Polkadot
Scalability, cross-chain connectivity, and common security architecture are just a few benefits of Polkadot. High transaction costs and poor TPS won't be an issue if you select this option.
Polkadot makes it simple to create dApps. However, connecting to other blockchains requires a separate bridge. Additionally, because Polkadot is still a relatively new blockchain, it might be difficult to locate skilled developers.
TRON
TRON (TRX) has specific protocols and its own coin. By choosing TRON for your dApp development, you have the chance to create a decentralized app that is highly effective, scalable, data-owned, and secure.
Another factor to consider is the substantial supply of skilled TRON developers on the labor market, as this ensures that you won't have any trouble finding the team to build your TRON-based dApp.
At the same time, TRON lacks sufficient security, which is inevitable for a platform that is genuinely decentralized.
dApp Core Features
Decentralized applications differ from classic web applications in several ways.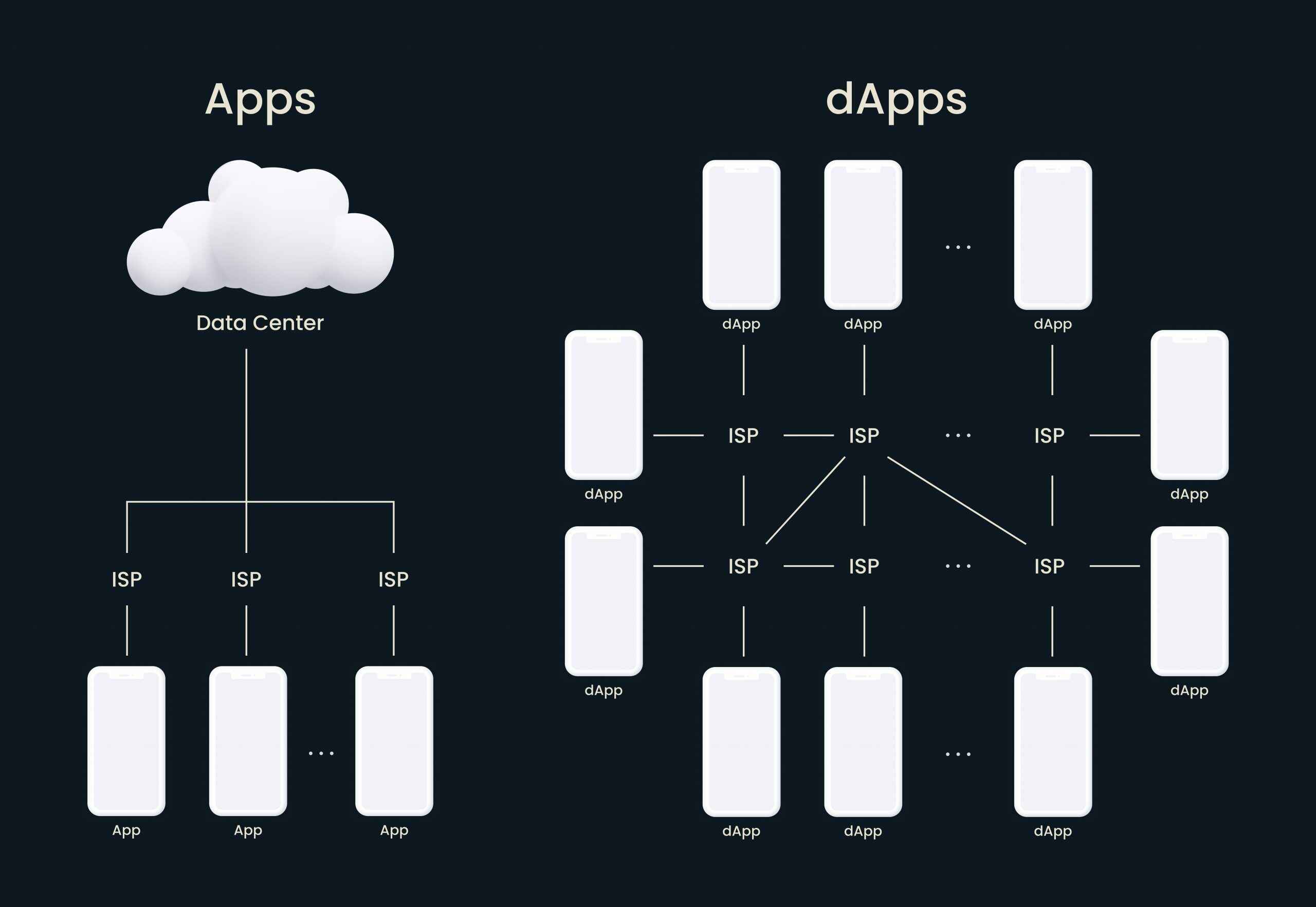 Cryptography
Blockchain consensus algorithms guarantee that the data kept on a blockchain is immutable and safe.
Open-source
In decentralized finance, open-sourceness means the majority of users' should reach a consensus on all necessary adjustments. For this, the codebase must be accessible to all users for review, which is what blockchain architecture enables.
Provide decentralized storage
All of the dApp's information is stored on decentralized blocks. Such architecture makes it bulletproof to hacking, as the hacker should have to grasp a large network of nodes to compromise the code.
Architecture of a dApp
A good dApp tutorial is not just about the features. Components-wise, dApp consists of four vital ingredients: blockchain, smart contracts, EVM (for Ethereum or related blockchains), and the front end.
Blockchain
In a nutshell, a blockchain is a distributed ledger made up of ever-growing lists of data points (blocks) that are safely connected by cryptographic hashes. Each block includes transaction information, a timestamp, and a cryptographic hash of the one before it.
In terms of dApp architecture, you should pick a certain blockchain to build the app on.
Smart Contracts
Smart contracts are algorithms that provide data about digital assets, bridging your ideas and their technical embodiment. Serving as the veins of blockchain, these algorithms enable scalability and diversity of applications.
It's namely smart contracts that make blockchain technology flexible, scalable and appealing. They enable numerous mechanics (for instance, lending-borrowing protocol) and token features (at first, each token is written as a smart contract).
Ethereum Virtual Machine (EVM)
A computing engine called Ethereum Virtual Machine (EVM) functions as a decentralized computer with millions of applications that may be carried out. It serves as the virtual computer that underpins Ethereum's whole organizational framework. The EVM's job is to provide a few new features to the blockchain so that users of the distributed ledger encounter fewer problems.
Front-end
Like in any other web-based product, the front-end part is the app's UI/UX design and what the user interacts with. Great front-end development is about providing a genuinely user-friendly, eye-catching interface and properly communicating with smart contracts on the back end.
How to Choose Tech Stack for Building a dApp
Let's see what's the most popular tech stack solution to build a dApp.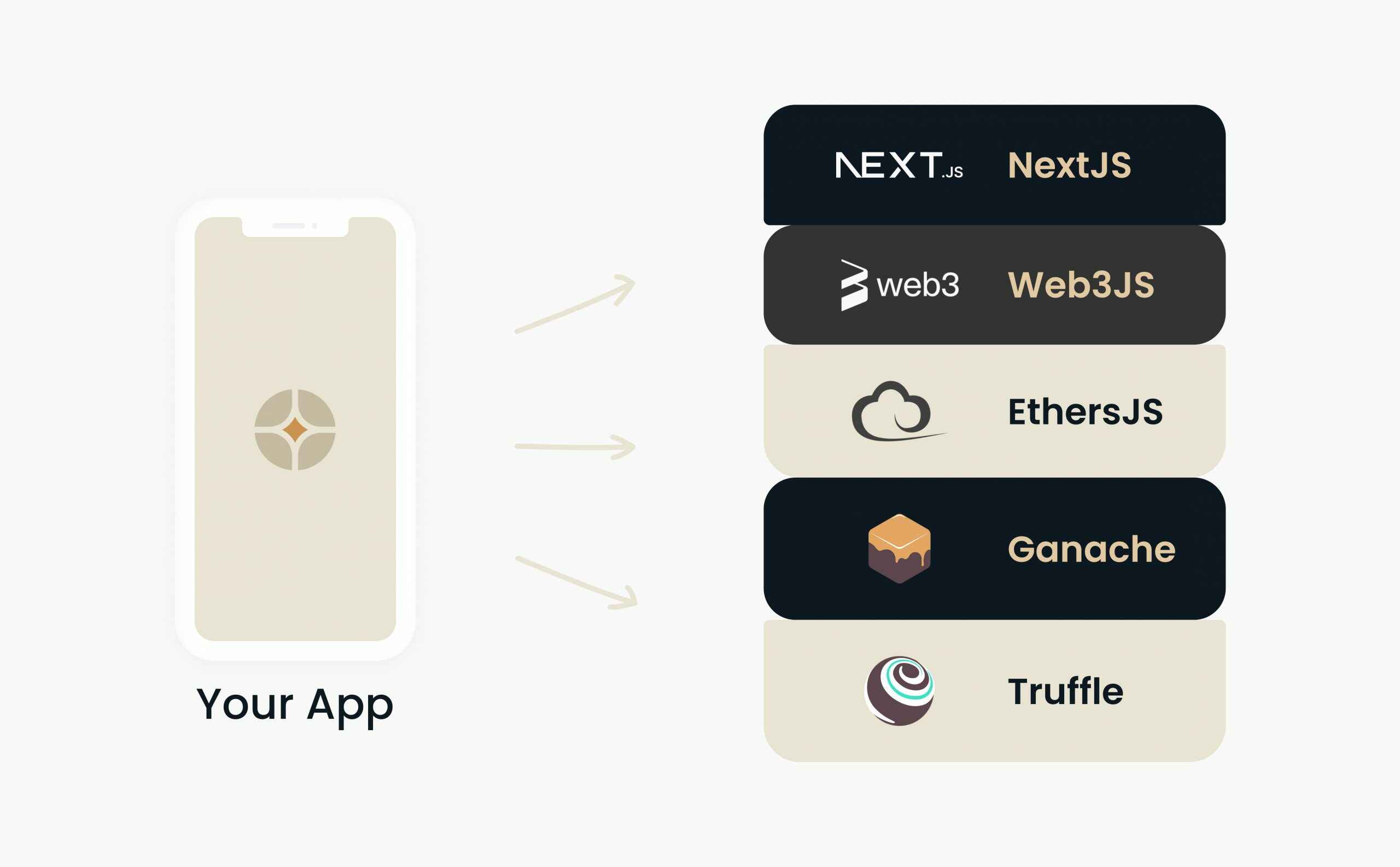 NextJS
As a framework, NextJS is pretty versatile. It's a great compromise between getting started quickly and providing with the necessary resources to build quality websites without using too many third-party programs.
Web3JS
One of the most important libraries for developing decentralized apps. It serves as a bridge connecting the website and the blockchain. Almost all blockchain projects, including those using Solana, Polygon, and Ethereum, employ it.
EthersJS
A friendlier and higher-level library than Web3JS is EthersJS, which is frequently used for similar purposes. Because it is stylish and simple to use, it is a go-to library of many senior developers for creating Javascript-based blockchain apps.
Ganache
Ganache is a tool for creating local smart contracts. It enables you to build a local blockchain without connecting to or deploying to a testnet. By providing you with access to more than ten addresses, it also aids with Truffle testing. Ganache is available as both a CLI and GUI tool.
Truffle
Similar to Ganache, Truffle is a framework most frequently used for smart contract development. With over 1.5 million downloads, Truffle is regarded as the most popular tool for developing smart contracts with EVM.
dApp Development Process and Timeline
Overall, it takes five stages to make a dApp.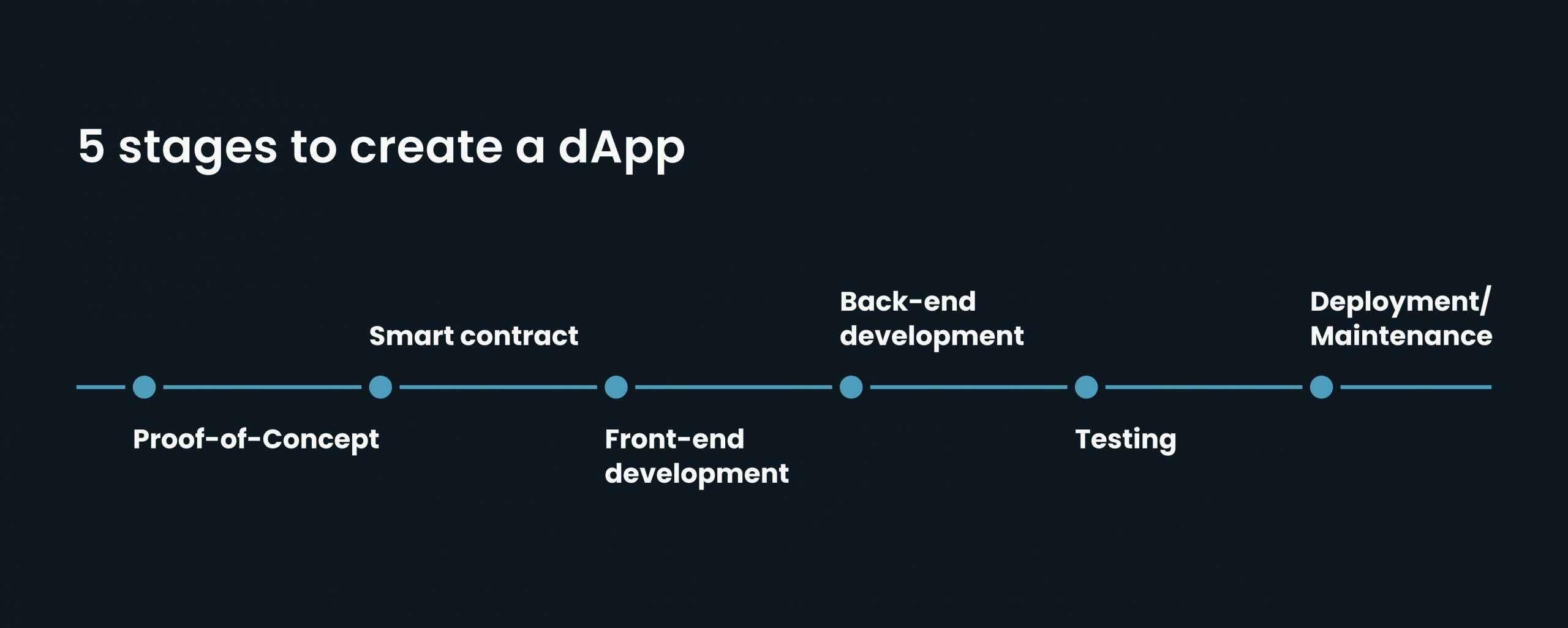 Proof-of-Concept
In the POC stage, which covers a conceptual design or a prototype, the team tests the idea's viability. The developers outline several project-related aspects.
Smart contract
Developing a smart contract constitutes the lion's share of an entire dApp development. In addition, developers choose a consensus algorithm, issue the token, establish a platform, and finish other tech activities.
On average, developing a smart contract takes from 2 weeks to 2 months.
Front-end development
Front-end is a part of the digital product the user interacts with. This stage covers the application's UI/UX design, user flow, and user stories. A top-notch front-end has to be both understandable for the user and have a robust connection with the back-end.
Developing front-end together with design and code takes up to 2 months.
Back-end development
The component that resides on the selected blockchain network and communicates with the front-end to perform essential functions is known as the back-end. Smart contracts that run on the blockchain are the main ingredients of any dApp's back-end.
Usually, the backend development is the most labor-extensive: together with smart contract development, it can take up to 3 months.
Testing
After the process of architecting a decentralized application is complete, the time comes to ensure that the code is reliable, consistent, and maintainable. At this stage, optimization is carried out, and the team deals with all the remaining issues.
In terms of timeline, testing takes one to three weeks.
Deployment/Maintenance
The final release stage is when the solution migrates from the testnet to mainnet. After launch, the technical team usually provides support: fixes bugs, adds new features, and provides support upon request.
How Much Does It Cost to Create a dApp
The total cost of building a dApp, as well as the timing, always varies depending on the product type. Let's review several most popular dApp types more closely in terms of gross costs.
| dApp type | Cost | Development Duration |
| --- | --- | --- |
| Decentralized Autonomous Organization (DAO) | $10,000 to $30,000 | 1 to 2 weeks |
| Cryptocurrency Exchange | $50,000 to $190,000 | 4 to 5 months |
| Cryptocurrency Wallet | $50,000 to $200,000 | 6 to 9 months |
| NFT Marketplace | $55,000 to $125,000 | 8 to 9 months |
The time and cost estimation is a complex factor combined from the team size, desired functionality, and whether it's an MVP or a custom product. As any project should be estimated individually, feel free to address WeSoftYou for more precise calculations.
3 Tips to Avoid Possible Pitfalls When Making a dApp
There always are processes a development team can optimize to create a dApp with less fuss. Let's go through most time- and energy-saving practices of decentralized app creation.
Outsource smart contract development offshore
With the growth of the IT and blockchain industries as well as remote work, each competing company's position in the worldwide market became increasingly clear. Countries like Ukraine, the Philippines, Poland, Bulgaria, and others provide extensive talent pools while offering affordable pricing. Save your budget and get a high-quality product.
Consider less popular blockchains
Ethereum is an understandable and reliable choice, both in terms of architecture and finding skilled specialists. However, you can get more from other L2 blockchain alternatives. Don't hesitate to conduct proper research to benefit later. For instance, Solana and Polkadot are useful for developing any NFT-related applications (such as marketplaces or P2P games), whereas Tron is superior for creating financial applications and cryptocurrency wallets.
Build and test MVP before starting tech work
Before you even begin writing code, list the requirements for the MVP, prototype, and QA testing. Not only will you avoid bugs later on in the process if you do this but you'll also tune your market proposition and save thousands of dollars on marketing. You will also have a chance to start getting returns quickly.
WeSoftYou Experience
WeSoftYou can create a dApp that is high-quality, safe, and can offer sophisticated financial services.
The National Digital Asset Exchange (NDAX) is a Canadian-based digital asset exchange that works with both individuals and organizations. It was WeSoftYou's responsibility to seamlessly link the exchange's user interface with the banking system in order to provide fully regulations-compliant cryptocurrency trading.
To guarantee that novices can use the NDAX app quickly and smoothly, we created it using best UX practices. At the same time, professional, experienced traders get access to complex features and trading tools.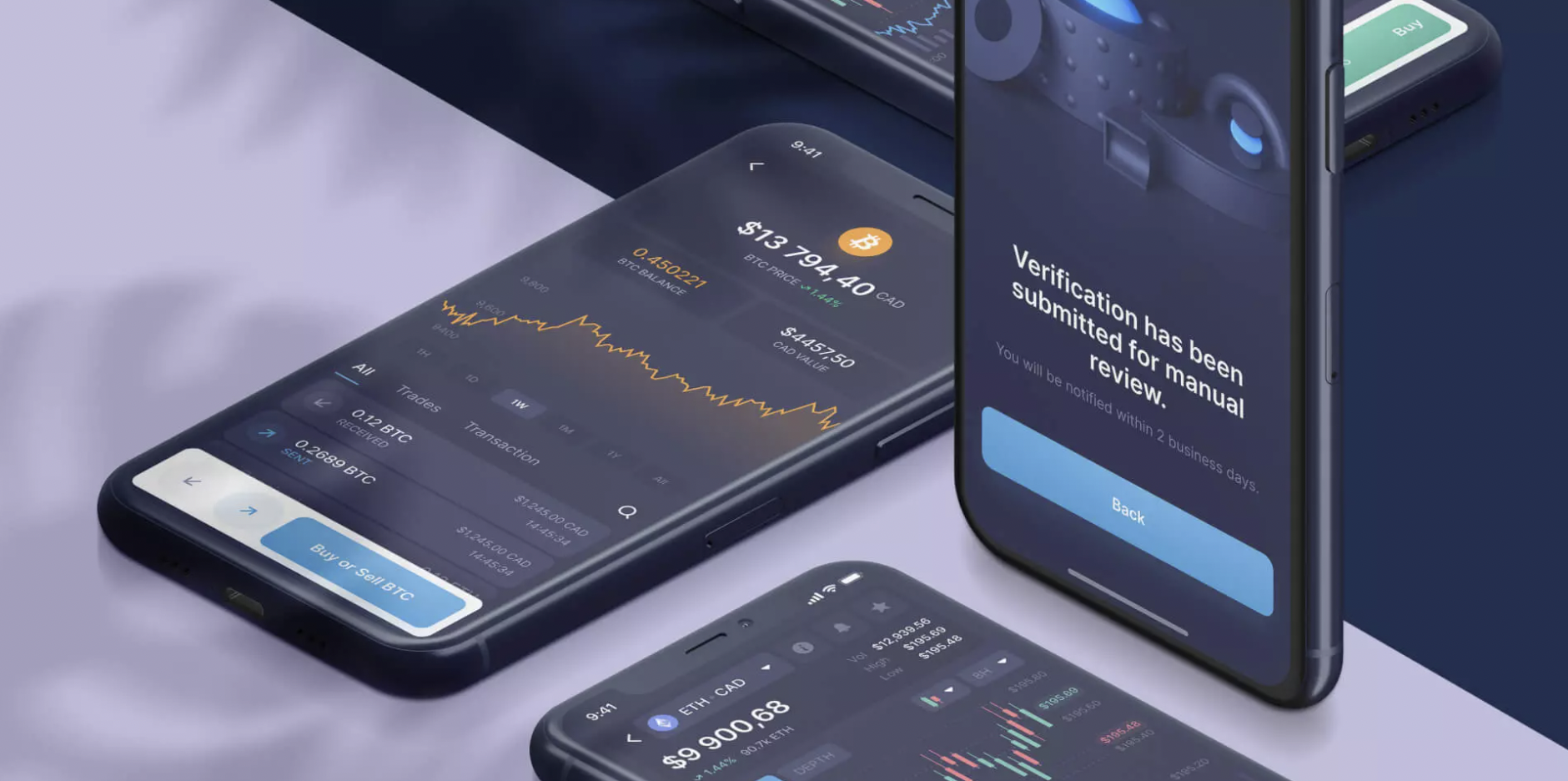 CreatoRanch is the first and only platform to bring the NFT marketplace and a social network together, which is the unique idea of the WeSoftYou team. We developed a versatile mobile app built for creators, curators, and collectors.
While creating a dapp for CreatoRanch, we set a goal to build user-friendly software. Anybody with social media experience should have been able to explore, publish, make lists, and conduct transactions. As a result, we introduced a fully user-centric NFT marketplace/social media hybrid.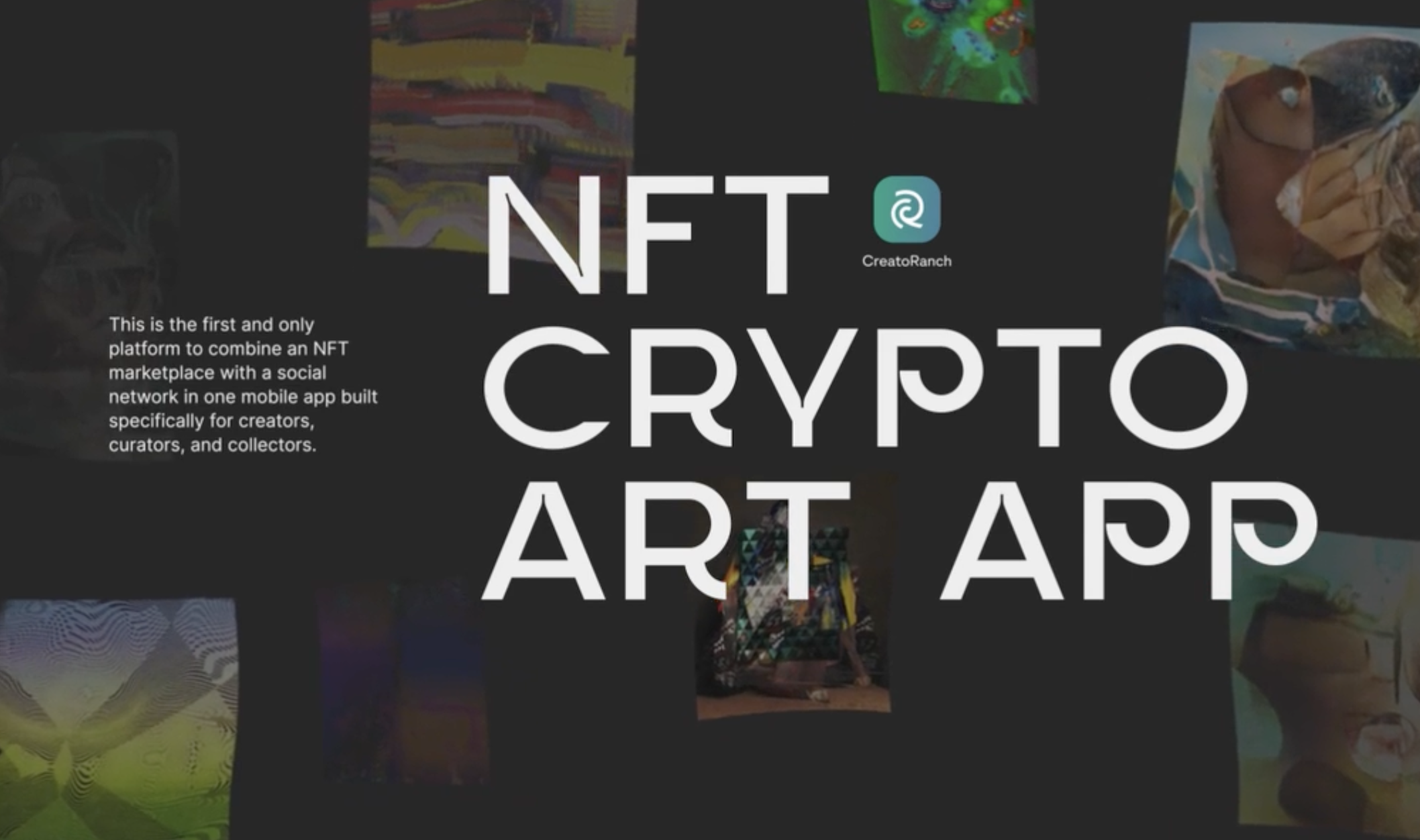 A non-profit organization called GoodDollar is working to implement new blockchain technology to provide basic income in a scalable and sustainable way. GoodDollar has created a wallet that lets anyone with an internet connection sign up and claim a tiny daily income in G$ coins because it is a people-powered framework.
To establish a "trickle-up" value structure that puts money in the hands of people who need it most, WeSoftYou designed a web application for new protocols and smart contracts.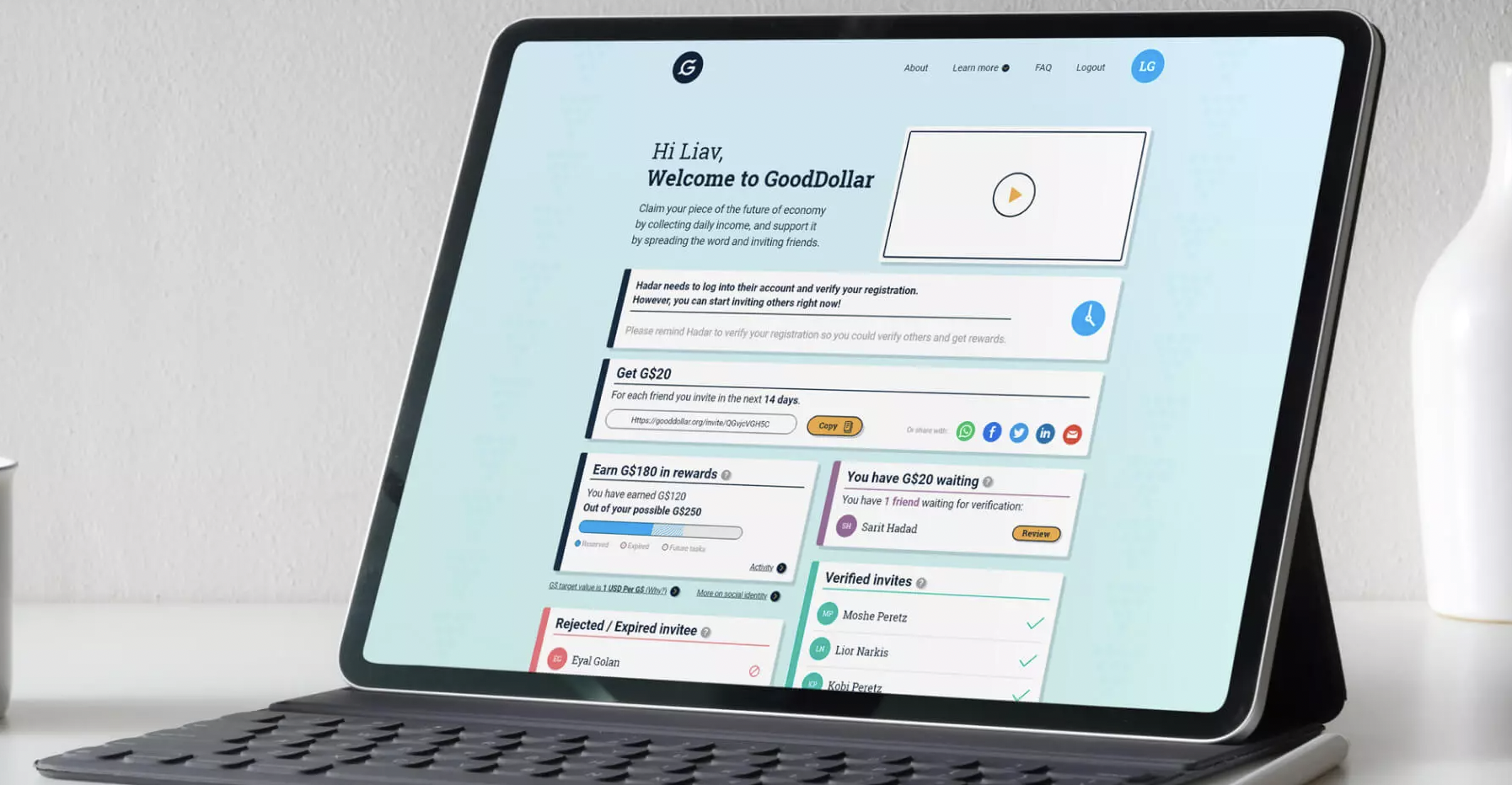 Conclusion
No matter what industry your company operates in, blockchain may transform it. While developing a dApp, it's essential to design Web3 products correctly if you want to reap the greatest benefits from them. You should only entrust your bespoke blockchain development to seasoned pros since different enterprises require different blockchain designs.
WeSoftYou can be your blockchain app development company. Our turn-key dApp development services help businesses achieve their goals by leveraging solutions with enhanced performance that improve customer experiences on web and mobile platforms. Get in touch with us to talk about your next great idea.
FAQ
What blockchain to use when building a dApp?
To successfully build dApps that are functional and scalable, it's necessary to pick the correct blockchain network. The first rule when making a pick would be to navigate by your product's purpose and the importance of scalability. For instance, building any NFT-related application (like a marketplace or P2E game) would be great with Solana and Polkadot. At the same time, financial apps and crypto wallets will be better off if built on Ethereum or Tron.
How long does it take to build a dApp from scratch?
You will develop a dApp within an average timeline of 4 to 9 months. The exact time always depends on a specific decentralized application. For example, developing a crypto exchange takes 4 to 5 months, an NFT marketplace requires 4 to 8 months, while to build a crypto wallet, you may need from 6 to 9 months of work.
What tech stack to choose when making a dApp?
Your software architecture should serve as a guide for selecting your tech stack. You have to take into account technologies that support both static and dynamic component setups. If you do, the app will perform smoothly despite the growing number of users or new interesting features being added.