According to a J.D. Power survey, only 44% of US banks meet clients' demand for round-the-clock support and finance consulting. If you want to build your own banking app, satisfying both business and customers, you should carefully consider new technologies and market trends.
A good banking application can significantly optimize internal business processes and reduce operating costs. The client gets the opportunity to keep abreast of their financial situation, improve their budgeting, and receive adjacent services in one place.
WeSoftYou develops secure and reliable fintech software based on a deep understanding of the industry and compliance with all regulatory requirements. We use advanced technologies to create banking applications, blockchain-based solutions, digital wallets, KYC platforms, etc.
In this article, we want to share our experience and discuss e-banking trends, the main application types, and core and additional features. You will also learn about the stages of mobile banking app development, what technologies to use, and how much it will cost.
Mobile Banking App Market Overview
The global mobile banking market is snowballing, projected to reach $1.36 billion by 2028. And the compound annual growth rate (CAGR) will be 11.9% compared to the previous year.
Among the most significant online banking trends are:
1. Open banking allows third parties to access customer banking data (with their consent) and create products based on them. As a result, the financial sector is rapidly developing, new companies appear, and consumers receive first-class experience using one-stop solutions.
2. Neobanks are digital banks that do not have physical representations. Customer service has moved online, providing round-the-clock service, lower transaction fees, real-time analytics, the ability to buy and exchange cryptocurrencies, and much more.
Despite stereotypes, neobanks are interesting not only for Gen Z and millennials. According to the Finder survey, about 24% of Gen Xers, 16% of boomers, and even 13% of the silent generation already have a digital-only bank account.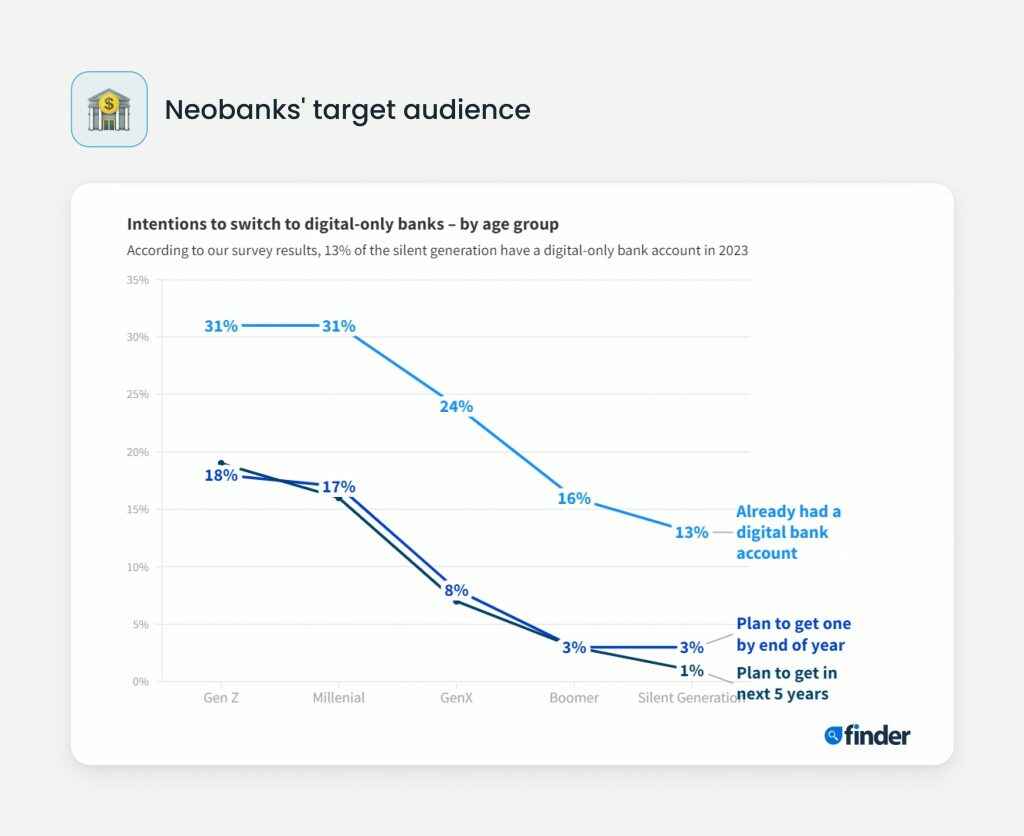 3. Blockchain eliminates the need for intermediaries, reducing the transaction time to minutes. At the same time, the whole process is transparent, and the data cannot be changed or faked. PwC predicts blockchain potential will reach $1.76 billion by 2030, and China and the US will win the most.
To learn more about creating DeFi products and hiring a blockchain developer, read our previous articles.
4. The Buy Now, Pay Later (BNPL) model allows customers to get products and services now and pay later, splitting the amount into multiple payments. Users can do it right on the platform without visiting a bank and applying for a loan.
It is a win-win-win solution as customers instantly receive the necessary goods and services, companies increase sales, and banks earn on interest rates.
5. Today, AI has a significant impact on the banking industry through:
Chatbots, reducing operating costs and improving customer service
Advanced anti-fraud solutions, minimizing the risks of unauthorized access and fraud
Real-time reports and analytics, allowing see current data and predict future
Speaking about game-changers in the banking industry, it is essential to note that:
Brazilian NuBank is the most popular neobank with 56 million users
Chime and Dave are the most used neobanks in the US
Revolut is the most valuable private neobank valued at $33 billion
Why You Need a Custom Mobile Banking App
The banking application is beneficial for both the business itself and its customers:
Reduced Costs
Banking applications reduce the cost of customer service because companies do not need to rent physical offices and hire a huge staff. Also, you can optimize many processes and reduce the number of errors. And the price of a mobile transaction is only 0.08 cents, compared to 0.85 cents at an ATM and $4.00 at a branch.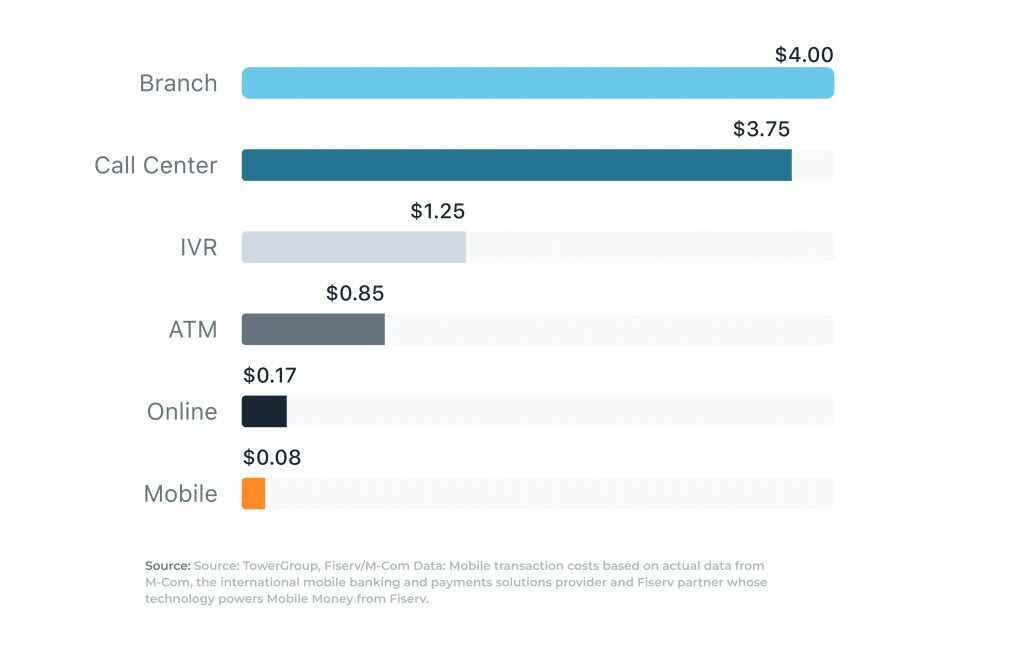 Extra Security
In netbanking, you can provide a high level of security against internal fraud, data leaks, and theft through multi-factor authentication and encryption.
Improved Customer Experience
The mobile application offers round-the-clock access to all financial services through a chatbot. The latter helps check the balance and recent transactions, pay the bills, and contact customer support. AI and ML allow data collection and analysis, providing more personalized service.
Advanced Marketing
The application is another channel for interacting with customers, informing them, and strengthening your relationship. Even advertising offers in the app are perceived more favorably than direct sales in bank branches. In addition, banks can partner with shops, restaurants, cinemas, and other businesses to offer bonuses and discounts.
Main Types of Mobile Banking Applications
There are five main types of banking applications:
NFC
Near Field Communication (NFC) is a short-range wireless communication technology that allows two devices with a chip to exchange information.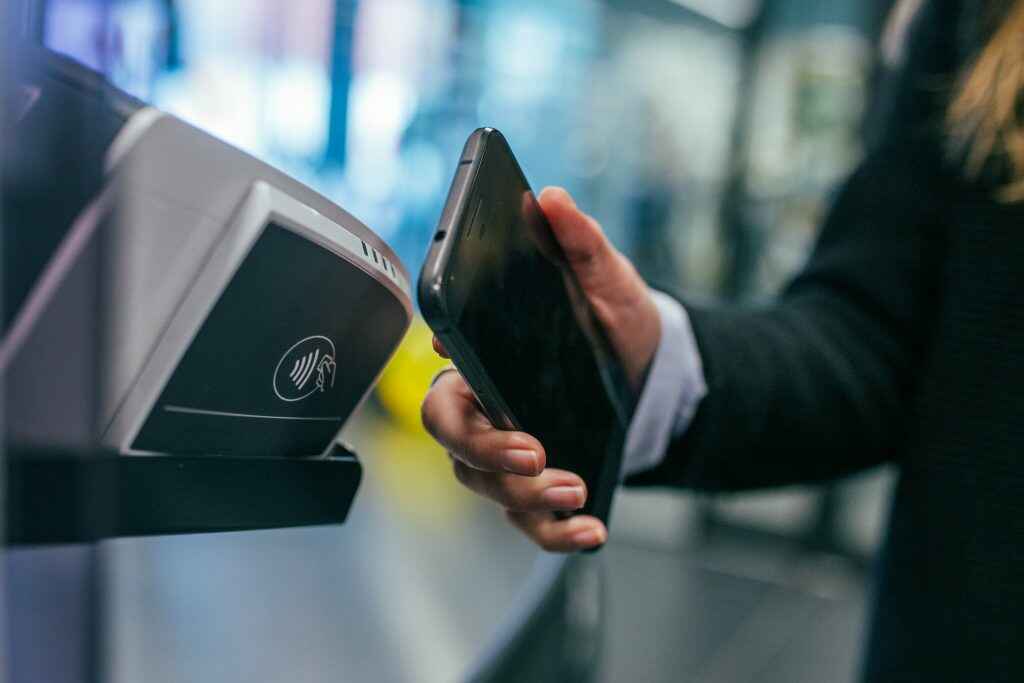 It enables users to make fast contactless payments by placing a phone or smartwatch on the terminal or helps quickly verify the client's identity when accessing banking services. NFC technology ensures transaction security because the data is encrypted and cannot be faked.
QR
Quick Response (QR) is a 2D barcode scanning with a smartphone or QR code reader. It helps make fast mobile payments, provides discounts and other marketing incentives, and verifies an identity to log into an account or complete a transaction.
Digital Wallets
A digital wallet, usually integrated with NFC, is a software application that stores payment information from a credit card or bank account. It allows secure digital transactions using mobile devices and makes it possible to use loyalty programs and other special offers.
Internet Payments
Internet payments provide customers with a fast and safe way to pay for goods and services and allow companies to promote international trade.
Modern banks using Mastercard, VISA, American Express, and Discover payment systems enable users to link their cards to their PayPal and Stripe accounts. Some companies even implement a rewards system, allowing where to pay for goods with internal points via PayPal.
Transaction Management
Many apps provide mobile transaction management without visiting a physical branch. Users can view the history of transactions, filter them by time and type, generate reports, and analyze their spending.
Best Examples of Successful Mobile Banking Apps
What functionality is offered to users by the most famous banks? Let's figure it out.
Bank of America Mobile Banking App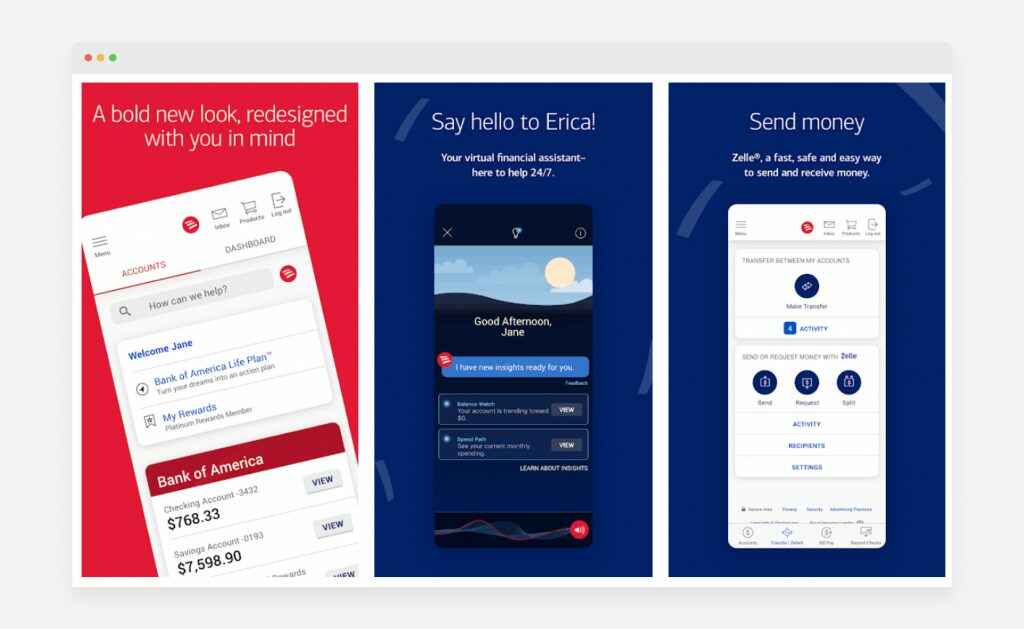 Bank of America is one of the most popular banking apps in the US, downloaded over 50 million times on the Google Play Store alone. Its Life Plan feature, allowing users to define, prioritize and achieve financial goals, won the 23rd annual Banking Tech Awards in the Best Digital Initiative USA category.
The app allows the bank to increase customer engagement by providing features as:
Account management
Access to FICO bank accounts
Paying bills, including regular payments
Receipt scanner
Cashback
Search for ATMs and branches
Advanced encryption and security measures
Contactless payments
Life Plan with goals prioritizing
Capital One Mobile App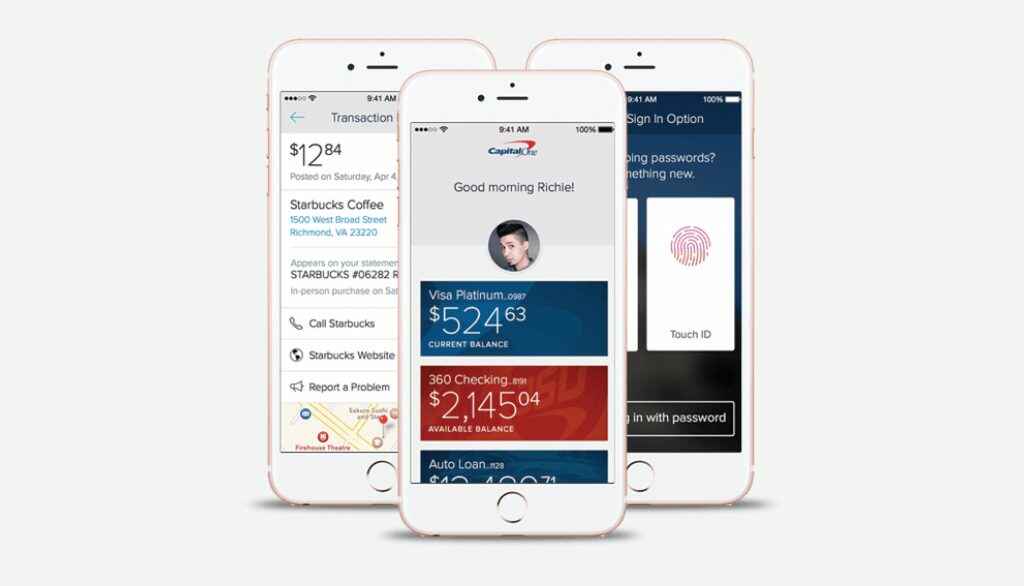 Capital One Mobile is a feature-rich mobile banking application with a high level of service personalization and a virtual assistant called Eno. According to the latest research by JD Power, Capital One is the top US bank in terms of mobile banking app satisfaction.
Capital One Mobile app allows users to:
Manage account and credit card
Deposit checks using the camera
Get help using Eno assistance
Search for the nearest ATMs and branches
Make contactless payments
Receive personalized rewards and benefits
Find out their credit score and get tips for its improving
Sign in with Touch ID and SureSwipe
Use Apple Watch
Chase Mobile App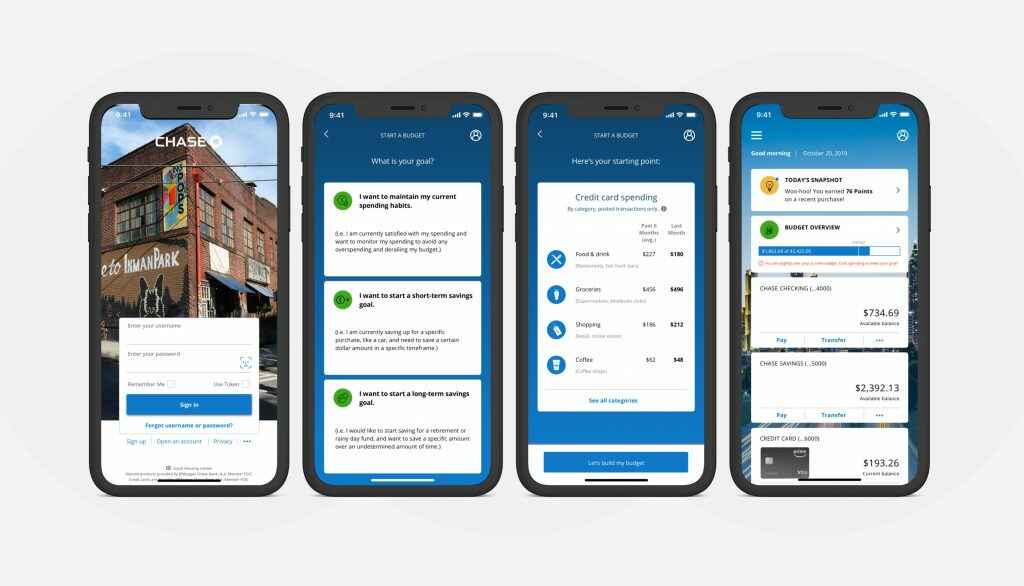 The Chase Mobile app is an all-inclusive platform providing a wide range of mobile banking services to simplify and speed up banking transactions on the go. The bank not only constantly updates functionality but also opens branches of the community center to educate the public about business opportunities and financial health.
Chase Mobile app has these key features:
Account and credit card management
Recurring payments
Scanning checks
Voice commands
Storage of completed transactions for up to seven years
Contactless payments
QuickPay for card-to-card transactions
Geolocation to find ATMs
Notifications for all transactions
Chase Ultimate Rewards
Today's Snapshot for spending monitoring
Fingerprint and Face ID login
Discover's Mobile App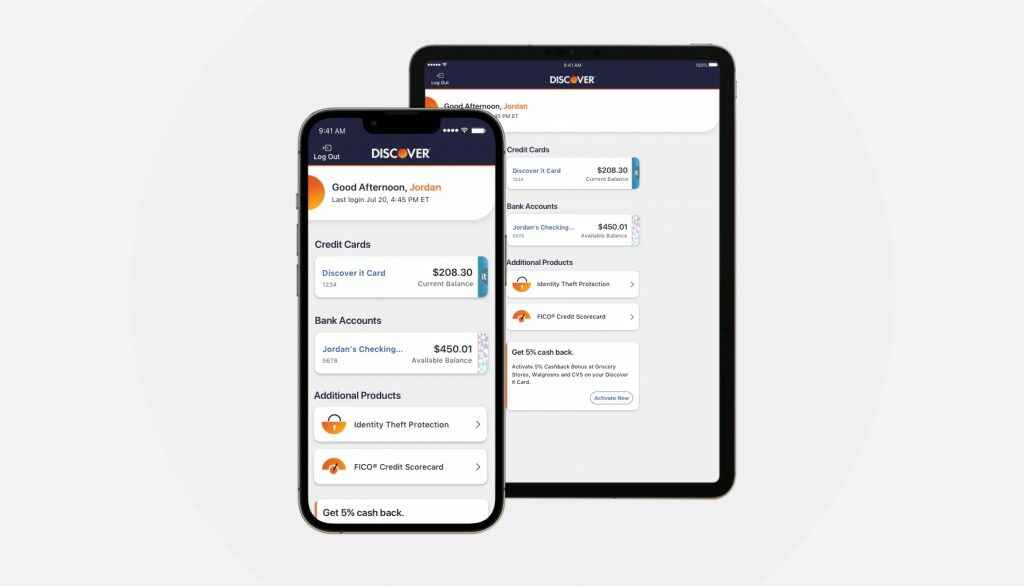 Discover is a popular mobile banking app offering valuable features, including a rewards program, credit monitoring, and personalized spending information. According to JD Power research, it is the best American credit card mobile app noted for its speed, ease of navigation, visual appeal, and helpful content.
Discover's Mobile app offers users the following services:
Quick view of data without logging in
Account and credit card management
Search for ATMs and branches
Receipt recognizer
Contactless payments
Recurring payments
FICO credit score
Quick block credit card
Rewards and benefits
Personalized spending insights
Fingerprint and face recognition
Freezing the account in case of fraud or unauthorized activity
TD Bank App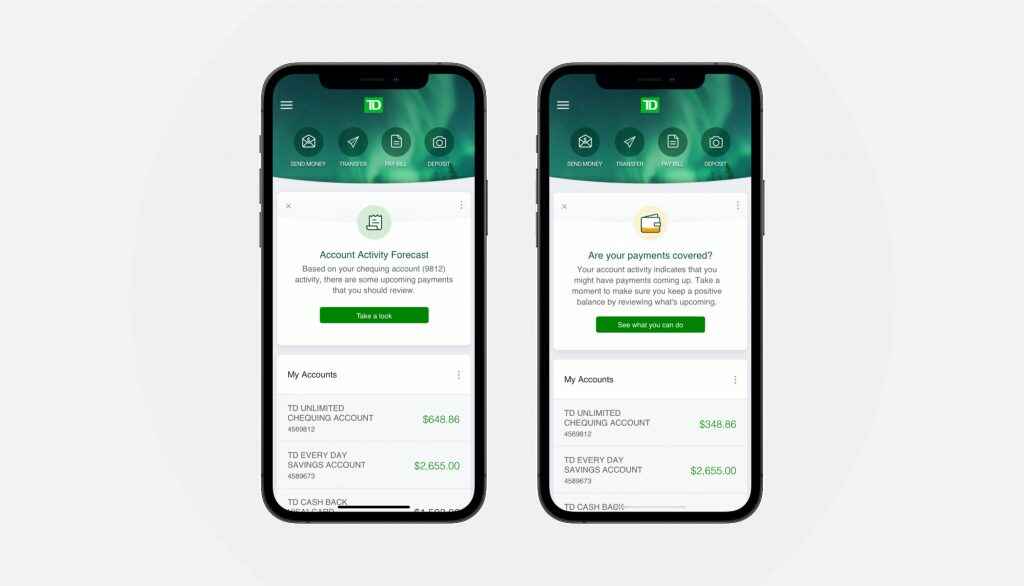 Toronto-Dominion, or TD Bank, is the sixth-largest bank in North America by assets. It serves clients with personal and commercial services, retail banking, wholesale banking, wealth management, and insurance. TD Bank Mobile App provides fast transactions between customers of different banks, as well as a rich, personalized experience.
TD Bank App has a wide range of features:
Account and credit card management
Mobile checking deposit
Search for ATMs and branches
Transactions between clients of different banks
Quick access with fingerprint or face recognition
Customizable alerts
Analytical tools for insights
Core Mobile Banking App Features
Don't forget to include these features when developing a mobile banking application:
Authentication
Multi-factor authentication provides more security than a password. Include biometrics such as fingerprints, facial recognition, voice recognition, or even gestures in the verification.
Account Management
Let users see their balance and transaction history, make transfers, order, and close cards. All information must be synchronized with the site and updated in real time.
Customer Support
A chatbot using AI and ML helps customers get excellent round-the-clock support, saves money on solving routine tasks, and significantly relieves bank managers. Let employees solve only the most complex requests.
ATM/Bank Branch Locator
Integrate geolocation feature to show customers the nearest bank branch or ATM. Include information about the services provided and work hours.
Secure Payments
Improve payments and transaction security with strong authentication, SSL or TLS encryption, tokenization, and real-time alerts. Complying with industry standards and integrating with reliable and secure third-party solutions is also essential.
Push Notifications
The banking application is not always active on the device, so use push notifications to inform. Notify users of transactions, app updates and requests, as well as discounts, promotions, and other promotional offers.
Additional Banking App Functions
If you wonder how to build a mobile banking app and succeed, add a few advanced features:
Expense Trackers
Help users control their budget with spending categories, savings goals, and personalized reports. Charts and animations improve data perception.
Cashback Services
Partner with the most popular services in different categories of products and services to provide cashback and improve your loyalty program. The percentage of cashback can be fixed or depend on the purchase amount.
Personalization
Let users personalize the app design with a theme, profile picture, and other elements. Also, use data analytics to understand consumer behavior and provide them with special offers, discounts, and relevant services.
Unique Services
To improve the customer experience, connect services such as buying tickets for transport and events, car rental, restaurant reservations, food ordering, and more.
App for Wearables
With the development of IoT, you can move some of the functionality to wearable devices like smartwatches. For example, make it possible to display the balance, conduct transactions and receive notifications.
Bill-Splitting
This feature allows users to divide bills according to a simple (equal) and complex scenario, assigning individual payments to the cent.
Voice Assistant
Introducing a voice assistant for checking the balance and making transactions will help not only users with disabilities but also everyone who is already used to Alexa and Siri.
Cardless ATM Access
Another helpful feature includes the ability to withdraw cash from an ATM without a card through confirmation in the application.
How to Build a Banking App
The process of developing a banking application takes place in the following stages:
1. Research and Planning
To create a banking app, you need to study the competitors' products, consumer needs, and general industry trends.
The planning phase covers project goals, requirements, and features. It is also essential to define the scope of work with objectives, deliverables, tasks, timeline and milestones, budget, and team roles and responsibilities.
2. Prototyping
Then, based on the specification, the team creates a wireframe illustrating the mobile banking app architecture, the buyer's journey, and the structure of design elements and content. Making changes to a prototype is much cheaper than an intermediate product, so you should take this step seriously.
3. Security Regulations
For a banking application, it is vital to provide for all regulatory requirements related to the security of transactions and the collection and use of personal data. The most important ones include PCI DSS, GDPR, PSD2, MSB, TILA, FCRA, and others.
4. UI/UX Design
The UI/UX design of the app provides an easy, intuitive, and personalized user experience. Also, at this stage, the team creates the product's visual design, including the color scheme, fonts, and graphics.
5. Coding
A front-end developer brings the designer's work to life by creating visual components of the app, including screens, menus, forms, buttons, and other interactive elements. And back-end developer writes code to implement the functionality and integrates third-party libraries and frameworks.
6. Testing
Before release, examining the application to identify and fix all bugs and issues is essential. The QA engineer provides unit, integration, performance, acceptance, usability, and security testing.
7. Launch
After finalizing the application, specialists upload it to Google Play and App Store, ensuring everything works as it should.
8. Maintenance
During public use, new bugs and issues should be detected and fixed. Also, the software must remain competitive, so consider market trends and user suggestions to improve your application.
Tech Stack for Mobile Banking Application Development
Choosing the right technologies is essential in creating a banking application. We recommend you use the stack that helps us develop our advanced fintech solutions:
1. Native apps:
To build a banking app on Android, choose Kotlin, Java, Android Studio, and SDK
For iOS app development, you can use Swift, Objective-C, iOS SDK
2. A cross-platform solution allows you to write and deploy one code on multiple platforms. Such a tech stack may include Flutter, React Native, and Xamarin.
3. Hybrid apps are available in the web browser of a mobile device, do not require installation, and are easy to maintain. For them, you can use HTML5, CSS, and JavaScript.
Banking App Development Challenges
When developing functionality for a banking application, you should consider security standards and compliance with regulators:
Regulations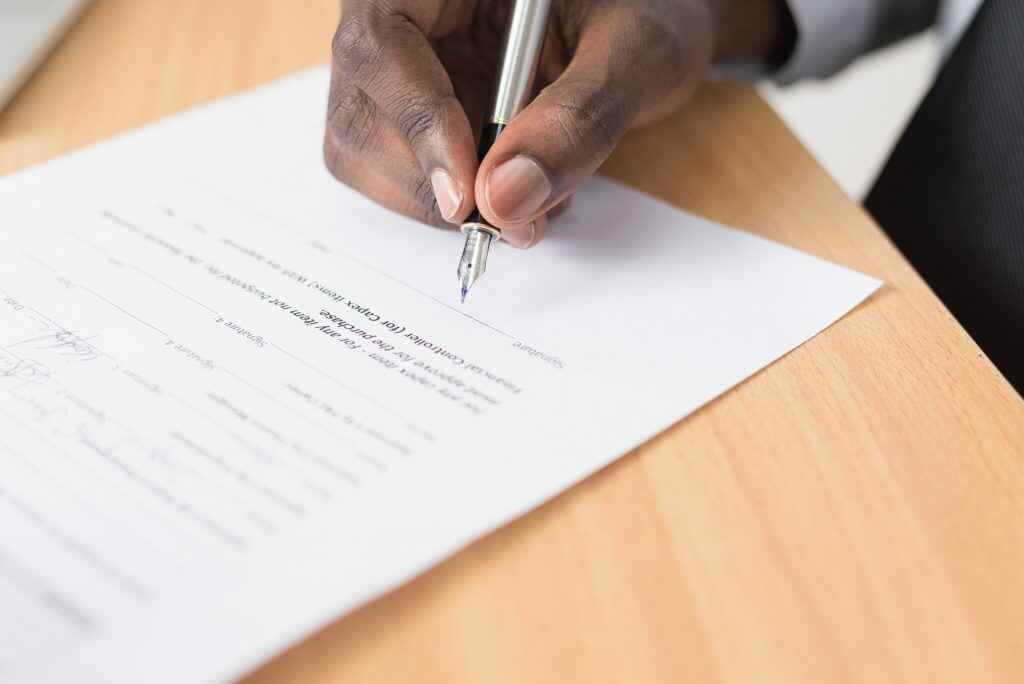 A fintech application must consider the requirements of regulatory authorities. The most famous standards are:
GDPR
The General Data Protection Regulation (GDPR) protects the personal data of consumers in the EU. With it, people can control the information companies hold about them — view, correct, delete, or restrict its use.
PSD2.
The New Payment Services Directive (PSD2) boosts secure digital payments in the EU. For example, with clients' consent, banks are obliged to transfer their data to third-party payment service providers (PSPs), and online payments themselves must require authentication based on biometric data.
PCI DSS.
The Payment Card Industry Data Security Standard (PCI DSS) enhances transaction security to protect against fraud. It includes building and monitoring a solid security system and controlling access to personal and financial data.
MSB
Registering a Money Service Business (MSB) means applying anti-money laundering (AML) and anti-terrorist financing (CTF) practices in the US. It is important for anyone working with digital wallets, payment systems, and peer-to-peer transfer systems.
TILA
The Truth in Lending Act (TILA) is a US federal law requiring lenders to provide detailed information about all terms and conditions of a transaction. It protects the rights of credit card holders.
Security
The banking application must guarantee security, and for this, you can use the following methods:
KYC
Know Your Customer (KYC) verifies a customer's identity to help limit fraud, terrorist financing, money laundering, and other corrupt practices. Failure to comply with the KYC procedure is subject to severe fines and restrictions.
KYC uses Proof of Identity (POI), which includes documents such as a passport, driver's license, military ID, student ID, and others. For Proof of Address (POA), you can ask notarized proof of residence, house purchase deed, lease agreement, etc.
Strong Passwords
Banks should also ensure that users create complex and unique passwords and change them periodically.
Don't Store Unnecessary Information
The more personal and financial information you hold for no good reason, the greater the risk of a data breach.
Two-Factor Authentication
Two-factor authentication (T-FA or 2FA) increases the security of logging into a user account. It can combine a pin, password, mobile signature, or biometrics.
Payment Blocking
You can also block suspicious payments and allow users to unblock these transactions using 2FA.
Banking App Development Cost
The cost of developing a banking app depends on several factors, including the following:
The complexity of the application
Platform type
Technology stack
Integration with third-party services and APIs
Interaction format — time & materials, dedicated team, or outstaffing
Also, the cost of developing a mobile banking app is count as the hours spent multiplied by the hourly rate.
First, let's take a look at the approximate time it takes to create the main features:
| | |
| --- | --- |
| Core Feature | Approximate time (hours) |
| Sign-in | 480 |
| Access to card details | 240 |
| Transactions and payments | 480 |
| Transaction history | 240 |
| Push Notifications | 120 |
| Customer support | 480 |
| ATM and office locations | 120 |
| Total | 2160 |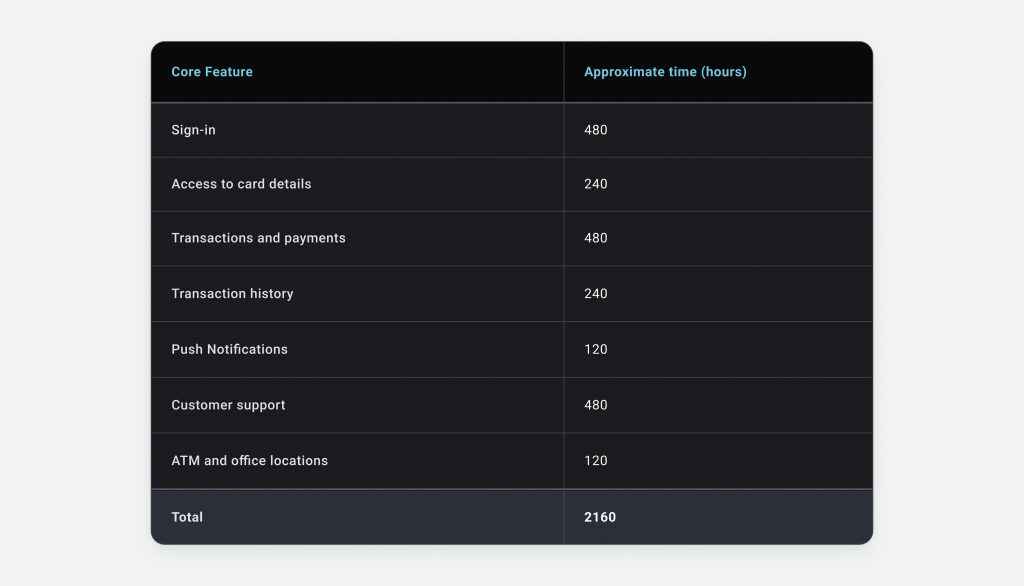 The average hourly rate depends on the experience and location of the mobile banking app developers. We have prepared a comparison table based on data from Salary.com:
| | |
| --- | --- |
| Country | Average Hourly Rate |
| USA | $48 |
| India | $6,5 |
| Australia | $31 |
| Canada | $30 |
| Singapore | $26 |
| Germany | $32 |
| Poland | $11 |
| Mexico | $9 |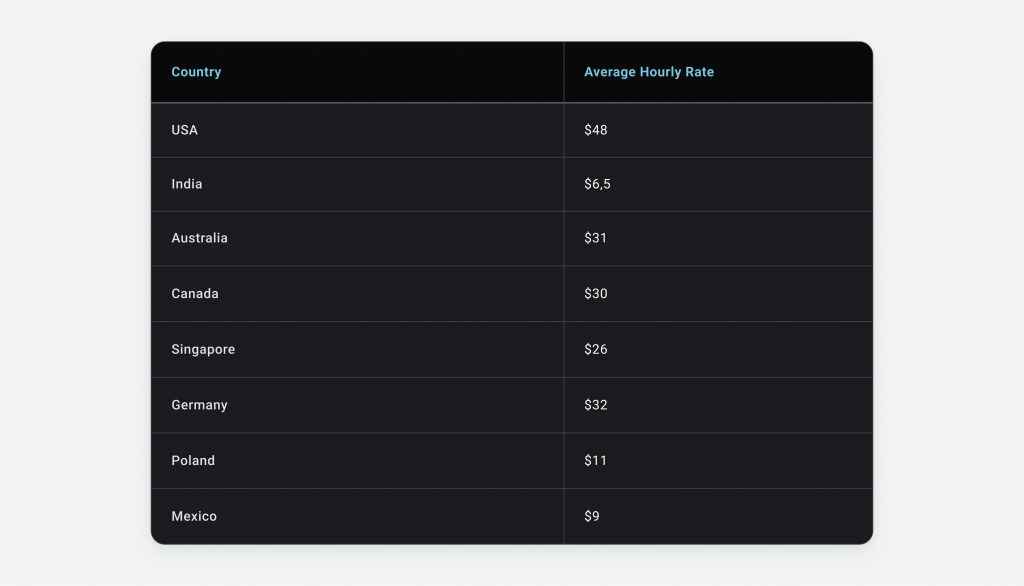 These numbers may give you some guidance, but the exact cost depends on the set of features, platform, cooperation model, and other factors. To find out the development price for your banking solution, please contact our team.
WeSoftYou Is Ready to Become Your Reliable Partner
WeSoftYou is a reliable development vendor that creates progressive fintech mobile applications and solves critical issues. We build native and cross-platform solutions, ensuring their reliability and ease of scaling. All of them maintain high-security standards and comply with regulators like GDPR.
And here is a technologically complex case we would like to share: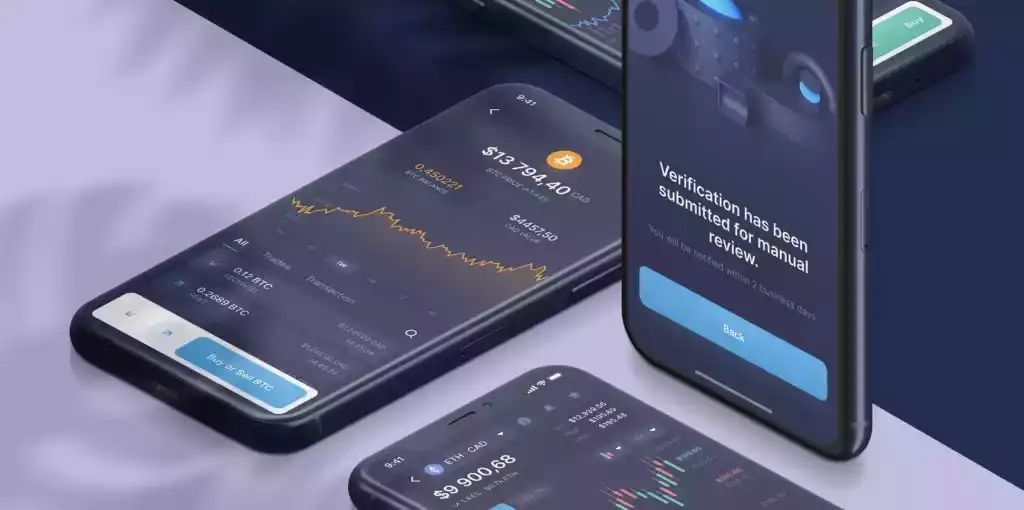 About the company: The Canadian National Digital Asset Exchange (NDAX) provides services for individuals and businesses. Fully integrated into the banking system, it interacts with financial institutions and regulators.
Challenges: NDAX needed an advanced mobile platform for fast, secure, and easy crypto trading. The challenge was to set the standard for the Canadian cryptocurrency industry by building the broadest portfolio of digital currencies in Canada based on institutional-grade infrastructure.
The main product idea: The NDAX cross-platform mobile application makes trading cryptocurrencies easy for all market participants. Beginners get quick access to buy and sell 11 cryptocurrencies, while professional traders can use advanced features and tools.
Technology stack: React Native
Results:
The NDAX application adheres to high quality and security standards, allowing to store clients' money in a separate bank account.
It is fully compliant with Canadian banking laws and can legally separate from the operating capital of NDAX.
The app provides the lowest fees, the most extensive portfolio of cryptocurrencies in Canada, instant ID verification, and 24/7 customer support.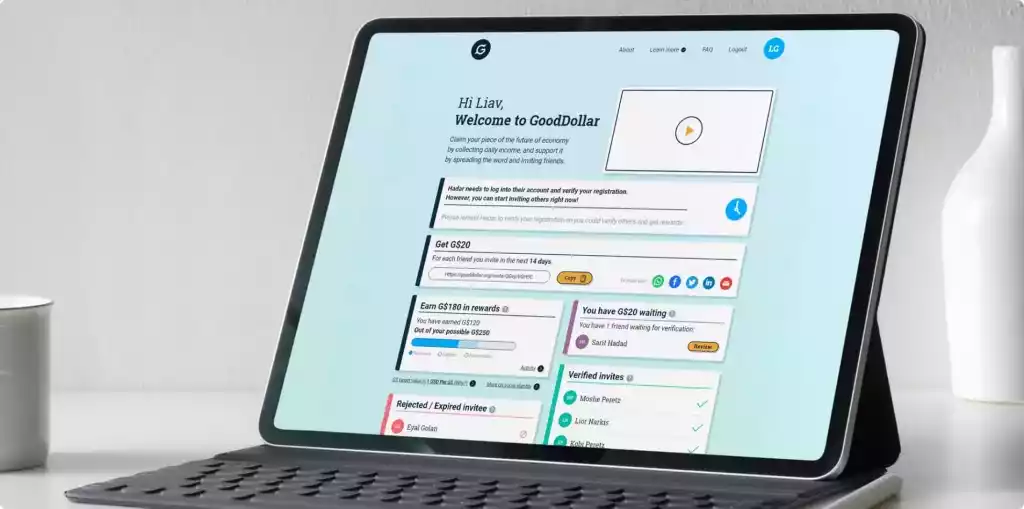 About the company: GoodDollar is a non-profit organization that seeks to build a scale model for generating basic income using blockchain technology.
Challenges: GoodDollar needed a platform to create, finance, and distribute basic universal income (UBI), reducing income inequality. The challenge was to create a money distribution mechanism using new protocols and smart contracts.
The main product idea: GoodDollar uses decentralized finance protocols that generate profits. This way, it is possible to pay out profits to those who have invested capital and provide a small daily income for everyone who needs it. G$ coins are liquid and convertible to other cryptocurrencies.
Technology stack: React, Node.js
Results:
Crypto wallet integration
4 marketing analytics tools
Real-time data
Kiosk for checking users
Summary
Banking applications are beneficial to all participants in the financial market. Businesses optimize internal processes and reduce costs and time to market, and customers receive a seamless, personalized experience. At the same time, banking is a highly regulated industry where security and compliance with financial standards are crucial.
Now you know how to create a mobile banking app and what to consider. You just have to choose a reliable development partner. WeSoftYou will be glad to build for you a progressive, secure, and scalable fintech solution. Contact us to discuss your project.
FAQ
How to make a banking app and achieve success?
An excellent mobile banking application should provide users with a convenient and secure way to manage their finances, considering their current needs and preferences. The interface should be intuitive, and the customer experience personalized.
How safe is mobile application development for banking?
Mobile operating systems are more secure than web solutions. It is essential to comply with regulatory requirements and proper security protocols such as encryption and multi-factor authentication. Regular testing and updating software will help eliminate potential security problems in time.
Can I hire mobile banking app developers from WeSoftYou?
Sure. You can order end-to-end mobile app development, a dedicated team, or hire individual specialists to join your in-house team. In any case, we guarantee the professionalism and experience of developers, as well as a high-quality result.
What are the main mobile banking trends of 2023?                    
The main directions of online banking in 2023 include biometric authentication, chatbots with artificial intelligence, and machine learning. These technologies will increase data security and financial transactions, optimize operations, and improve customer service.
What are the ways to make money with a banking app? 
Banking applications are free because they act as an addition to financial institutions. However, you can earn on transaction fees, additional services, premium accounts, and advertising.