As a mature IT services provider that has been operating in the field for years, at WeSoftYou, we timely composed a Business Continuity Planning initiative, or BCP for short.
Table of Contents
What is BCP
In simple words, the BCP concerns the way our company should continue operating under emergency conditions and guarantees common operational continuity. Ultimately, the main goal of having a clearly defined BCP in place is the guarantee of the company's long-term reliability and preparedness for out-of-line emergency situations that may escalate to unknown extents.
What's WeSoftYou's BCP all about?
The initiative started out a couple of years ago. The hostile situation in the east of Ukraine in 2014 and its potential intensification served as an extra trigger for the BCP development. And as the team at WeSoftYou expanded and grew mature, the initial BCP branched out into detailed secondary initiatives and emergency circumstance tasks that concern every department in our company infrastructure, all dedicated teams, each employee, their families, our business partners, and all other essential roles and aspects.
1. BCP pillars
Our BCP stands on two essential "pillars".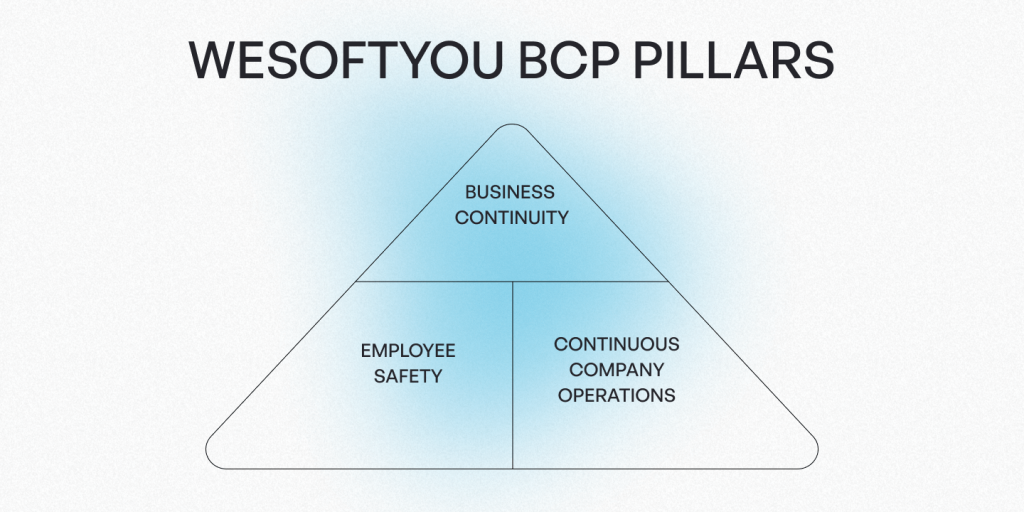 1.1 ensure safety and assistance for our employees in specific times of need (including aid for employees and employee families that found themselves in the middle of man-made disasters, natural disasters, or wartime conditions).
1.2 focus on the support of continuous, trouble proof company operation (including keeping intact workflow aspects such as management and delegation of tasks across departments, etc.; underlying business operation aspects such as logistics and decision-making under extraordinary circumstances, etc.);
2. Implementation criteria
2.1 Intensification and movement of hostilities on the east to central Ukraine or the state of Official war;
2.2 Man-made disasters in the region or countrywide;
2.3 Natural disasters in the region or countrywide;
2.4 Сivil unrest or war/vandalism.
3. Action-plan
3.1 Detailed individual BCP onboarding for all employees;
3.2 Preparation of individual evacuation plans;
3.3 Early pre-war booking and rent of accommodation in Western Ukraine;
3.4 Supply of satellite phones for possible communication shutdown occurrences;
3.5 Provision of emergency info and action plans for clients;
3.6 Regular emergency instructions digests and 1:1 meetups where EACH employee's emergency readiness is checked;
3.6 A coordinated fleet of transfer cars based in Kyiv for possible evacuation needs;
3.7 Backup funds for emergency employee help or financing of security issues optimization.
4. Communication Plan
In case of an emergency, a timely developed communication plan is initiated, which implies passing through emergency information to the company's top management and main decision-makers or vice versa (two info passage flows are possible depending on who gets the emergency information first):
4.1 a team or a separate employee informs their dedicated PM, team lead, or tech lead about the out-of-line situation in hand;
4.2 an informed PM or team/tech lead immediately translates that information to the HR and/or Delivery Director, assisting them in timely activating and implementing BCP;
4.3 an informed HR or DD further informs the company CEO or CTO about the emergency situation and the BCP kick-off;
4.4 alternatively, the company's top management informs project managers/team leads/tech leads who then pass the information on to employees across departments.
All alerts and notifications are carried out via specialized channels in Slack, Telegram, and personal contacts list stored in the company's main directory.

The triggers 2022
Unfortunately, BCP's high time has come due to the well-known escalation of Russia's military aggression toward the people of Ukraine in Feb 2022. The picture below demonstrates the current situation in Ukraine.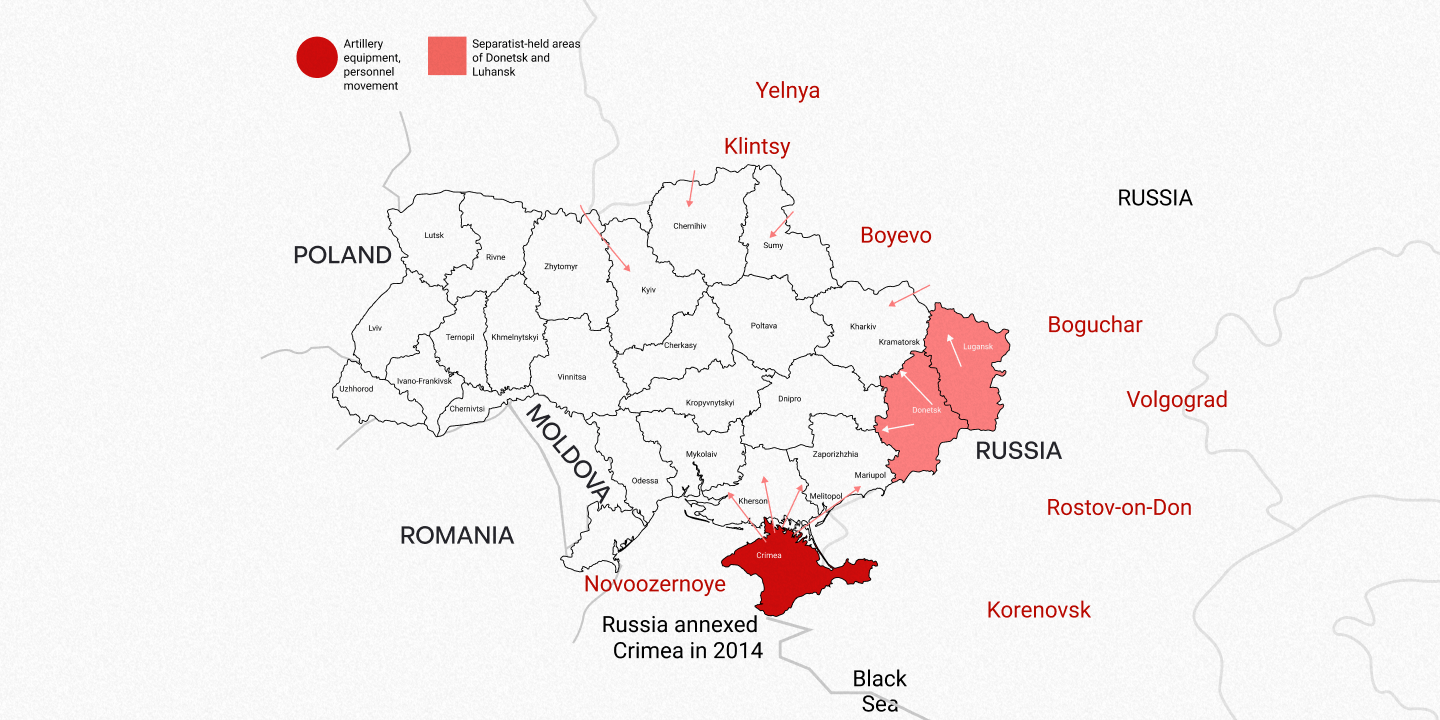 BCP in action
Our complex emergency plan has been elaborated and prepared enough to kick off immediately. BCP has allowed us to keep many of our employees and their families safe from the harms of war, with the main life-saving and assisting functions including external and internal activities.
Internal initiatives

1. Emergency information
employees and their families have been informed on all aspects of coming prepared in the face of wartime emergency:
1.1 how to pack an "emergency go-bag";
1.2 where to find a temporary safe place, how to start planning a transfer to the safer area, who to contact, and what else to do in the situation such as we have currently at hand);
1.3 separate emergency channels for sharing specialized information and notifications;
1.4 notifications about military attacks and unrest.
For all the above purposes, there is a separate internal staff manual with elaborate instructions, necessary contacts, and useful links. All the provided information is shared only if it comes from a reputable source and is 100% verified.
2. Safe routing
2.1 helping our employees and their families pick proper transportation;
2.2 identifying the safest routes through Ukraine based on real-time "on-demand" logistics;
2.3 providing employees and their families with a free transfer that courses across these routes;
2.4 tracking employees' live location with Google Maps until they reach a safe place
3. Border crossing
3.1 assisting our employees and their families with paperwork handling;
3.2 settling of all necessary border-crossing aspects;
3.3 around clock border situation consulting;
4. Accommodation
4.1 finding shelters and dwellings;
4.2 timely accommodating our employees and their families in Western Ukraine or abroad;
4.3 booking places and covering hotel/hostel costs (an option that existed long before the war)
A hotel in Rivno booked since February 16;
A house in Yaremche (Carpathians) was booked for 10 people;
Additional 8 rooms in a Carpathian hotel booked in advance (remained vacant and eventually got canceled);
8 places in a hostel in Lviv booked in advance for a week;
2 paid places in a hotel in Lviv booked for two weeks;
two apartments housing 4 people each in Lviv;
a house for 5 people in Uzhgorod was booked after the war started and a lot of other bookings were made and canceled in times of unrest.
5. Humanitarian aid
5.1 investing in humanitarian aid packs of all sorts;
5.2 overstretch of duties and responsibility according to employee availability and location;
5.3 paying salaries in advance and providing financial help where needed to make sure everybody has the costs to evacuate, accommodate, etc.
5.4 supplying our employees, their families, and other people in need with food, materials, and items necessary for proper living;
5.5 investing more than UAH 200,000 to organize housing and workspace for employees
5.6 securing the workplaces and wages for those of our employees currently volunteering or serving in the Ukrainian forces.
6. Performance renewal
6.1 the whole complex of backup tasks dedicated to setting all workflows and essential performance aspects back in motion;
6.2 currently, we are tracking the renewed performance with the help of KPIs that concern company operation under extreme conditions;
6.3 in terms of KPI-related data gathering and tracking, we survey 77 people daily, registering opinions and initiatives to share summaries in the general working chat – based on the survey answers, we: plan out service emergency delivery processes a day ahead (who substitutes who in the case of an employee's unavailability, etc.); plan out emergency evacuation (picking transfer, finding accommodation, providing employees with necessary contacts, etc.); clarify the following daily emergency agenda questions:
– Current location and geolocation link
– Future relocation plans
– Reason for not leaving
– Are you in a safe place?
– Need evacuation?
– Ready to work?
Also, optionally:
– Do you need to find a place to stay in Western Ukraine?
– How many people do you need to accommodate?
– When are you ready to move in?
– When are you ready to move out? (in the case of a temporary stay).
As a result of active gathering and analysis of that and other extra information, thorough planning, and stage-by-stage preparations, company operation has been fully renewed in just 2 days with a 0 impact on project performance.
For the moment, all our employees are located in the safe area and are back to work. Below you may see a map with the current locations of our employees.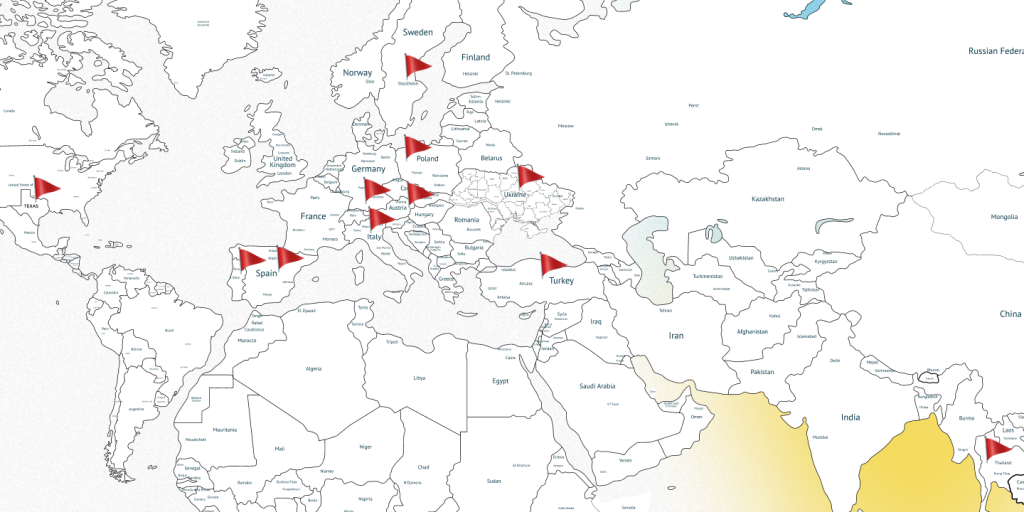 Nota bene!
We do not have an office in Russia and as for the employees based on the territory of the aggressor country in times of military unrest, everybody from our team left its border in 2 days.
External initiatives

Having the powers of emergency logistics coupled with elaborate action plans, surely, we are out here helping everyone in need outside of our company as much as we can.
Our external BCP activities cover:
Army donations – we are regularly raising funds both internally and externally, and donate to support the valiant army of Ukraine – 500,000 UAH was donated for fuel alone;
Foreign humanitarian aid transfer assistance – we are dedicating our emergency logistics powers to help deliver humanitarian aid from other countries;
Free evacuation of all people in need – corporate vehicles worth over UAH 2,000,000 have been used to evacuate people that are not connected directly or in any way to our company on a FREE basis (of which there are hundreds) from Kyiv and other regions around the clock – 40 people were transferred from Kyiv to Lviv by 09.03.2022;
GSU, ZSU, SBU and MOT support – Drones, tablets, satellite phones, specialized smartphones and other items have been purchased to equip the Ukrainian government with the latest technology;
Development of volunteer portal – our technical team developed a digital portal that allows centralizing volunteer activities across the country;
Cyber Army – we build a team of s highly skilled information technology professionals that help to maintain national cybersecurity on a daily basis;
Proactive participation in suspending Upwork, Payoneer, American Express operations in Russia;
Technical support – we organized consulting with Stanford's military innovation team for the Ukrainian army and volunteer organizations;
NFT based charity project – our team is developing the first Ukrainian NFT-avatar collection to raise funds to support the Ukrainian army and civil people affected by war.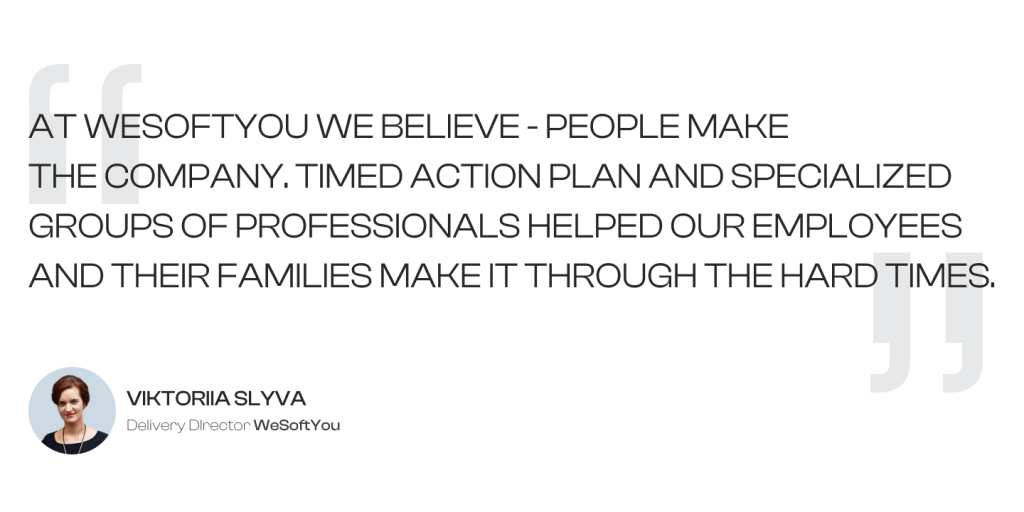 BCP outcome
WeSoftYou remains among the few companies in Ukraine to:
Have a timely prepared BCP that enables us to transfer a good 70%+ of all people essentially connected to our company in just 2 days and help out hundreds of others.
Really take care of our people by surveying everybody on all the critical questions EVERY DAY, convincing our people to transfer to a safer place to live and work, and promptly reacting to the military escalation in the first days of the war;
Help not only our company's employees but also their families (up to 10 people) and other people in need make it through the toughest of times;
Organize a local home office in Poland to centralize performance and keep workflow intact from a safer place;
Keep our staff intact without letting anybody go and acquiring new employees instead;
Delegate and streamline tasks so that all workflows are kept preserved and running smoothly in the extra stressful conditions while the specialists are also engaged in various life-saving initiatives and activities;
Create a whole dedicated humanitarian marketplace to streamline all helpful activities;
Help the army to defend Ukraine on the frontlines as much as we can (donations, logistics, humanitarian aid, etc.).
Stay firmly loyal to our team, our families, and our cause