A platform that connects fashion investors and fundraisers
Fintanable
Fintanable is the bridge for investors and fundraisers in a fashion world
Industry
Fashion, Retail/E-Commerce
Project duration
May 2022 - June 2022
Fintanable is a service that is mainly focused on Sustainable Fashion 🏃
A platform brings together investors who want to invest in socially responsible projects and designers who are looking for funding.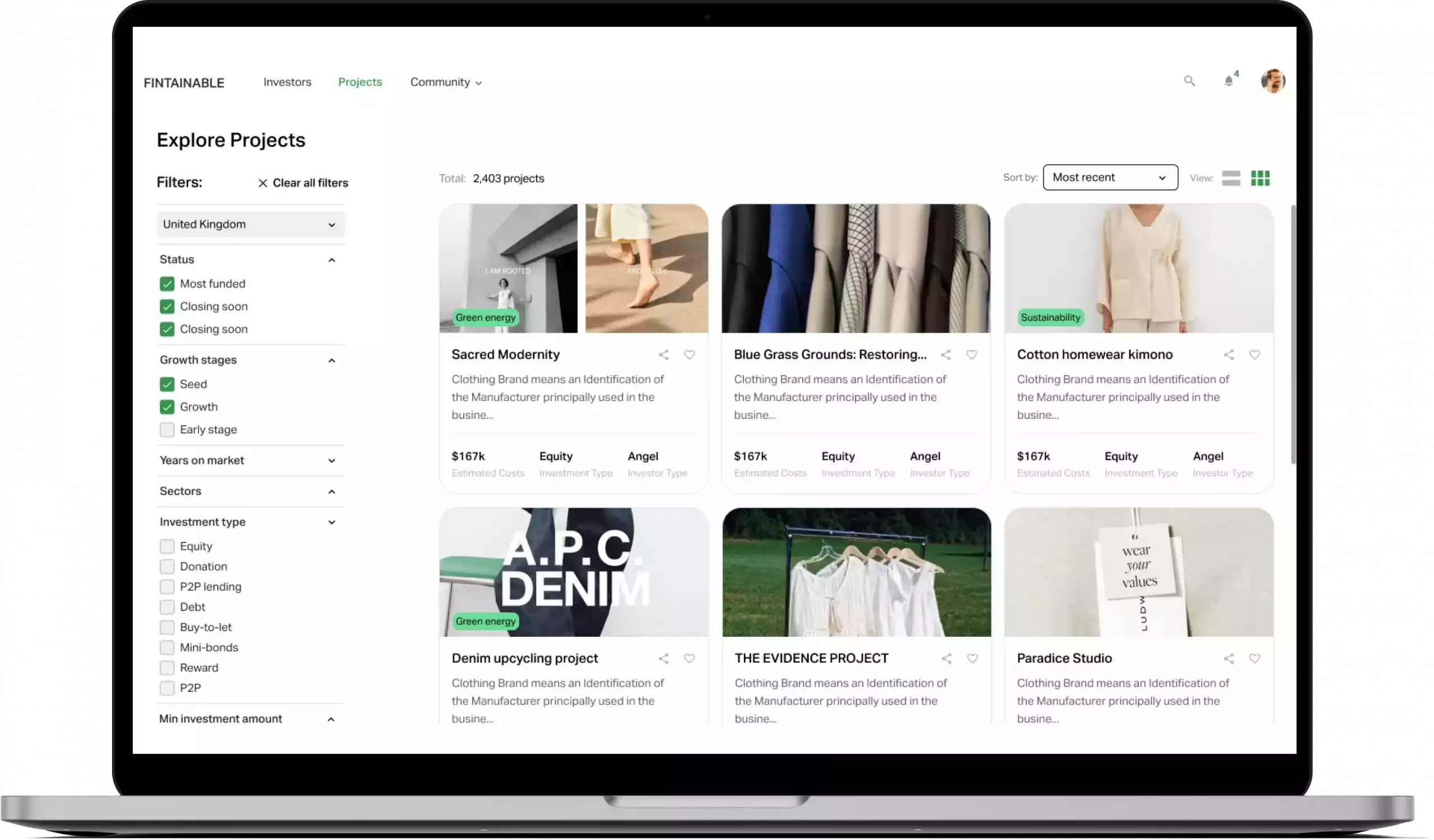 Results ✨
60 screens
We have worked for 320+ hours and created more than 60 screens for each role
MVP
We have prepared a clickable multifunctional prototype of the platform that anyone can easily use as the next stage of this project – raising the first round of investments
Project goals ⚡️
Operate a business that is not going to harm the environment
Making the investment process clear and accessible
Promote his business to new clients and build strong relationships with existing ones
Find investors/partners to scale the business, open his small factory, or launch in a foreign market
Build a fund by saving 3% of all sales to support eco activists, perform eco-initiatives, ect. twice a year
Find a new source of raw materials abroad
Become a part of the investment community
Challenges ⛰
01.
Finding the project and investing in it had to be the most nuanced yet critical user flow, and our task was to ensure we didn't oversaturate it with steps and complicated tasks
The process 🚧
The development process involves several stages, beginning with meticulous planning, extensive research, and user interviews to guide the conceptualization of Fintanable. We created visually appealing designs. Then translated these designs into a clickable multifunctional prototype, enabling easy user interaction and serving as a vital tool for the next project stage—raising the first round of investments.
One of our task was to test the main flows that took most of the user experience on the platform. For testing, we wrote a script that consisted of the following tasks:
Task №1: Create an Investor Account & Onboarding
⏱ Average time – 3 minutes, Success rate – 100%
Task №2: Invest in a project 
⏱ Average time – 7 minutes, Success rate – 89%
Task №3: Create Project
⏱ Average time – 8 minutes, Success rate – 81%
Task №4: Find FAQ
⏱ Average time – 2 minutes, Success rate – 100%
Task №5: Find an article about Sustainability
⏱ Average time – 5 minutes, Success rate – 70%.
Stages 🎢
01.
Requirements analysis entails examining the project requirements and pinpointing any potential risks or difficulties. This involves assessing the project documentation, comprehending the business requirements, and detecting any gaps or discrepancies.
02.
Test planning involves creating a comprehensive plan outlining the testing approach, test objectives, test cases, and test data based on gathered requirements. Test plan review and approval by the project stakeholders.
03.
The test design phase includes producing elaborate test cases and utilizing the requirements and test plan as reference points by the QA team. The test cases are formulation to encompass all potential scenarios and confirm that the application fulfills both functional and non-functional requirements.
04.
QA engineers take care of the test execution by applying them to the application to discover defects and validate that the application adheres to the requirements.
05.
Defining clear acceptance criteria for each feature and user story, and ensuring that they are tested before release.
06.
During the test execution phase, any identified defects are recorded in a defect tracking system. The QA team monitors and handles defects until they are resolved and marked as closed.
07.
Usage tools such as test automation frameworks, continuous integration, and continuous testing to enhance efficiency and minimize manual effort
08.
Creating test reports that summarize the testing results and providing insights into the quality of the application. Sharing test reports among project stakeholders, including the development team and project managers.
09.
Reviewing the test results and closing out the testing effort. Creating any necessary documentation like Test Summary Report, Defect Report, Release Notes, etc.
Team composition 👨‍💻
1 UX/UI Lead
1 Product Designer 
1 Business Analyst
1 Stakeholder
Technology stack ⚙️
Technology stack is empty since: Our team was responsible for the design of this project only.
Core features 💻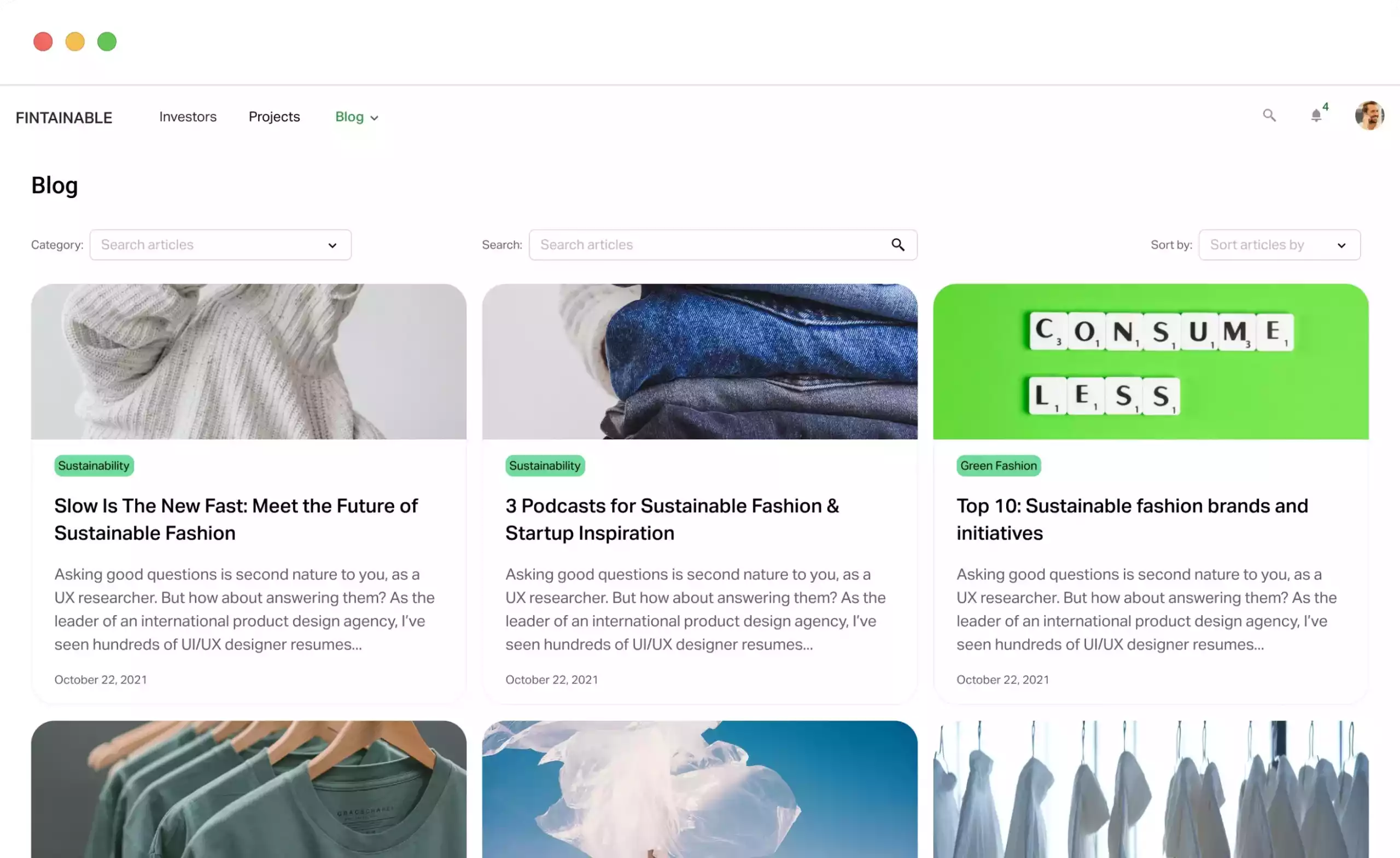 Blog
The blog is used as a tool to promote sustainable development and draw attention to it. And also, at the same time, introduce people to sustainable brands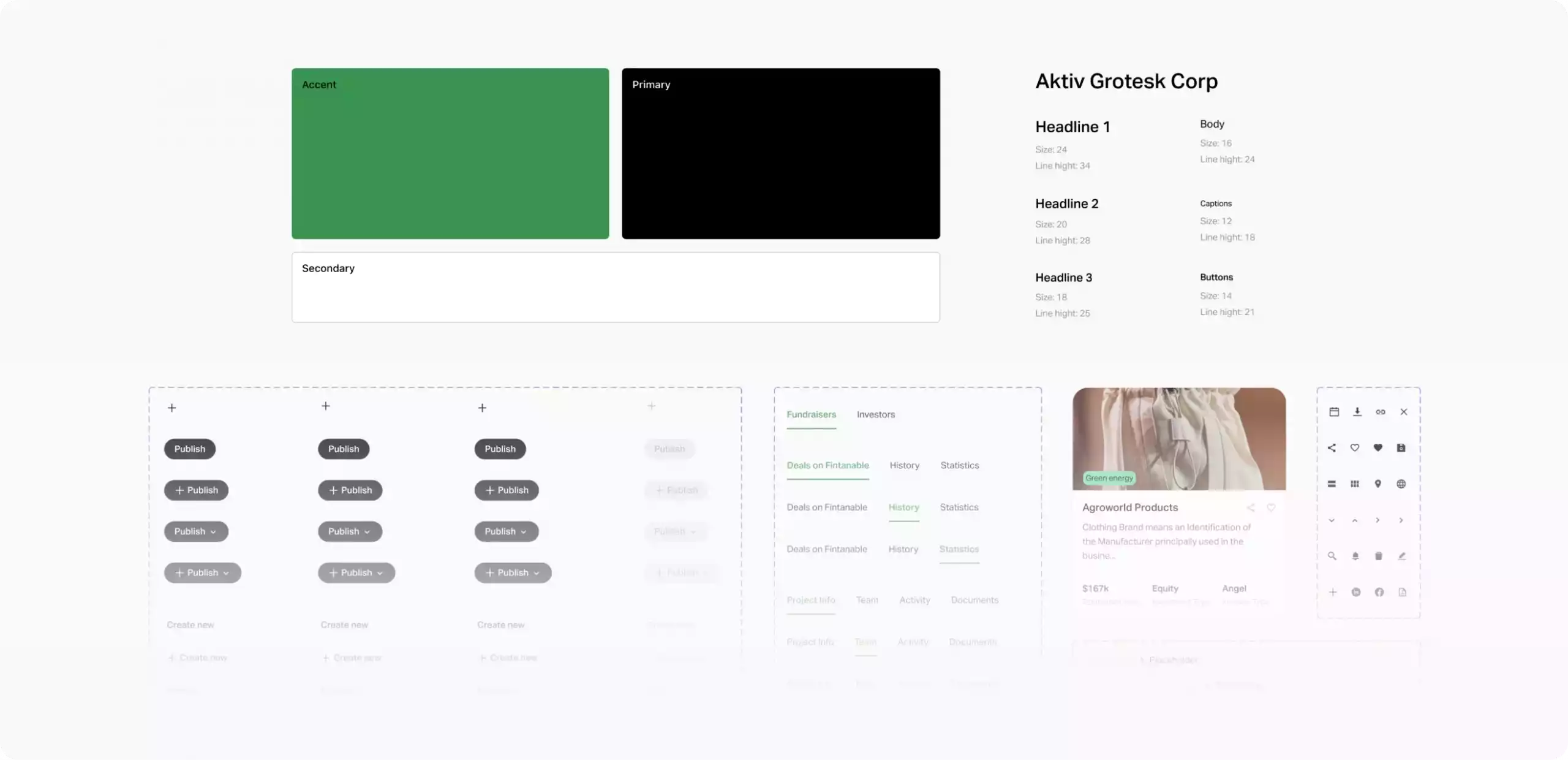 Style Guide
We created a design system with flexible components and prescribed technical guidelines for developers. As a result, our team chose a dark green color combined with minimalistic black and white. This combination best represents sustainability combined with fashion and investment culture.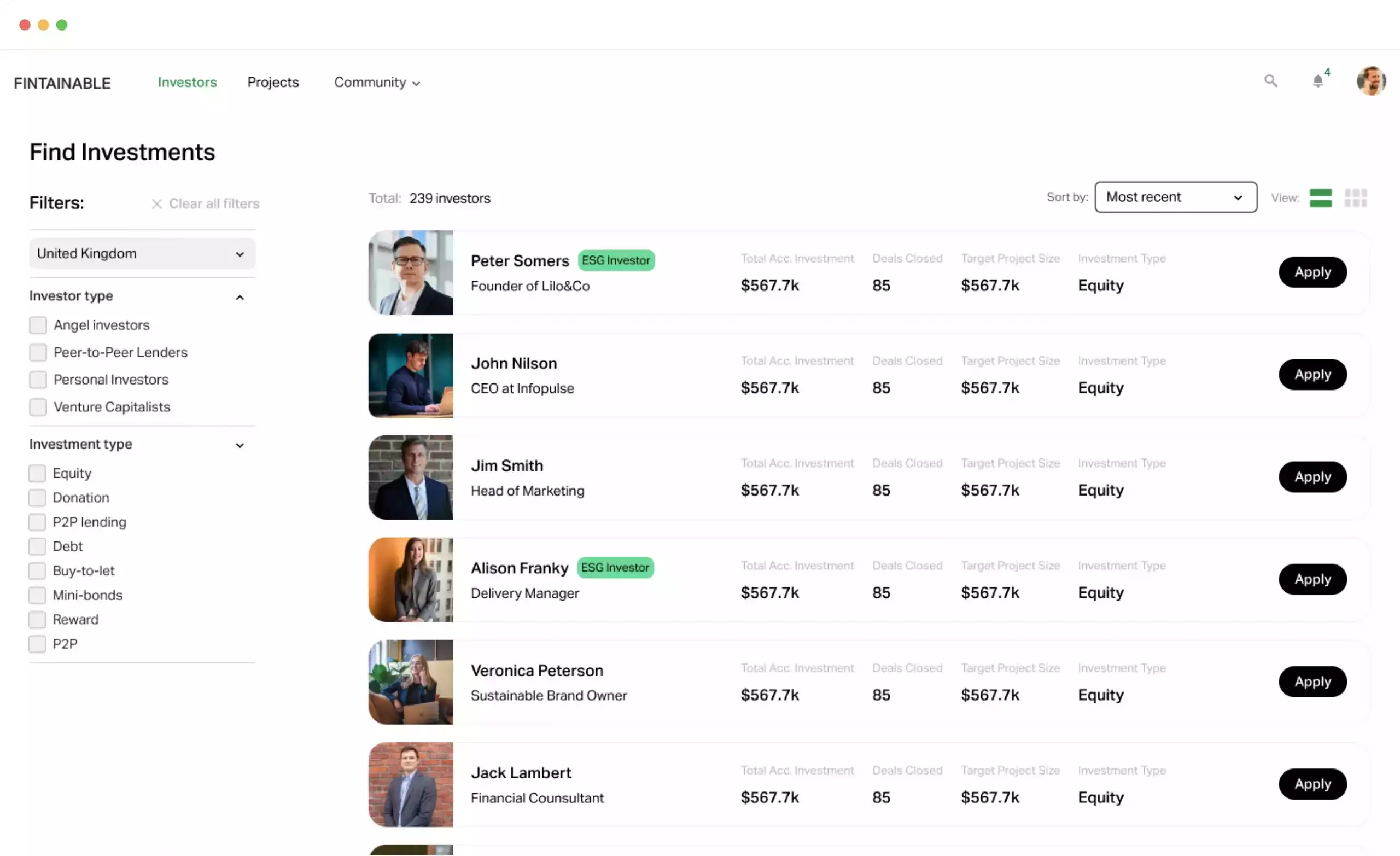 Finding an investor
Many users have noticed that waiting for the perfect investor can take a long time. So we decided that fundraisers can also take the initiative and apply for investment themselves. They can find the most suitable investor for their project and be the first to approach him. This will facilitate the process and help them find an investor with the right investment history and type that will allow them to maintain creative freedom.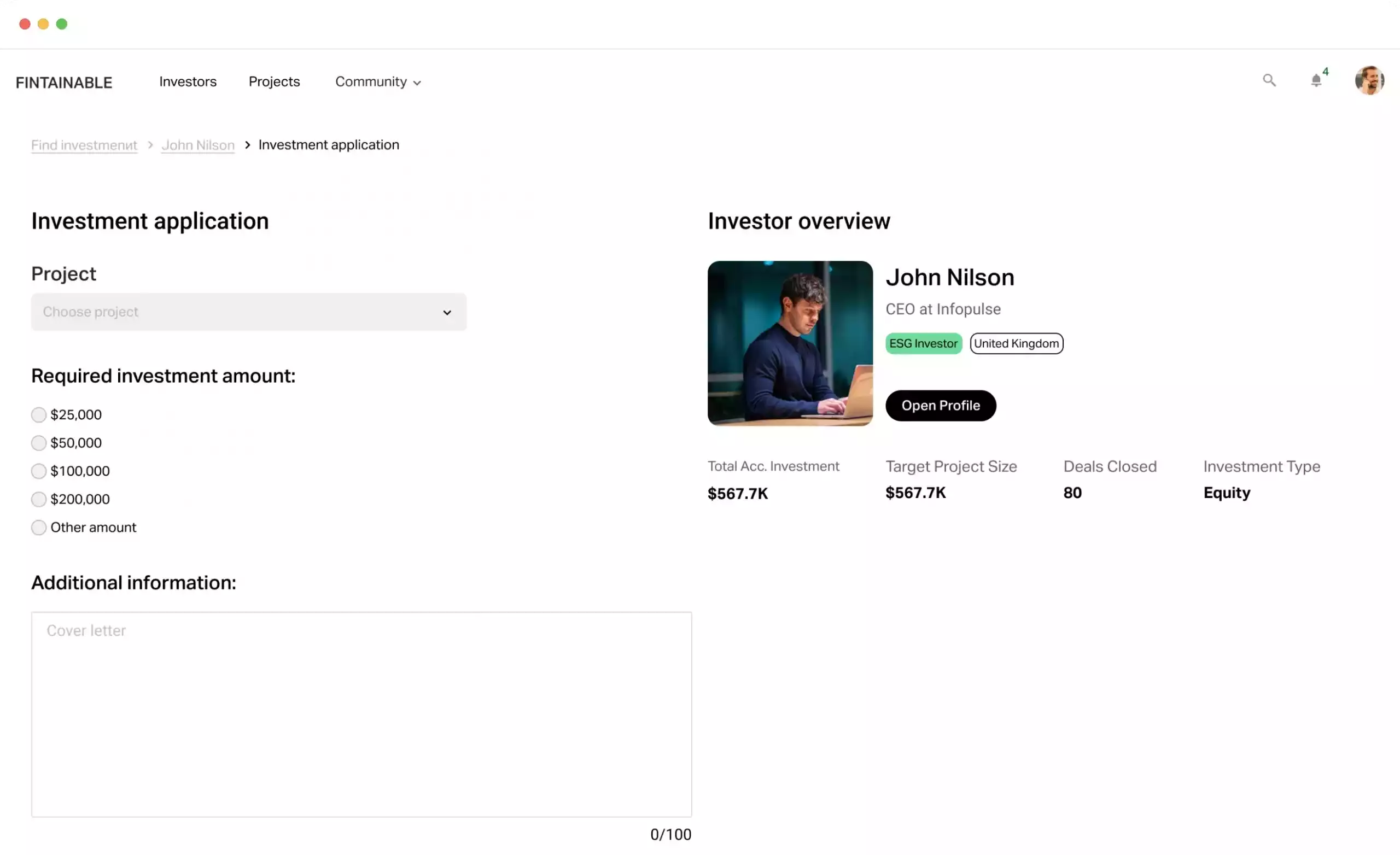 Applying for investment
Once the fundraiser has found an ideal investor, they can apply for investment. He can do it independently without waiting for the investor to notice them. The fundraiser should specify the main investment requirements and write a cover letter to stand out from other candidates.
Our Offices
Sales Office
701 Brazos St., Suite 550, Austin, TX 78701
See on the map

Headquarters
5A Vasyl Tyutyunnik St. Kyiv, Ukraine 02000
See on the map