AI driven platform to analyze shopper behavior
Project duration
May 2020 - August 2020
Technology
Python
TypeScript
React.JS
Radius.ai is a service designed to amplify the experience of visitors to customers' space 🏃
The Project helps hospitals, clinics, or other public placements to hold fast health checks, specifically to track the temperature and human behavior, in order to identify visitors with detected issues and prevent the spread of illness. Also, Radius.ai has produced all offline spots (offline systems) and has a working system for human safety for the 2b2 segment on the market.
Using the patented Viztel™ artificial intelligence technology, Radius.ai turns the existing vision-capturing devices into steady streams of valuable, real-time, actionable data. In addition to monitoring the real-time journeys of people within the facility, Radius.ai provides an interpretation of people's actions, areas of focus, and experiences. Partners will know in real-time where their bottlenecks are, what people are doing, and how they are doing it. Radius.ai helps to identify lost opportunities and how to fix them.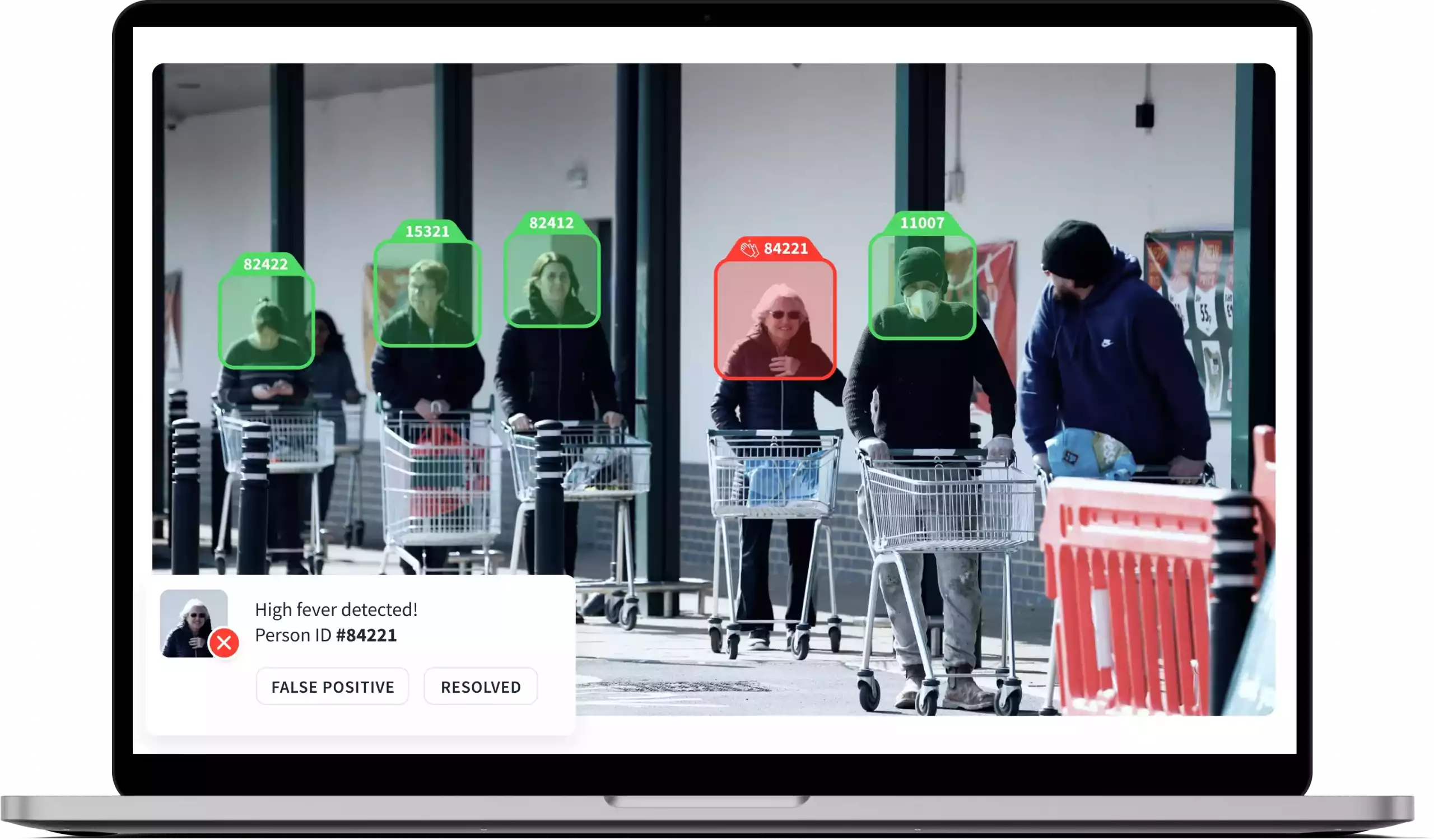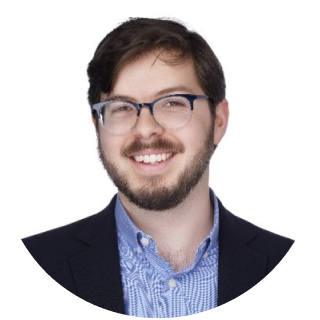 Paul Mills
Product Manager, Radius.ai, Inc.
"They did a great job asking solid questions when necessary, but working independently for the most part."
Results ✨
Time Savings
The pre-screening solution offered by Radius.ai saves nursing staff approximately 8-16 hours per week.
Real-Time Tracking
RAI has advanced real-time models for tracking customers and their behavior in 3D space using regular 2D monocular security cameras.
Enhanced Differentiation
The RAI team has created unique, anonymized numeric codes to differentiate between customers and staff. The system can track the customer's journey, behavior, purchases and dwell times at an area of interest.
Project goals ⚡️
The goal of RAI Health is to help create safer and healthier environments. The AI-computer vision technology paired with thermal and regular cameras should detect fever, make hand sanitization monitoring (seeing if people are using the provided hand sanitizer), mask usage monitoring, and social distancing.
Productivity. To boost employee and customer satisfaction with a more productive environment.
Profit. To improve the top and bottom line by receiving data that can help streamline operations and drive greater value in the facility.
Performance. With real-time data and long-term statistical analysis of that data, provide the tools for greater efficiency.
Challenges ⛰
01.
Full Stack AI Solution. The Radius.ai design team will look at the existing camera layout and identify any additional areas of coverage that might be required to achieve a full view of everything essential to the client.
02.
Integrates Into the Existing Security Cameras. Radius.ai works with 2K or 4K cameras to turn a 2D world into a 3D data-rich environment.
03.
Customizable Platform. Enterprise clients have unique needs. Radius.ai can align with existing technological infrastructure (e.g., POS, security protocols, etc.).
04.
Out-of-the-Box Solution. Get up and run quickly. Identify points of congestion and enhance the customer experience today.
The process 🚧
The development of Radius.ai involved a collaborative and iterative approach. Our team of engineers, data scientists, and domain experts conducted extensive research to understand client needs. Leveraging our Viztel™ artificial intelligence technology, we designed advanced models for real-time customer tracking using existing security cameras. Through client feedback and rigorous testing, we integrated anonymized codes for accurate differentiation and comprehensive analysis of customer behavior. The result is a cutting-edge solution that optimizes operations and enhances visitor experiences, demonstrating our commitment to innovation and impactful solutions.
Stages 🎢
01.
Research and analysis: thorough research was conducted to understand the specific needs of hospitals, clinics, and other public spaces. This involved analyzing existing technologies and identifying areas for improvement
02.
Technology design and implementation: our team utilized the patented Viztel™ artificial intelligence technology to design advanced real-time tracking models. Algorithms were developed to process data from 2D monocular security cameras and extract valuable insights
03.
Iterative development and testing: an iterative approach was followed, refining the system based on client feedback and industry standards. Extensive testing was conducted to ensure reliability, security, and performance. Identified issues were promptly addressed
04.
Integration and customization: close collaboration with clients took place to understand their specific needs and customize Radius.ai accordingly. Anonymized numeric codes were integrated to differentiate between customers and staff
05.
User acceptance testing and validation: clients participated in user acceptance testing to validate functionality and usability. Feedback was incorporated to enhance performance and user experience
06.
Deployment and support: Radius.ai was seamlessly deployed within the client's environment, with assistance provided for integration and functionality. Ongoing technical support and maintenance were provided
Team composition 👨‍💻
2 Front-end Developers
2 Back-end Developers
1 QA Engineer
1 Project Manager
Technology stack ⚙️
Back-end: Python, Sanic, PostgreSQL
Front-end: Typescript, React.js, Redux
Core features 💻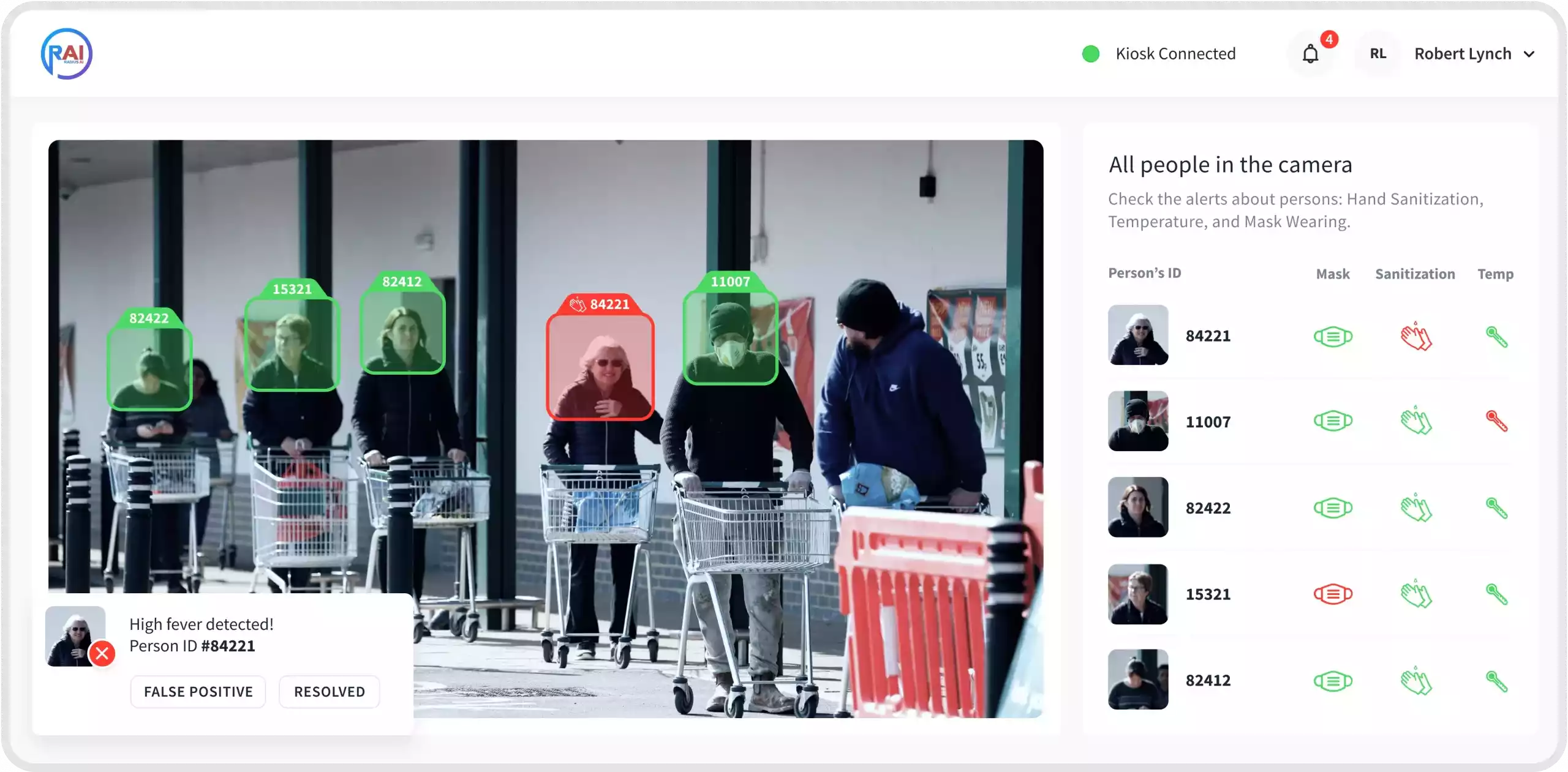 Discovery
Counts unique people
Differentiates primary paying customers and non-paying customers
Identifies where customers are, what they are looking at, and how they interact with staff and displays
Provides data required to make informed decisions beyond what is possible with POS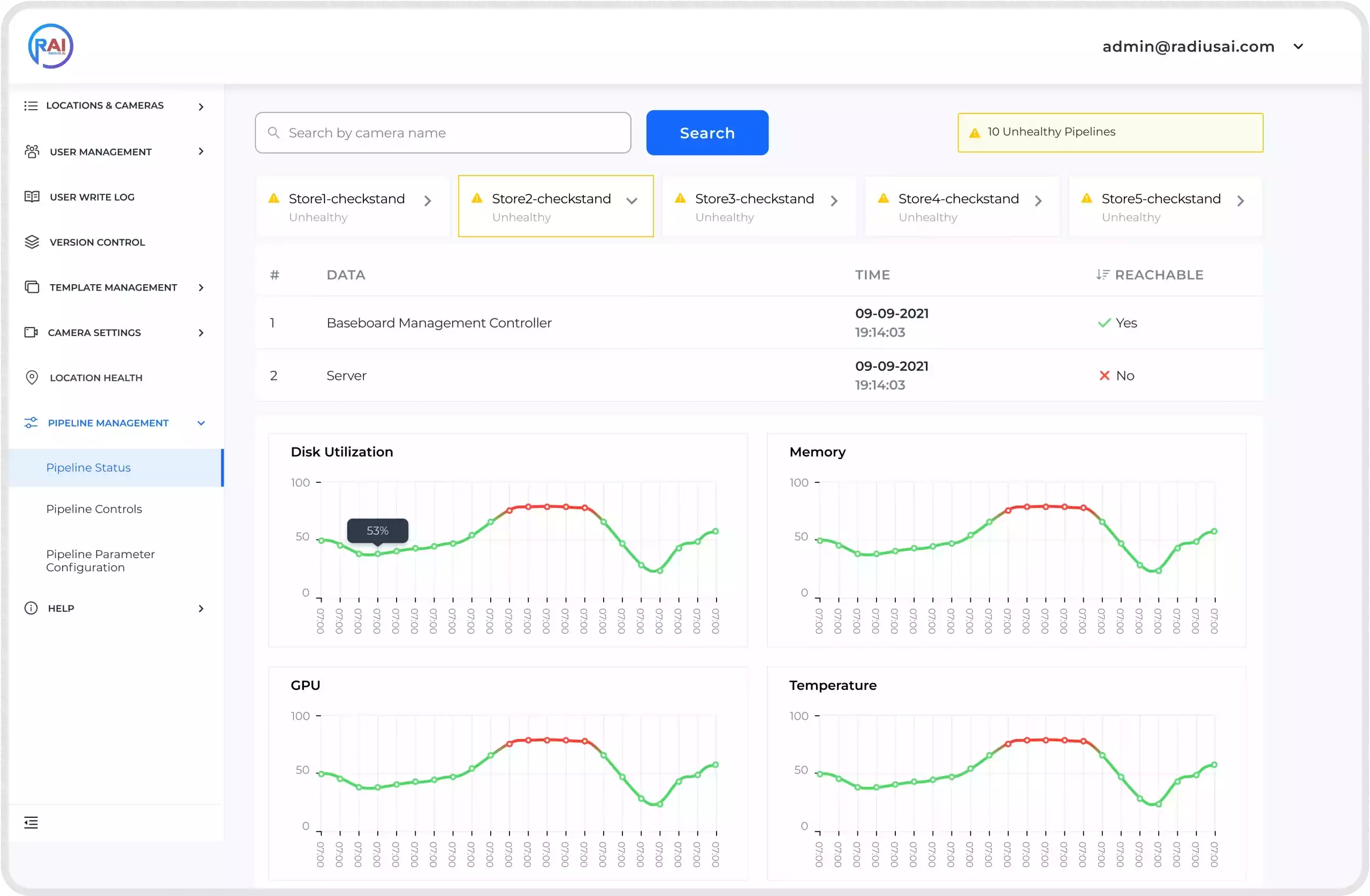 Analysis
Identifies people
Analyzes data in real-time
Real-time processing that allows for enhanced decisions in the moment
Identifies what a person is doing (e.g., scratching lottery ticket, eating a snack, reading a magazine, etc.) for meaningful data and insights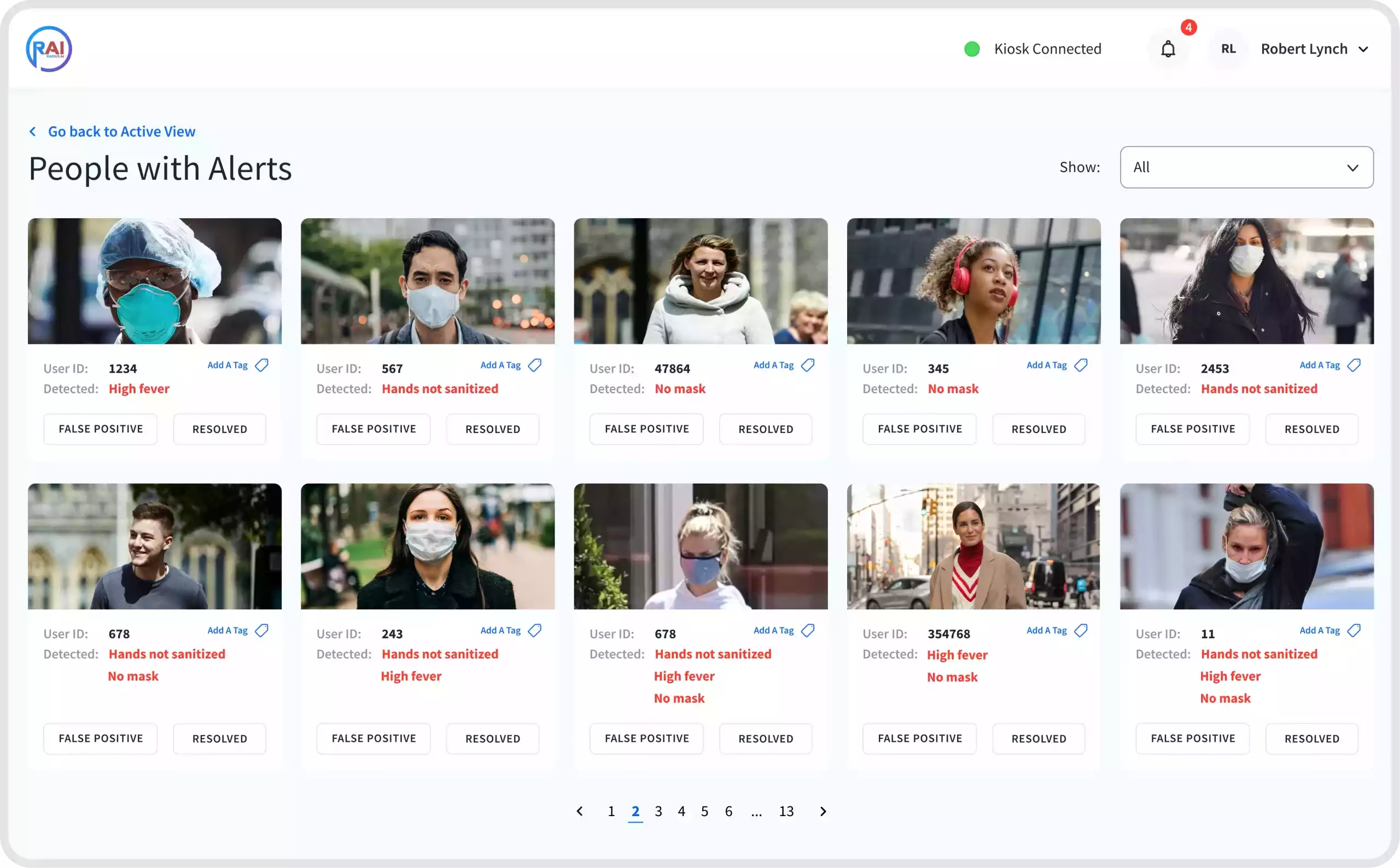 Flexibility
Field-tested and validated
Already tracking millions of unique journeys every month
Can operate in the cloud or compute on the edge, which allows to find the best solution for the clients needs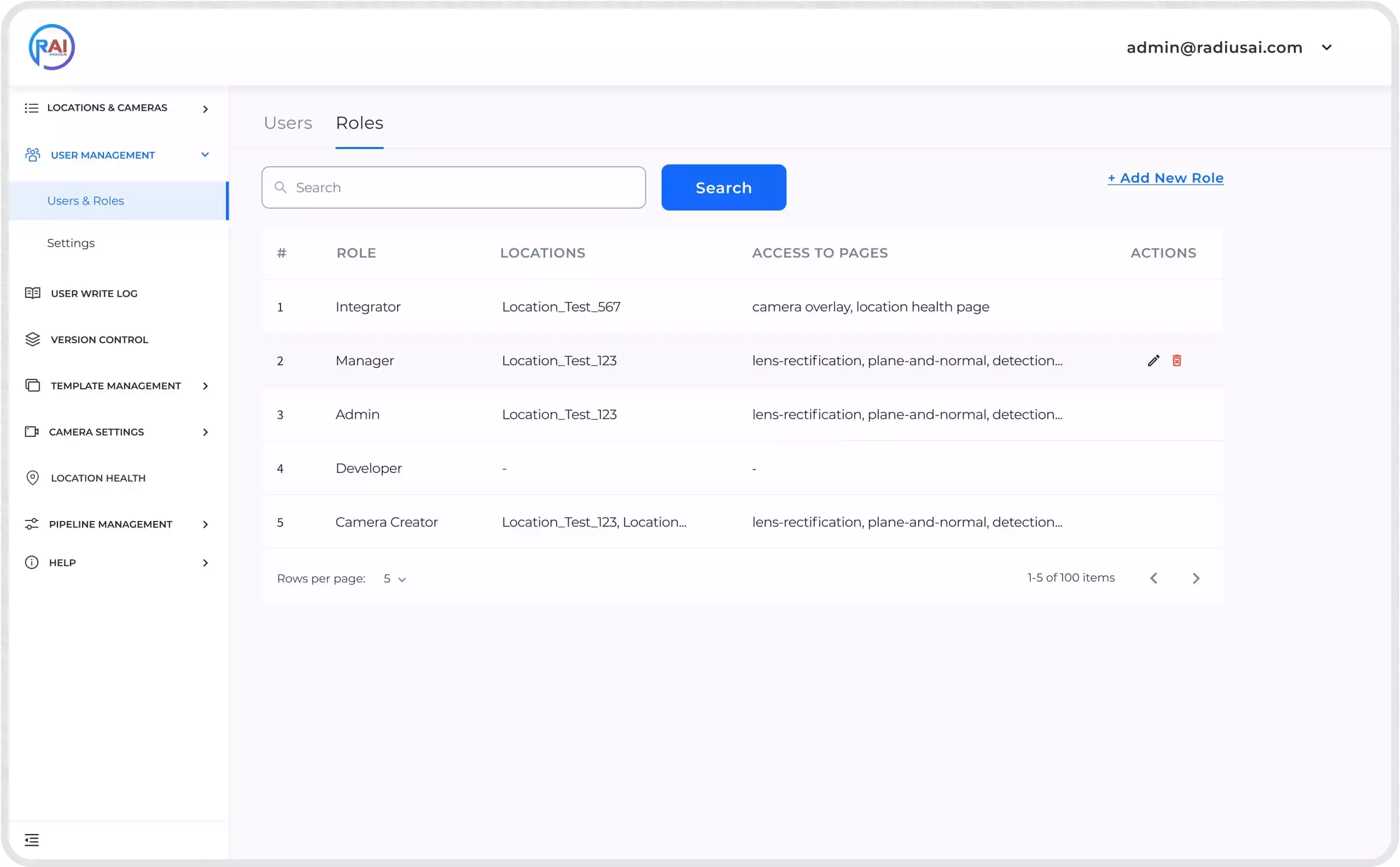 A lot of additional opportunities
Engineered UX friendly customer/patient interface
Live feedback to the patient/customer
Admin dashboard for the smooth operational cycle
Spanish/English versions of the software
Kiosk for visitor screening
Our Offices
Sales Office
701 Brazos St., Suite 550, Austin, TX 78701
See on the map

Headquarters
5A Vasyl Tyutyunnik St. Kyiv, Ukraine 02000
See on the map