What connects Ancient Greece and modern online users? Don't rush to google Plato, we have the answer ready for you. It goes about the value of education in people's lives. Today, of course, you don't need to walk with philosophers along the streets—we can simply download an app and learn something new.
And many of us do exactly this way, pursuing various goals. For instance, according to 2020 Coursera Impact Report, in addition to outcomes like gaining a promotion, doing better at their present work, and finding a new job, 87% of persons who learn for professional development report career gains. Why not join the noble mission and help people learn?
Especially when good deeds are also profitable. Building an educational app positively impacts revenue for a learning platform or university.
Let's just note that the massive open online courses market is expected to grow by approximately 29% annually within the next five years. What impact can you make developing instructional management platforms, online training software, or platforms with interactive content?
Educational institutions improve their curriculum process both from convenience and image points of view
Businesses get more options to retain employees and accelerate their growth for companies that educate their staff online
People worldwide open new opportunities to expand their knowledge and boost their skills.
As the edtech market is on its verge, approaching educational app development should be done with precision and research.
In this article, we will look at the current situation of the edtech market more closely, talk about the most popular learning app types and give useful insights about their e-learning app development based on WeSoftYou's 3+ years of expertise in the field of e-learning developing gamified security training and e-learning content management aggregator.
Having worked with billion-dollar worth companies, we developed different kinds of edtech products for private companies and schools, and we'll be happy to share our experience below.
Educational App Market Overview
Let's see some statistics concerning the state of learning in the 21st century and see how the e-learning market is developing.
Online education market anticipations
Following a recent Technavio report, between 2022 and 2027, the market for educational mobile app development is anticipated to expand at a CAGR of 28.61%. The market is expected to grow in size by USD 124,782.56 million. This comes as no surprise, provided that, with a share of 8.7%, education is the third most popular category in the Apple App Store.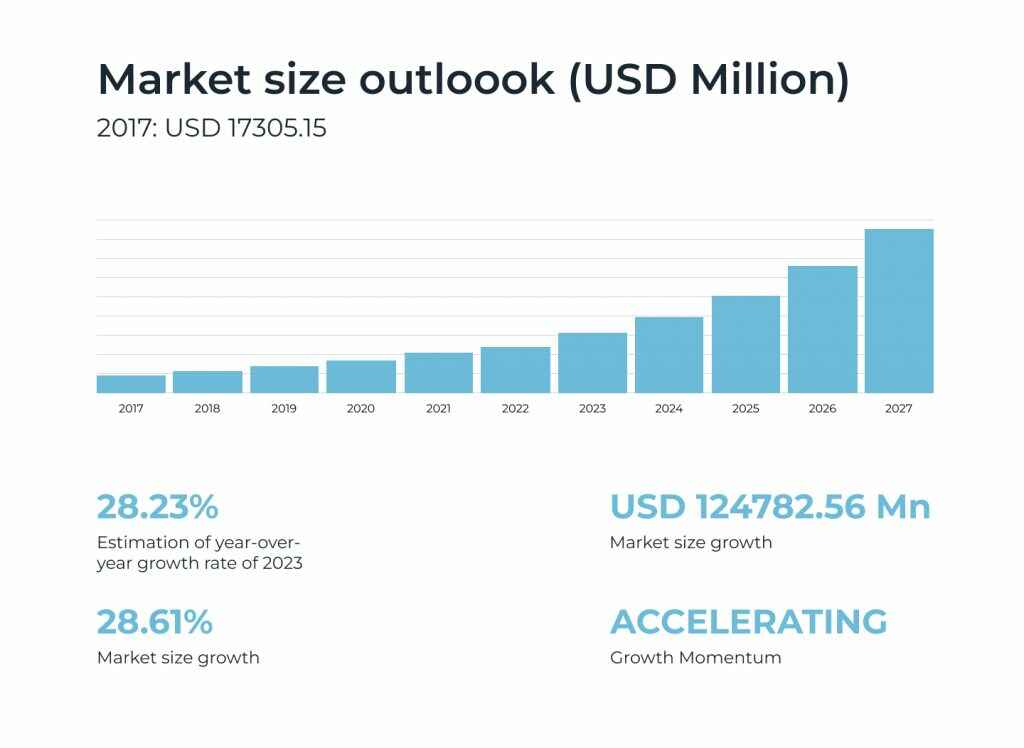 Most popular edtech apps
Expectedly, the top rank of popular apps goes to language learning. With 98 million downloads, Duolingo was the most widely used learning and educational software worldwide in 2022. Being the most popular educational software, Duolingo has acquired $183.3 million in investment from more than 12 investors.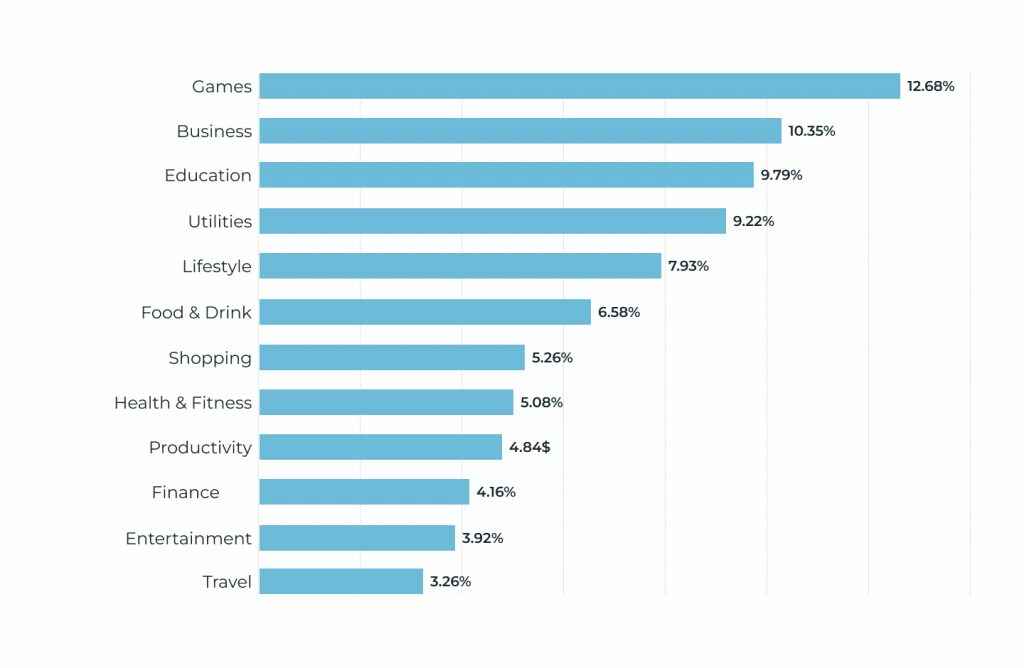 Online learning is a potent trend accelerated by the human desire to reach new heights and do it conveniently. It's, therefore, no wonder that the market for online learning apps is growing by leaps and bounds.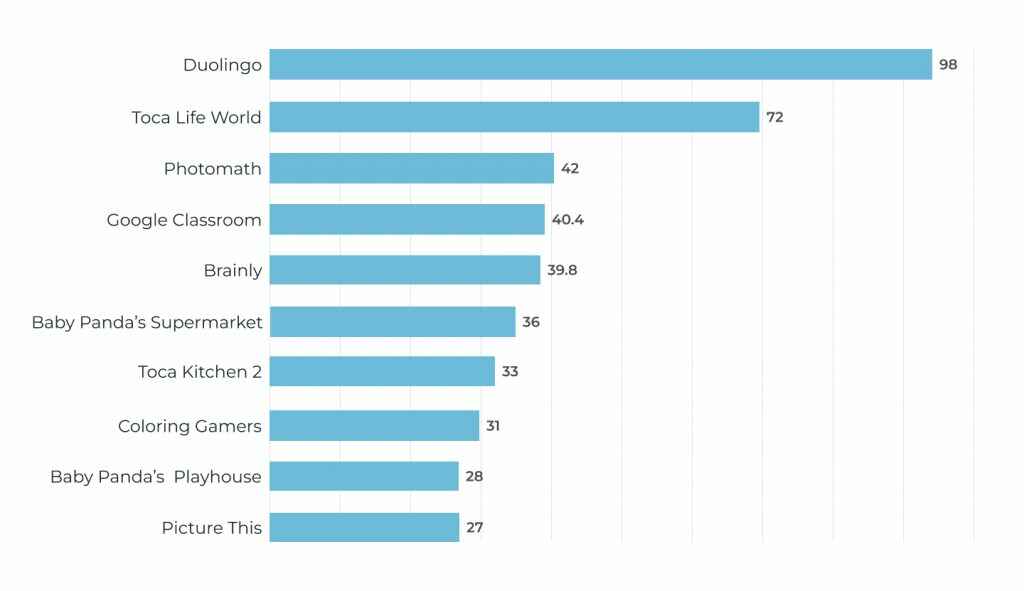 Types of Educational Apps
Educational apps market, App Store, Q3 2022.
Educational mobile app development has gone a mile by 2023, enabling various mechanics for online learning. Let's briefly review the most utilized formats of today's online learning.
Educational games
The development of an effective instructional mobile app is relatively complex but worthwhile. Since learning and amusement go hand in hand, producers should come up with a collection of engaging scenarios. This app is difficult, yet it's far more well-liked than other kinds. Well-known examples of such apps are Kahoot!, Quizizz, and others.
Platforms for online courses
Online students may access educational content anytime and from any location. The practice of taking classes online gives learners easy access to various resources, including textbooks, video tutorials, and audio lectures. Besides, such platforms provide education workers with more opportunities for developing their own programs. Well-known online course platforms are Coursera, Udemy, Skillshare, etc.
Language learning apps
Apps like Duolingo, Babbel, Lingvist, and others are the low-key best reflection of the entire 21st century. Having reimagined the studying process with an appealing design, accessible UI, fascinating tasks, and various scenarios, language learning apps became a new black.
Moreover, they caused a quiet revolution in terms of modern learning and the way information is obtained. These applications advocate for rapid and efficient learning methods as users increase their memory, cognitive abilities, and communication.
Business training software
To handle staff education and training, companies utilize business training software. It promotes development and boosts workers' professional competency. Additionally, corporate training software provides you with the means to manage and assess the success of the training.
Business training software is already a component of the growth strategies of well-known organizations like Amazon and Schneider Electric.
School management systems
Educational software development and apps for schools help school administrators streamline operational processes, while teachers can take advantage of simplified planning, grading, scheduling, and statistics conduction.
A progress monitoring app, for instance, may be used to monitor students' progress and accomplishments and to address any issues that may develop during the learning process. Examples of school management systems are apps like Gradelink, MyClassCampus, Alma, and others.
Things to Consider Before Starting Educational App Development
Before you start to develop an educational app, it's worth considering the following factors.
Monetization strategy
Not every form of revenue generation is suitable for every app. Your ROI will rise with properly picked monetization, so you will have to think about it thoroughly.
In terms of education apps, there are several ways to do it: make a paid app via subscription, including premium features, develop built-in purchases, or enable advertising. The final decision depends on the app type, the target market, and the goal. All of them influence your monetization approach.
Marketing strategy
Much like monetization, marketing efforts should be defined by your type of audience and the value offered by the application. Promoting a language learning app on social media makes sense, while school management software will require more sophisticated advertising channels. To conduct efficient marketing, you'd have to do competitor and audience research.
Gamification
Duolingo's outstanding success can be explained by a number of factors, one of which is excellent gamification. These instruments make a learning app interactive and exciting; while it may not suit certain formats like learning traffic rules, this feature can unexpectedly prove effective in unusual formats like security training. In a nutshell, gamification is one of the parameters you should consider while conducting thorough marketing research.
MVP Features of an Educational Mobile App
To develop a learning app that will be successful on the market, you should include a range of features that are especially helpful in the learning process. Within this list, we'll skip the versatile must-have functions like signing up, user profile, push notifications, search, etc., and focus on ed-tech-specific features.
Student Dashboard
Student (or student-parent dashboard, if it's an e-learning app for kids) is a pretty default feature of any online education app. It helps tune personal preferences and enables progress monitoring from anywhere, which is the most significant part of the software.
Scheduling
Scheduling is a fundamental requirement for student and teacher applications that provide live lecture streaming or real-time interactions with other students and teachers. Although the ability to study whenever is convenient for the user is a selling feature of most self-learning applications, it can still be advantageous for those who want to plan their self-paced learning.
Attendance management
In less than a minute, teachers may record each student's attendance. With the help of this function, teachers may view who was present in the classroom during a certain time – either the entire class or a single student. This feature is relevant for custom school apps.
Strong database, statistics, and analytics
The creation of mobile educational apps must include the integration of a reliable database. It makes updating easier. The students like it when the material is consistently up-to-date, diverse, and tailored to their interests. Besides, statistics are useful for both instructors and learners: knowing where your knowledge is lacking might help you alter your strategy and fix problems.
Offline mode
It's possible that students may lack a regular, reliable internet connection at any given time. Providing an offline mode will help them have access to all necessary content anytime, which will simplify learning process and work towards user retention.
Cloud integration and syncing
Both students and teachers frequently utilize a variety of gadgets. Apps users may have their devices in addition to any gadgets that schools may give. It's crucial that the app can be used on as many devices as possible and that progress is synchronized over the cloud.
Additional Features for Your Learning App Success
You can always make your product even more appealing if you add extra features. What can go best with the edtech MVP?
Socialization and social sharing
In a classroom setting, effective communication and cooperation are essential. Building an educational app just to assist students in learning new information and skills is insufficient. The best choice is to develop an app that functions like a network and allows users to interact, add friends, exchange resources, and express opinions on particular subjects.
Mock test and consistent practice
The possibility of passing a fake test is beneficial for learning. It's crucial in software for driver's license tests but optional for other learning apps.
Multilingual
Providing the possibility to choose from several languages is desirable but optional when it comes to school- or region-specific learning apps. However, if you're aiming toward a global market, the audience is constrained when instructional material is offered in only one language.
Tech Stack for Learning App Development
There's a variety of programming languages and frameworks software engineers can use to make an educational app. However, there are five best types of stack WeSoftYou has selected for you.
React Native
Thanks to its widespread adoption and established market presence, this programming tool is regarded as the most effective approach to develop cross-platform apps. React Native was originally developed by Facebook; it's a JavaScript framework working well with Android, iOS and web.
React Native's key benefit is that it enables developers to run iOS and Android apps using the same code. The JavaScript library and React's UI paradigm work together to enable responsive apps to communicate with native APIs, which keeps the development team busy.
Angular + Node.js
Angular, along with Node.js, is a great choice for creating an educational app thanks to two-way data binding, CLI support, and component-based architecture.
Besides, with the ongoing development of browsers and their capacity to handle a wide range of features over time, the Angular team at Google continuously updates the framework.
Python
Python is a general-purpose programming language, which is especially good for data visualization and analysis. Considering its compatibility for website and software development, Python, along with its frameworks like Django and Flask, makes one of the best choices for edtech development.
Flutter
From a single codebase, Flutter is a Google-powered solution that works with Android, iOS, Linux, Mac, Windows, Google Fuchsia, and the web. The framework's layered design offers strong layout functions to create a stunning and scalable mobile user interface.
The creation of Flutter apps is rapid and dependable; with Flutter Hot Reload, you may examine freshly added app features or bug fixes without having to restart your app.
WeSoftYou's tech stack
Uniting professional education software developers, WeSoftYou team makes sure to work with an appropriate tech stack. Our engineers are on a first-name basis with Django, Python, Node.js, Flask, Vue.js, Angular, React.js, React Native, and Serverless.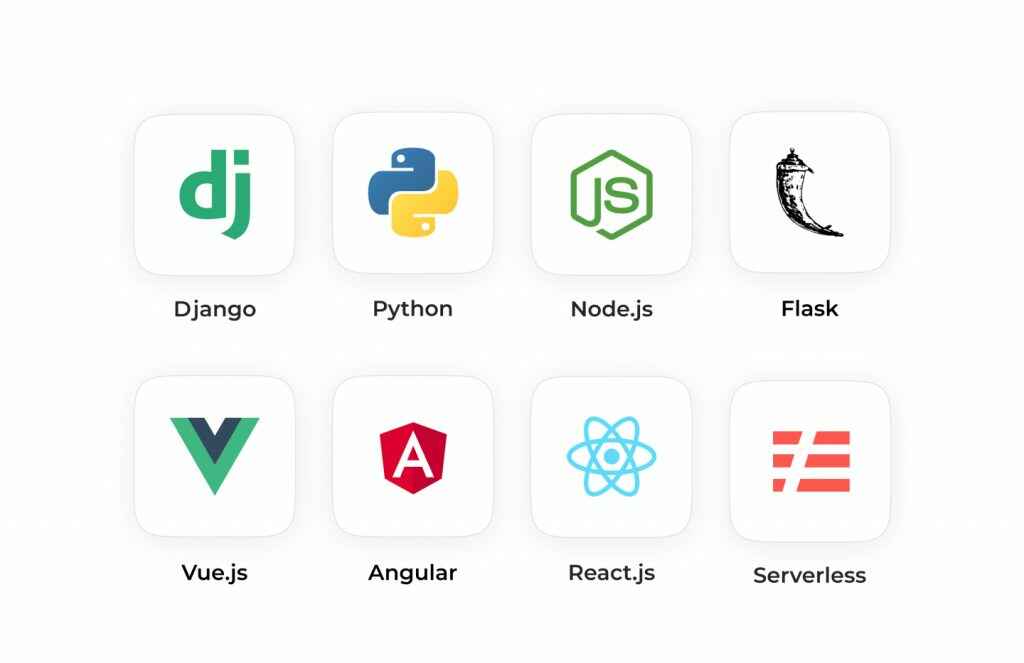 Educational App Development Process & Costs
In general, you can create an educational app in 5 steps.
Discovery
This is the first step towards product development, where the team conducts previous research and defines the project's scope of work. The strategy and calculations are tailored to a specific order and ed app type, with possible pitfalls being predicted as well.
Prototyping
After all the basic functional and non-functional requirements are spelled out, it comes time to start designing. This is when designers work on UI/UX, user paths, and user stories. In this stage, you can first see how a completed app will eventually look and feel.
Development
At this stage, tech engineers and designers unite their efforts and start technical work. They tackle activities like coding, infrastructure setup, developing documentation, and several other procedures as they progress through processes step by step.
Deployment
Testing the solution to ensure it satisfies the original criteria and is error-free is a vital next step for engineers. The product then moves into the first release stage and is made available to its target market and potential students.
Support and Maintenance
This last stage is mainly about keeping your ad app viable and improving it when required. The e-learning system is kept operational, debugged, and updated with the support of technical staff.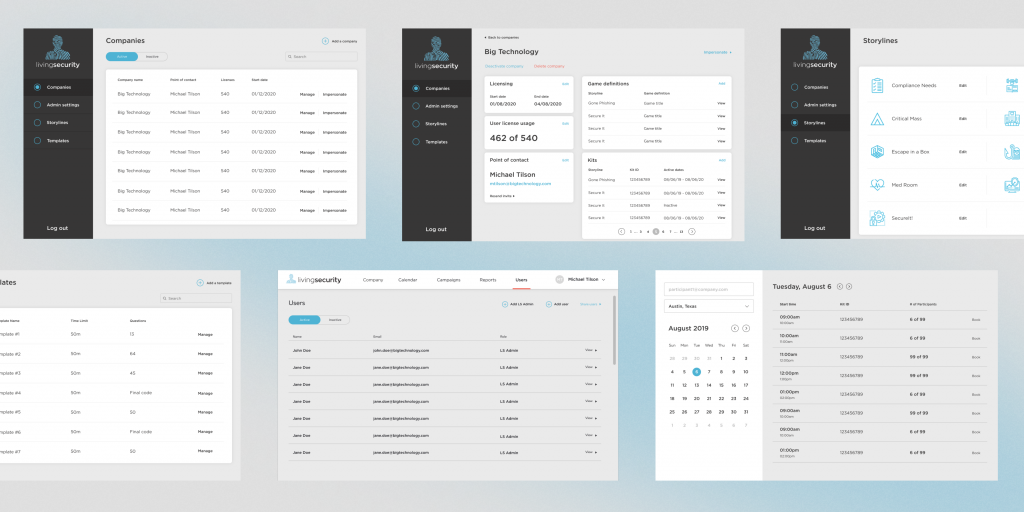 Costs of developing an educational app
Educational software may be developed for anywhere between $25,500 and $50,000 per MVP, reaching up to $300,000 if it's a full custom product. The MVP includes the basic app features along with dashboards, attendance and timetable management, database, and exam modes. At the same time, a tailored product will also include language customization, mock testing, social sharing, etc.
The team size, needed functionality, and whether it's an MVP or a custom product all play intricate roles in the time and cost calculation. Please feel free to contact WeSoftYou for more exact calculations since each project should be estimated separately.
WeSoftYou Experience
Consider WeSoftYou for your next educational app development provider. Having over 3 years of experience as a custom e-learning software developer, we deliver turn-key educational solutions for any purpose and with flexible engagement models.
Living Security is a web platform for Fortune 500 companies that offers gamified cybersecurity e-learning. It offers immersive cyber security training through an experience of an "escape room."
The WeSoftYou team contributed to digitizing current security awareness training and created the first fully remote human risk management platform for cyber security. We make it available to more than 1000 companies worldwide to assist them in educating staff members about secure online behavior.
For backend development, the WeSoftYou team used Python, Django, Serverless, Postgres, Celery and Redis. Front-end was accomplished with ReactJS, Redux, Styled Components and Typescript. The app's key features include LS and company admin panels, leaderboard, reporting and gaming.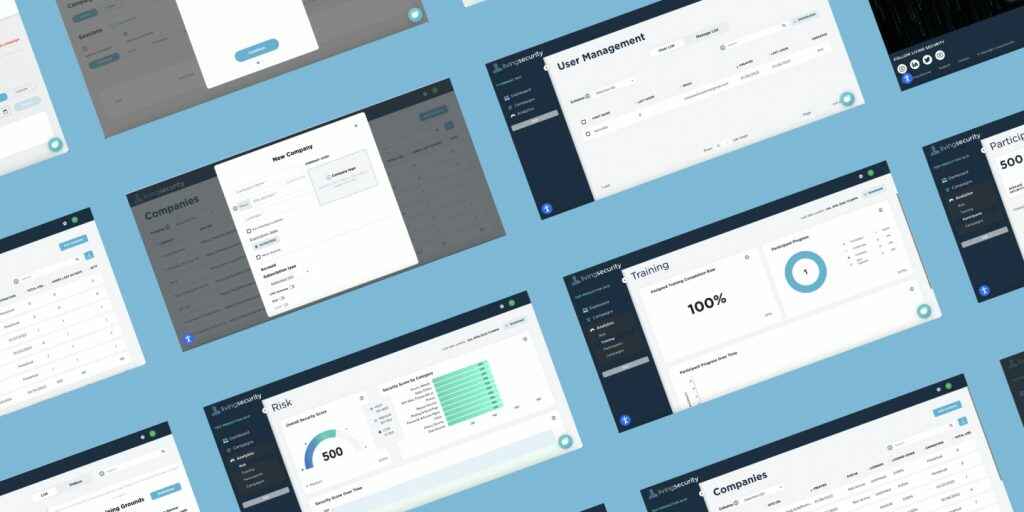 By separating growth from resource requirements, Circle Economy, a social company, develops industrial systems that are restorative by design. By offering insights into what a circular future would entail for a firm or a region and by developing scenarios for how to get there, the company is on a mission to hasten the transition to a circular economy.
On this mission, the WeSoftYou team had to create microservice architecture for the platform's web app, integrate with existing AWS services and infrastructure, customize headless CMS and integrate it with elastic search, store historical data by changing articles and cases, and use third-party services as authorization system.
The technology stack WeSoftYou team leveraged on the projects Python, Django, React, AWS, and Elastic. In the outcome, we develop a portal that offers a collection of case studies on the circular economy, as well as frameworks for circular strategies and policy tools, which may be used as models for fresh projects.
Develop Your Next EdTech Software with WeSoftYou
While creating educational apps, it's essential to design these products correctly if you want to reap their greatest benefits, be it streamlined employee training with saved time and costs for companies or smooth learning process for schools and universities.
Entrust your edtech development to seasoned pros from WeSoftYou. Our turn-key educational app development services help businesses achieve their goals by leveraging solutions with enhanced performance that improve customer experiences on web and mobile platforms. Let's connect to discuss your next great idea and bring it to life together.
FAQ
How long does it take to make a mobile learning app?
In general, developing an educational app takes 7 to 12 months. However, you can get a more precise cost estimation if you contact the WeSoftYou team.
What tech stack is needed for educational app development?
To build a learning app, you can use frameworks like React Native, Xamarin, Flutter, Python and Angular. All of these frameworks are adaptive; they enable scalability and interactivity in a ready-made product, which is an excellent feature of any edtech app. For hybrid app development, your best choice can be Cordova/PhoneGap and Ionic.
Is it profitable to build an educational app in 2023?
Creating a learning app will certainly be profitable in 2023 as market research shows edtech popularity and students' desire to learn. If you're looking for a responsible educational software developer, consider WeSoftYou to be your trusted partner.