The UK seems to be a hot spot for the steadily growing Financial Technology (fintech) sector. In 2022, the number of UK firms operating in this sector exceeded 1.600 and is expected to double by 2030. With London named the country's fintech superhub, you might wonder what the top fintech companies in London 2023 are and what you can learn from their experience.
WeSoftYou has been working with the fintech sector for over six years, developing high-quality software for international businesses. Our portfolio has cases of various scales and complexity, such as a blockchain-powered project Good Dollar for a non-profit organization or a cryptocurrency exchange platform NDAX.io.
We always dig deep to find the best fintech solution for our clients and know a lot about all sectors we're working in. In this article, we want to share our knowledge and tell you more about London's fintech industry and its most noteworthy representatives.
The Fintech Industry in London
In 2022, Dealroom named London one of the world's leading tech hubs. According to their report based on the data from the previous year, in 2021, London ranked fourth in the world and first in Europe.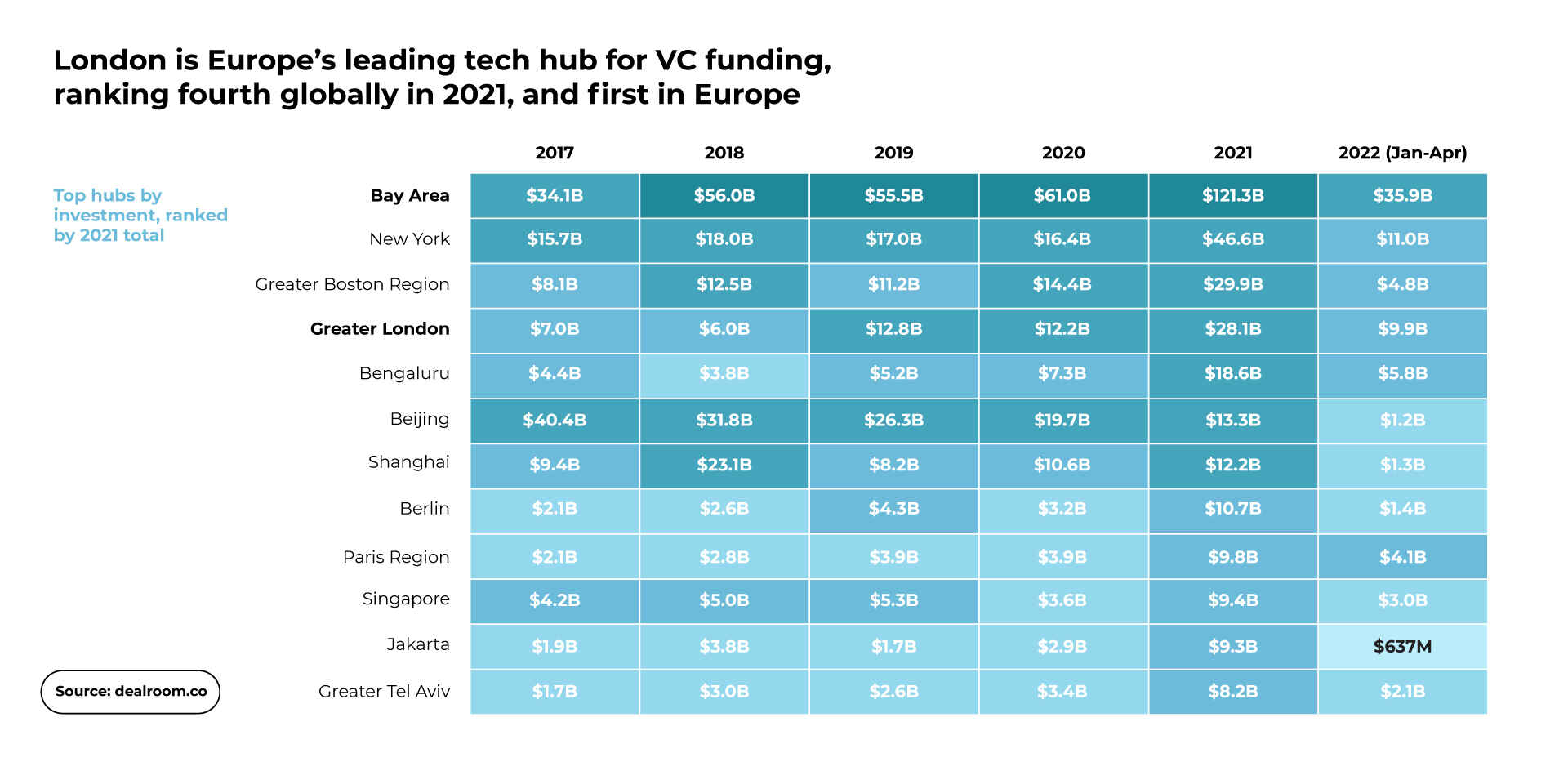 Impressive, isn't it? But what exactly makes London so special, appealing to the fintech world, and ready to compete with the US tech giants?
The answer lies in the factors making the UK a global fintech leader:
UK government's support
The country encourages fintech innovation and growth, launching regulations and initiatives to help. The UK's central bank, the Bank of England, launched a fintech accelerator program in 2016. The program's main goal is to improve the bank's familiarity with fintech products and share insights with the firms working in this niche. This has become a significant support for new startups.
In the same year, 2016, the Financial Conduct Authority (FCA) launched a regulatory sandbox. It accepts applications from all the companies operating in the fintech sector and basically allows for testing new products or services in a controlled environment with real consumers.
This regulatory sandbox helps the companies:
find out whether a business model is appealing to the target audience;
understand how their technology would work in the market;
reduce time to market while potentially spending fewer costs;
understand how to identify, implement, and improve consumer protection safeguards for their new products or services.
A diverse talent pool of skilled professionals
According to the Global Talent Competitiveness Index (GTCI) 2022, the UK ranks second in the world by the pool of global knowledge skills. It can also boast four of the 10 top world universities and nine institutions in the Global MBA Rankings 2022. In addition, it is among the top 10 OECD countries regarding the share of adults with tertiary education.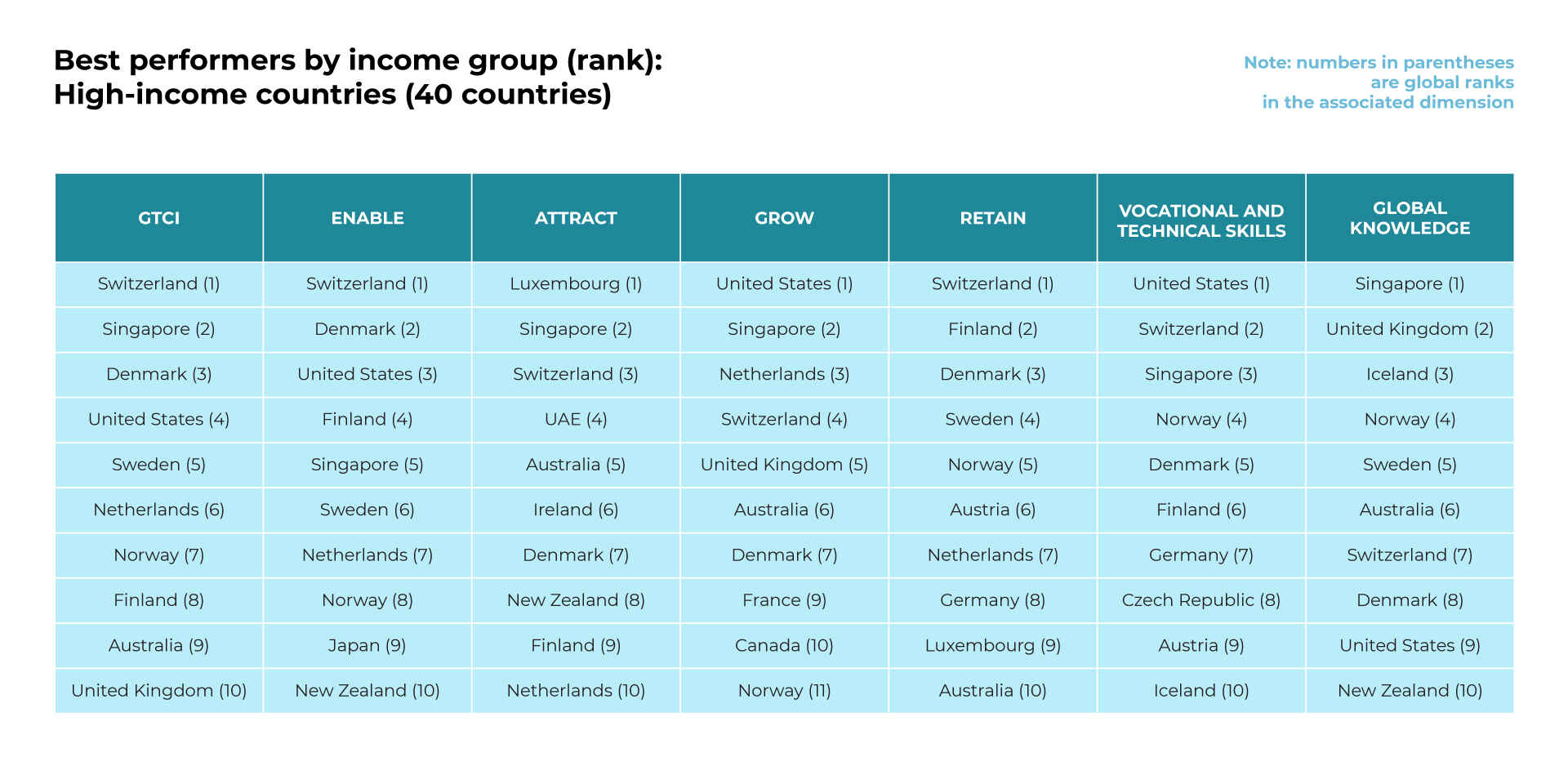 Numbers aside, the UK also has many universities and research institutions focusing on fintech, blockchain, cybersecurity, and artificial intelligence. It helps not only to grow highly skilled talents but also to encourage collaboration and innovation.
Many top fintech companies often partner with UK's educational institutions to drive new discoveries and advances. Furthermore, the UK is constantly introducing new opportunities to make the fintech talent pool even more skilled and diverse: courses, sponsored work placements, apprenticeships, and many more.
These two factors influence all UK cities, London included. However, several more factors contribute exclusively to London's success.
Accelerator programs
London is the home for many accelerators. Several of them focus solely on fintech companies. One of the most noteworthy examples isStartupBootCamp — a 6 months program that grants 10 chosen fintech companies with mentorship from industry experts, seed funding, and networking opportunities.
Another example is the Tech Nation Fintech program that also lasts six months. The program's participants get to attend learning sessions and networking events with key stakeholders.
Fintech investment
London also helps ambitious fintech startups to find finances for their growth and development. The early-mentioned Dealroom's report shows that in the first months of 2022, London has raised more fintech investments than any other global hub.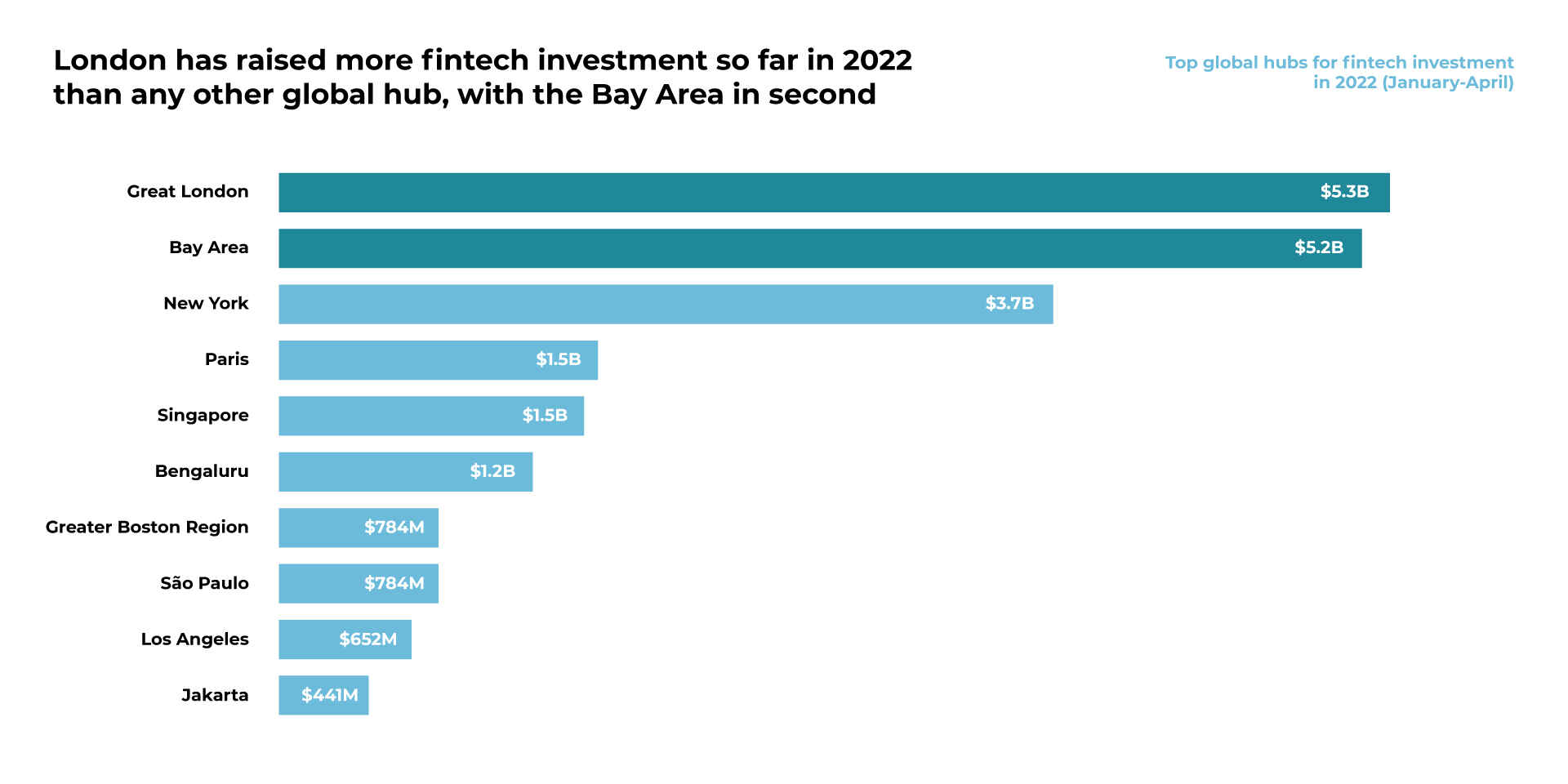 This is impressive yet not surprising. The steady increase in the number and value of London's fundraising started in 2011 and has been improving year by year. Most of the money comes from venture capital firms and private equities. Crowdfunding platforms also drive funds actively. Furthermore, London can also boast several fintech-focused funds, such as Fintech Circle, Augmentum, Anthemis, and Mouro Capital.
Top Fintech Startups in London
As you can see, London is not only a home for fintech top companies but also a promising place for startups. Naturally, even such an environment isn't a 100% success guarantee. To thrive, you need a unique solution tailored to a local market, react to changes quickly with maximum efficiency, and build and nurture strong partnerships with all stakeholders. And, of course, learn from the best.
Speaking about the best — the following five startups had made the list of top fintech companies:
Revolut;
Wise;
Monzo;
Starling Bank;
Checkout.com.
Below, you can find more about them.
Why did these startups make the list of top fintech companies in London 2023? While there is no general answer, it's safe to say that one of the main reasons is their constant pursuit of innovation. When they launched, these startups were one of the first to offer unique solutions for the UK market, and they continue to implement new useful features since that day.
Future of Fintech in London
The future of fintech in the UK and London, in particular, seems bright. According to Statista's forecasts, total industry revenue could reach $16.06 billion by 2027. The rise of mobile wallets and contactless payments in the UK also continues. By November 2022, the total number of contactless card transactions exceeded 15.4 billion.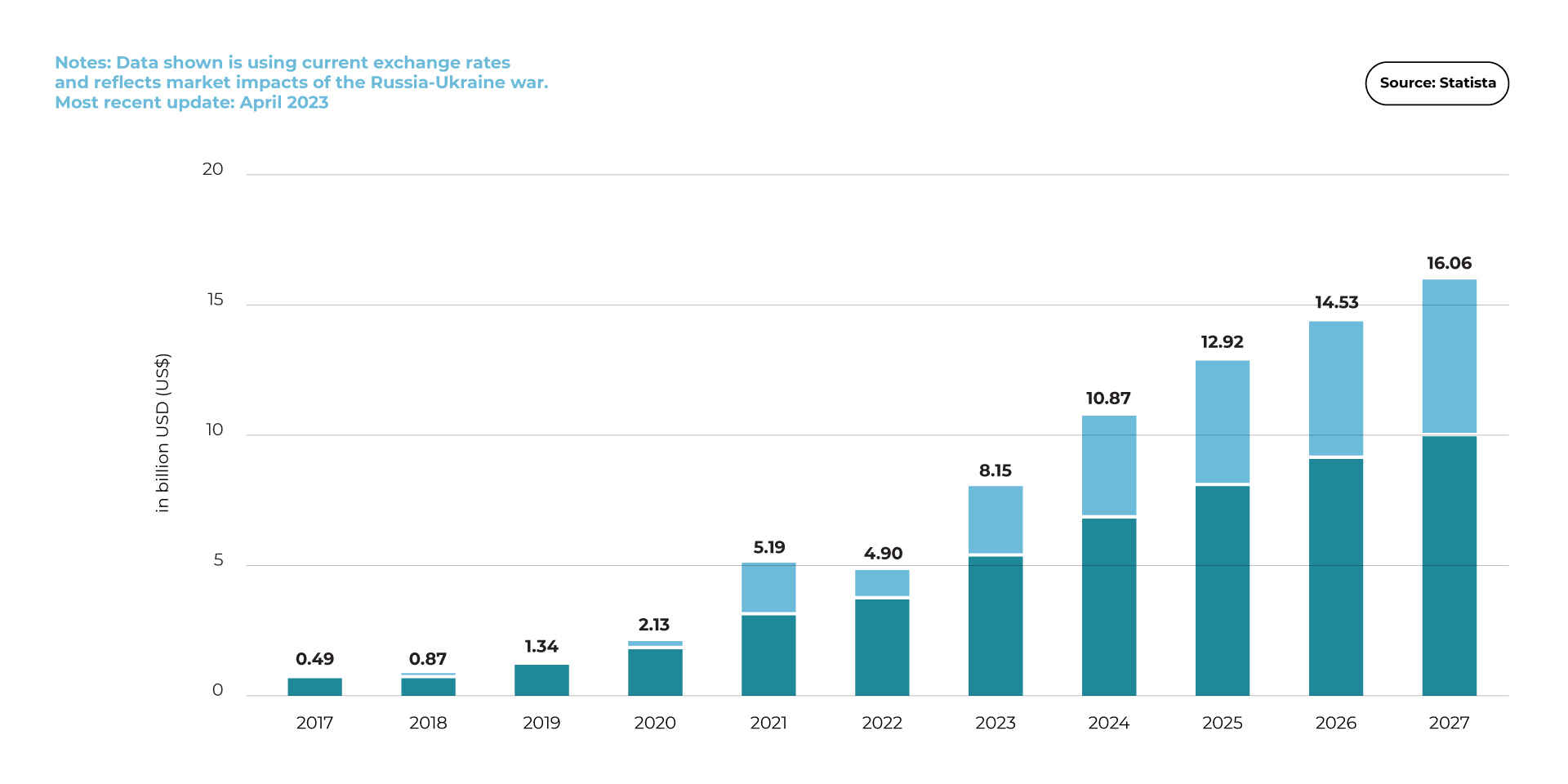 These numbers show that the fintech industry in London can scale faster. To support such growth, the UK should strengthen its current institutions supporting the industry, drive new investments, and continue working on making financial operations more transparent and manageable by the masses.
The potential challenges
However, too rapid growth can also impact London's fintech industry negatively. The quicker the companies scale, the more customers they serve. Both of these factors add to the costs of compliance and service delivery.
One of the recent challenges for the industry is the impact of SVB UK bank collapse. Both tech companies and their investors can use this case to reflect on it and prepare themselves for any possible similar collapses. Finextra's experts predict this will result in budget increases for risk management.
Another 2023 prediction by Arvin Abraham, UK Fintech Partner in McDermott Will & Emery, states that fundraising will become more complex. It might encourage companies to put off getting funding for some time to pursue non-equity financing such as venture loans.
Opportunities for startups
Does all of the above mean that now it's not the time to launch new fintech products on the London market? Not at all.
Investors will still be looking for startups to support. Their main focus will be on the companies with clear business plans and paths to profitability. Such companies also need to focus on solving real and current problems that London's consumers and businesses face today.
The customers, in turn, will look for solutions that help them save more, manage their funds more efficiently, and at the same time, are easy and intuitive. Offering your target audience clear and simple user journeys and smart saving schemes might help you stand out among competitors and thrive in the market more quickly.
WeSoftYou's experience in fintech
At WeSoftYou, we've been working on different fintech products, the most interesting of them being NDAX.io and Good Dollar. The first is a cryptocurrency exchange platform for secure trading that offers the largest currency portfolio in Canada. Despite the impressive number of currencies, the platform had to be efficient: simple, fast, and secure.
We succeeded, and NDAX turned out user-friendly, quick, and secure. Its security and compliance standards meet Canadian banking laws, providing an extra safety layer.
The Good Dollar project is no less noteworthy. It is a blockchain-powered solution focused on financial generation to reduce inequality by creating a universal basic income (GBI). WeSoftYou had to develop a web application for GBI generation, financing, and distribution.
The solution we created can integrate with a cryptocurrency wallet and over four marketing analytic tools. Other key features are a real-time user dashboard and a custom invitation referral model.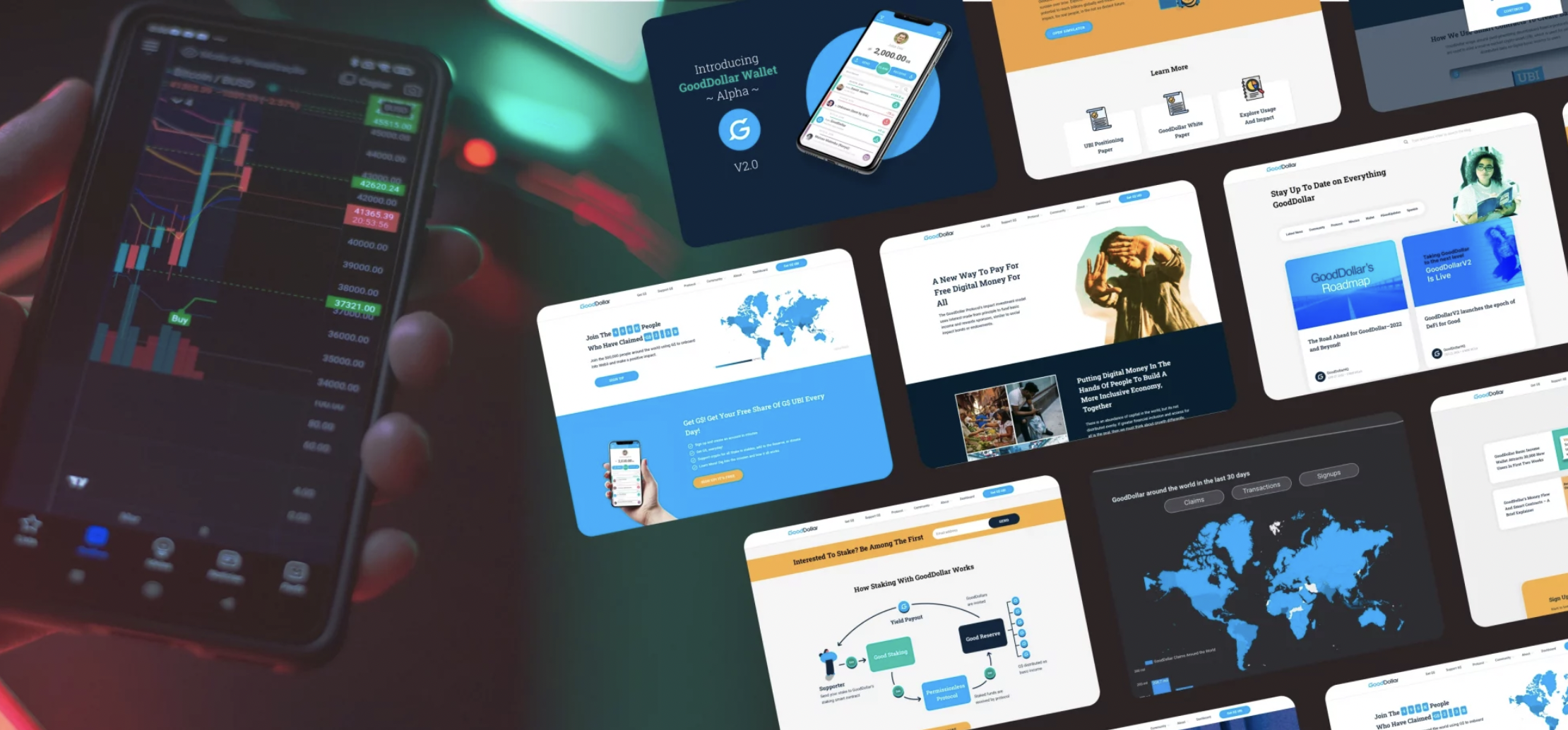 Conclusion
London is considered one of the leading fintech hubs these days. Massive government support, a diverse pool of talents with experience and education in the niche, local accelerator programs, and reliable investors make more and more people wonder whether they should join the industry and introduce their brand-new startup.
The success of the existing London startups can only contribute to this desire. Revolut, Wise, Checkout.com, and other well-known companies worldwide are currently headquartered and growing in the UK capital.
WeSoftYou can help you turn your innovative ideas into life and succeed in London's fintech industry. We offer diverse fintech app development services, such as creating blockchain-based solutions, banking and accounting applications, digital wallets, and other products.
Named number 5 of the fastest-growing world companies by Clutch, we know exactly what it takes to thrive in the competitive market. And we're willing to share our knowledge and expertise with you to help you shape your vision and build a successful product.
Don't hesitate to find out what it takes to launch a successful fintech solution — contact us, and we'll help you figure everything out!
FAQ
How many fintech companies are based in London?
In 2022, 1.866 fintech companies were based in London, including 25 unicorns. This made the UK capital the third largest fintech hub, with New York placed first and San Francisco — second. London also boasted 2.260 investors and 52 fintech events in the same year.
What is the next big thing in fintech?
Several trends are currently developing and could significantly influence fintech's future, the major being digital banks (including neobanks), blockchain, and artificial intelligence. Digital banks allow people to open and manage their accounts, cards, payments, and other transactions online and get all the necessary customer support without visiting a physical bank. Blockchain technology massively affects how payments are and will be made, providing cheaper and more secure solutions. Artificial intelligence or AI can optimize processes both for businesses and clients. Many companies already use AI-powered chatbots to provide basic support for their customers.