The WeSoftYou team is proud to announce one of our most significant accomplishments this year! Our team has been recently named one of the best product design agencies in Ukraine by Clutch, and we are proud to share this amazing news with all of you!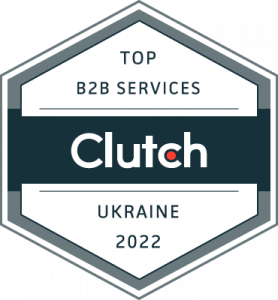 Clutch, for those of you who don't know, is an established platform in the heart of Washington, DC, committed to helping small, mid-market, and enterprise businesses identify and connect with the service providers they need to achieve their goals.
Being named one of Clutch's 2022 leaders is a huge milestone for our company! This award also helps in cementing our position as one of the best in the local industry. We would like to thank Clutch and their team for giving us the opportunity to share our talents and hard work with a wider audience.
We're delighted to know that we're respected by the Clutch community. Thousands of hours are now finally recognized for the hard work, dedication, and courage that goes into it. This award does strengthen WeSoftYou's motivation to push further and aim for a $1b companies list, where Ukrainian leadership is poorly represented. Building Software People Would Love is getting easier with this award! Congratulations to all the well-deserved winners!" says Founder and CEO, Maksym Petruk
Lastly, our company would like to thank our clients and partners who have supported us throughout the years. You guys are incredible! There wouldn't be a WeSoftYou without you guys, who believed in our team and the capabilities to deliver excellent solutions for your business.
We'd love to hear from you! Reach out to us today, and let's talk about how we can turn your ideas into reality.