WeSoftYou is a company engineering the Software Products You Would Love. By uniting the powerful Front-End, Back-End, QAs and DevOps'es engineers with strong management, we've built a powerful team capable of literally EVERYTHING.
Let us put that swiftly: in the beginning of 2020 we didn't have a clue how challenging this year would be, more of an emotional rollercoaster. In our quarterly session we threw an idea into the air to double-grow WeSoftYou, which seemed absolutely non-achievable and impossible from that standpoint. All of us ended that evening with the thought: "How the hell'd we need to adjust to grow this year?"
And that was the start of an amazing journey of our triple-sizing!
Going forward, the numbers says it all: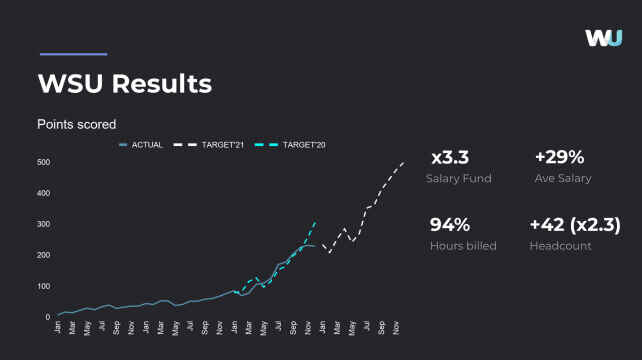 We literally overdid our goal by TOP management restructuring, solid processes establishing and the clear Development Strategy.
We also worked quite hard for training our employees to work in an all-remote rhythm, keeping their work-life balance comparably the same instead of maintaining that "stay hungry" mentality Ukriainian IT companies have.
In the next article we'll share the insights of what we did wrong and how we could grow 4 times. But now, those are our TOP achievements:
1. Check up the team's experience
The Upwork Ukraine awards are based on a number of criteria from the last calendar year. These factors include:
-Past years' earnings
-Client feedback, including the number of successful job outcomes
-Regular profile improvements and updates
-Efficient client communications based on client feedback
-High responsiveness scores
That was never planned, but when WeSoftYou got contacted by the Officials from Upwork, that was like an a-ha moment.
Our CEO, Maksym Petruk, noted "It was a real surprise to get 'The Breakthrough of the Year 2019' Upwork Ukraine award. Thanks a lot! At our very first short strategic session during the first days of the company, we planned to grow on Upwork to once get this award! 2.5 years later we've made it! We are keeping it up and will grow our revenue and performance to get another award in the future. I think this award will help to boost our business!"
2. Full TOP Management Restructuring
There are three things eternal at WeSoftYou and none of that will be the tolerance to weak professionals. Due to WeSoftYou's flexibility we quite shortly reorganized the TOP-Management. Following the best principles of meritocracy, we headhunted the best professionals from the TOP IT companies, governmental organizations, etc. And now this team helps us to skyrocket the projects, strategies and operational parts of the business.
New rule of WeSoftyou – We don't deliver Bullsh*t and We always work with "A" players.
3. Full Customer Oriented Approach
Well, nothing is impossible, when your team is in a full synergy with business, market and client. Our Clients speak about our customer-oriented approach on almost all meetings. One of the latest reviews from Clutch, for instance, says:
"WeSoftYou's team members are incredible problem solvers at their core, they have a wonderful client-first attitude."
"WeSoftYou will ask questions and push back in order to develop the best product possible."
4. Strong Engineering Department and solid RD Strategy
When our client says to us: "I want to build a Twitter-like platform, that would be used by the American Parties in the Parliament. And please make a donation functionality there" – you might even hear how the engines in our head are starting to work. In just a few hours of the brainstorm, our CTO together with Tech Leads are presenting architecture for the app to the customer, taking into consideration the market's needs, engineering capabilities and client's budget.
And this is not just one case! Complicated ETL system, SaaS Web Platform for Government in USA, content Aggregator for our Partners from Circle Economy – social enterprise resolving the questions of green economy worldwide, and others – all of them are happy with us. Check out our recent case studies to know more!
What about our plans for this year?
1. We plan to grow 2 times more, but remain as flexible as possible.
2. Asymmetric growth is not just a buzzword- we're always in search of the ideas that would help us to become a unicorn faster than by 2024-2026.
3. We already have the loyal brand on the IT market, though what we're shooting for is "The Best Product Hub in Ukraine"
4. Players "A" only.
All of this doesn't mean that we don't make the mistakes. Frankly speaking, we make them far more often than usual decisions, however strong expertise helps us to make the right conclusions out of there.
Wanna get to know how we plan to become the unicorn in just a few years? Join us on this journey via a Bitclout.
https://bitclout.com/u/wesoftyou?password=825bbae8589b65720731d867f436471e18683c6a3192a20140105ee1733bb7cc