NFT is definitely the groundbreaker in the digital market. And the constantly growing demand for the creation of Non-Fungible Tokens marketplaces looks natural. But when deciding to create one, where to look for reliable contractors? Most vendors don't know how to create a proper MVP and churn out typical designs. If you want to reduce the cost of creating an NFT marketplace, pay attention to the expertise of contractors.
WeSoftYou knows exactly how to build cost-efficient services. Our team has experience in building an NFT platform from scratch. Check out our Crypto Art App, that combines a marketplace with a social network. This MVP was built in 8 weeks.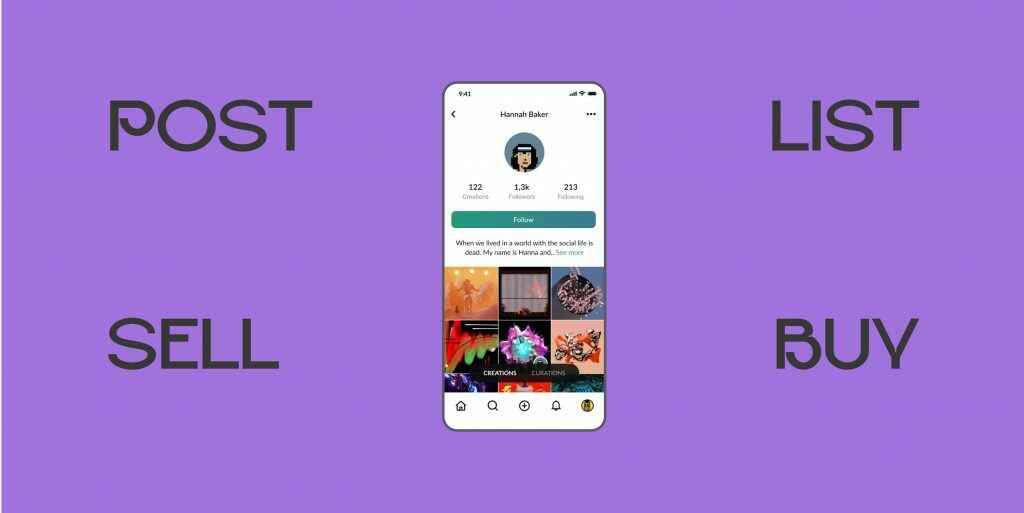 Our area of expertise is NFT marketplaces, decentralized apps (dApps), smart contracts, and crypto trading platforms. We will gladly share our knowledge so you can design a cost-effective custom NFT marketplace solution.
What is the cost of NFT marketplace development? What determines its price, and how to reduce the cost of creating an NFT site? We will answer these questions in the article.
Factors That Affect Costs of Building an NFT Marketplace
How much does it cost to build an NFT marketplace? This article may not make sense if we could give the only correct answer. We would say something like: "150 thousand dollars. Great job, see you".
But we have a piece of good news for you – we know how to calculate an NFT marketplace development cost. 
First, it is essential to determine the factors that affect the platform's price. 
APP COMPLEXITY
The complexity of a product is the central aspect that determines its value.  It is vital to determine the features required for developing an NFT marketplace.  In fact, these features are your platform's functionality. 
CUSTOMIZATION
On top of the main functions, you can include additional features to help make your site unique and increase the level of customization. Naturally NFT marketplace cost directly depends on their quality and quantity. 
TECH STACK
To correctly estimate the development worth, you must decide on the technology stack. If we talk about the standard tech stack, then these are blockchain, NFT standards, frontend and storage platforms. If you don't have the right expertise, feel free to get in touch with our experts, they'll be happy to tailor a technology stack that fits your product's needs.
DEVELOPERS HIRING
The vast majority of the NFT marketplace development cost is the creator's salary. You will need to hire a team to build a website or application. And it's not just the developers. These are Project managers, UI / UX designers, QA officers, and Business analysts. The larger the scale of the project, the larger the team will work on it.
Your task is to take a responsible approach to hire because the performance of your site, its security, and ease of use will depend on the team. 
In addition, when choosing outsourcing creators, consider the geography of the search. Prices in the services market are very dependent on the location of developers. Thus, the highest cost of NFT marketplace development is in the US, and the lowest is in Eastern Europe.
NFT Marketplace Development Stages & Expenses
Well, here we come to the most exciting part – the actual calculations. According to our estimates, the average cost to build an NFT marketplace would be around $80K – $300K. At the same time, the minimum price for development starts from 30 thousand dollars.
What are you paying this money for? Let's break down the pricing of each stage.

Of course, these are rough estimates. An accurate assessment of your project can be obtained after drawing up a detailed brief and discussing it with contractors.
NFT Marketplace Features and Their Development Cost
For your marketplace to be profitable, your task is to stand out from competitors and provide a smooth user experience. To reach this, it is necessary to enable several basic and additional functions. The cost of developing an NFT platform depends on the features it offers. Let's get acquainted with these features in more detail.
Storefront
This is the face of the product. The storefront contains information about the NFT's name, its value, trading history, previous owners, etc.
Wallet
By visiting your platform, the user should be able to link their crypto wallet easily. These wallets have storage, sending and receiving functions. 
You can integrate the most popular wallets on the market, for example, MetaMask, Coinbase, Glow, Phantom, Formatic. 
Search & Filters
The user should easily find items on the website. This requires a search function. You can categorize all NTFs for easier searching.
Do you want to reduce the visitor's decision time on a website and speed up the purchase? Add handy filters like Highest Price and Lowest Price, Popular, Recently Listed. Precise search filters will help smooth the buying process.
Reviews and ratings
You can add simple like/dislike rating functions or make it possible to rate from 1 to 10. In addition, add the ability to leave reviews after the user registers on the website.
Create listings
This function is required to create a collection. The user must quickly upload the files and add all the information – title, description, and tags. Better to provide a step-by-step guide.
Bidding
Remember to set up an auction system on your platform. This will allow you to bet on NFTs and buy them later. It is also essential to easily track the current status of the trades and the expiration date.
Trading history
It is easier for a visitor to make a purchase decision if he sees that a lot of transactions were carried out on the platform; this creates the impression that this resource is reliable. The trading history feature can contain information about trading dates, names and prices of lots, and information about buyers and sellers.
Support
To keep visitors' loyalty, you have to resolve emerging issues quickly. The communication button should provide access to support in a couple of clicks. The most accessible option is a chatbot.
How to reduce NFT marketplace MVP development cost
The architecture of creating a product from scratch looks attractive because it can provide high profitability. But it would help if you were prepared that this is the most expensive way. 
Developing an NFT marketplace from scratch will cost you $65,000-305,000.
Are there ways to cut development costs? 
First of all, consider the option of outsourcing. You will significantly reduce the price if you combine outsourcing with ready-made solutions.
But what if you are a startup owner and creating a full-fledged platform is too expensive for you? There is a piece of good news. It is optional to bring the site to perfection immediately. 
Use the minimum viable product (MVP) methodology and significantly reduce your costs. This is the site's basic version that will satisfy your first visitors' basic needs. Such a product will be half the price of a full-fledged site.
After creating an MVP, you will conduct testing, find bugs in the early stages and be able to finalize the website.
Our Experience
The WeSoftYou team has a background in building user-friendly NFT marketplace platforms. It's an NFT Crypto Art App – Creato Ranch.
Creato Ranch is the first and only platform to combine an NFT marketplace with a social network in one mobile app built specifically for creators, curators, and collectors.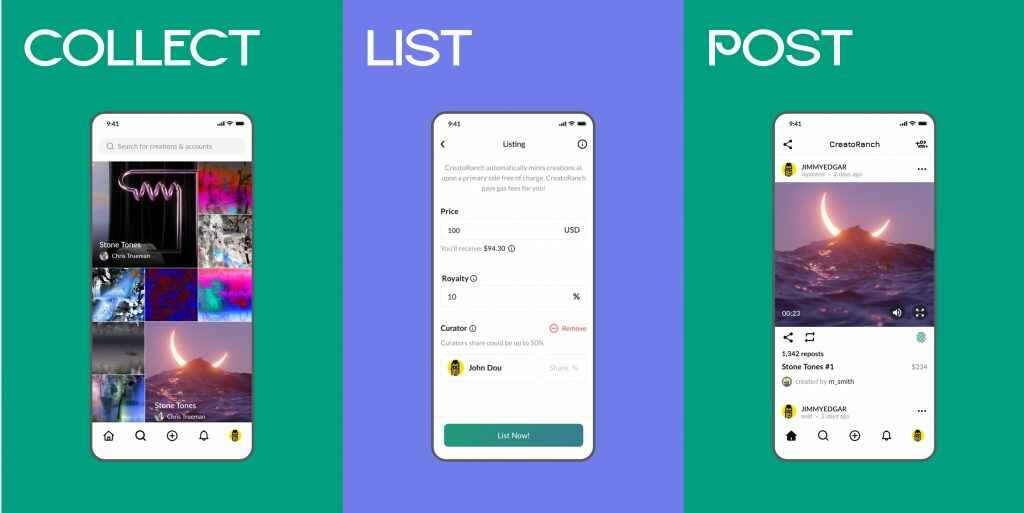 Creato Ranchan is an easy-to-use app so that anyone familiar with social media quickly understands how to navigate, post, create lists, and transact with a simple entry point.
We develop a product with a user-centric approach.There are no gatekeepers deciding who is a creator and what is a creation. The community decides.
CreatoRanch is easy-to-use, and anyone familiar with social media will quickly understand how to navigate, post, list creations, and transact. There is no need to understand cryptocurrency technologies or hold digital wallets because transactions can proceed in U.S. dollars.
Results
After 8 weeks of work, we've released the product MVP after completing several fundamental stages of the creation process: research, ideation, prototyping, testing, and development.
Has been released on App Store and Play Market400+ active users in two months since the releaseThe App has been presented on NFT.NYC conferenceThe app supports both USD and cryptocurrency payments
Technology stack 

React Native, Typescript, MobX, React Navigation, Firebase (Auth, FCM, Dynamic Links), Stripe, integration with crypto wallets
Key Features
Upload video & photo of the creations 
Creators post their creations-art, music, photography, video, anything-and their followers repost them. This is how creations proliferate across the App network and how creators expand their digital reach.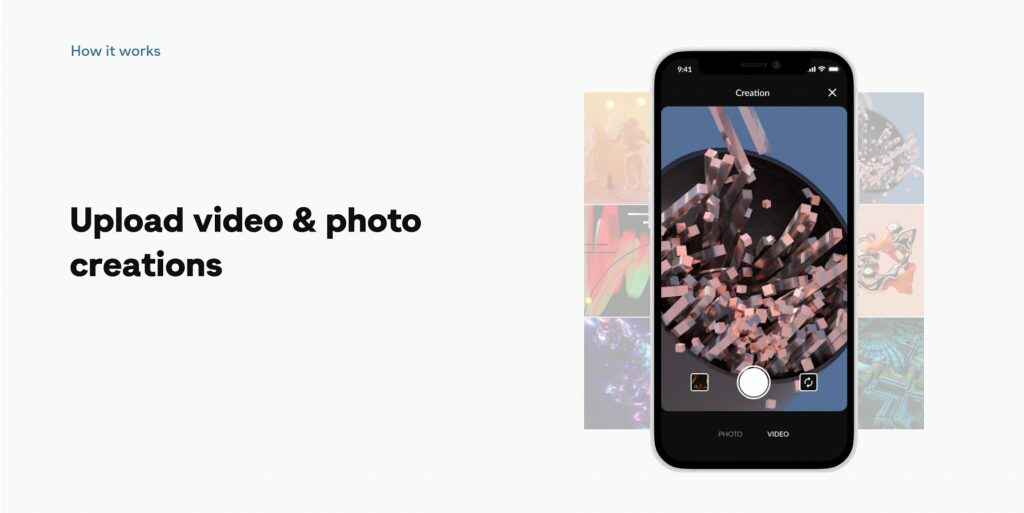 Creators list their creations for sale for as little as $1 and specify a royalty they would like to collect with each subsequent deal. Collectors buy pieces using US dollars without needing digital wallets. Then each time a creation resells, its creator receives the specified royalty-automatically!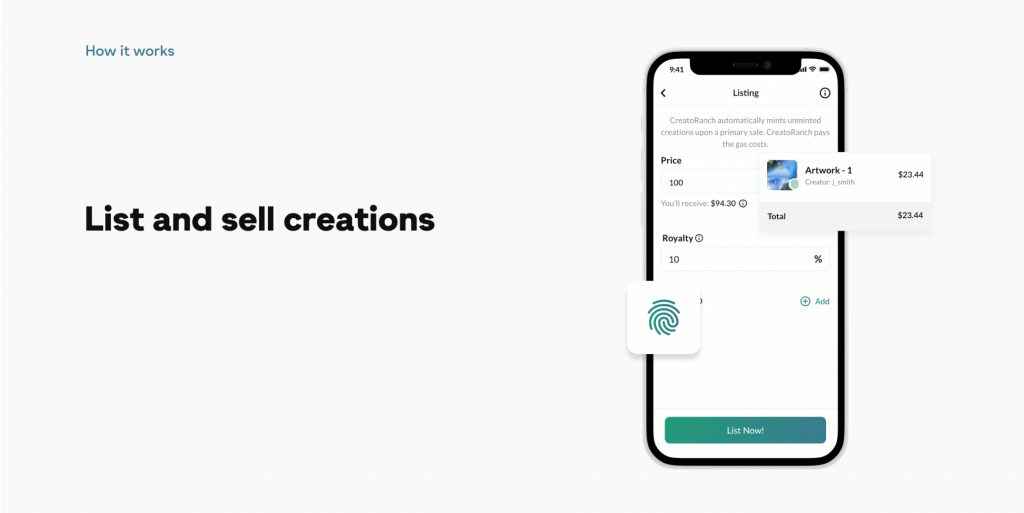 Work with galleries and curators 
Galleries and curators cultivate relationships with creators and expand their digital reach across the CreatoRanch network. Creators can share sale proceeds with any gallery or curator they work with. It's easy: A creator specifies the percentage a curator will receive on a primary sale and CreatoRanch credits them once again, automatically.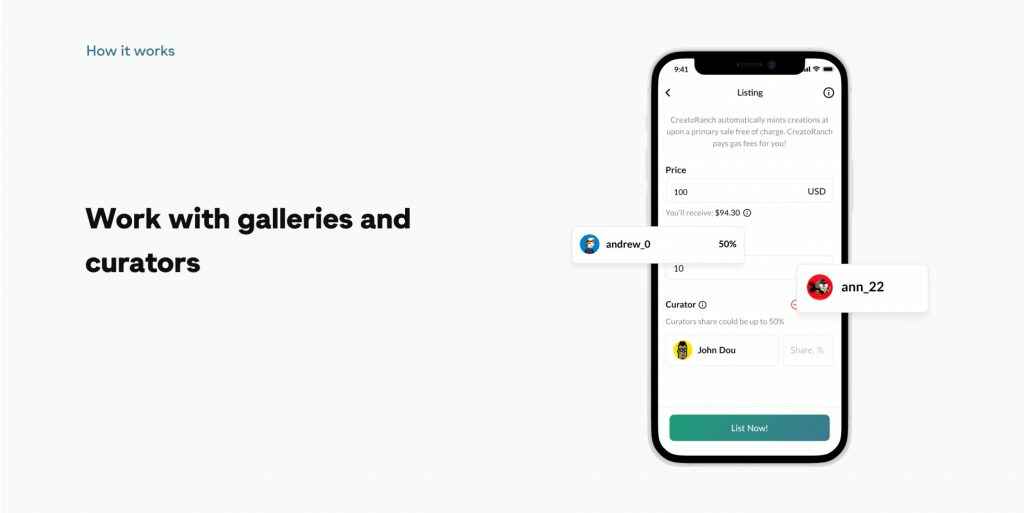 Collect and trade creations 
Collectors acquire and sell creations they bought by re-listing. Collectors establish and expand their digital reach. It's easy, and so they can transact frequently. The app charges just 2.5% per secondary market transaction plus mandatory card fees.
To get more information about the project click the case study.
Findings
Since NFTs have become a new-age trend, now is the perfect time to capitalize on this trend and create your own marketplace. Before you design the platform, you need to estimate its cost. Decide on the complexity of the marketplace and the necessary functions because the price will greatly depend on these factors.
If you have any difficulties with calculating the cost of the NFT platform, WeSoftYou experts are happy to consult you in more depth. WSU works with Customer requirements in the most precise way. We even have our own SaaS application to make the interaction flow smoothly. WSU is a one-stop shop for your business. Contact us to secure your success!
Frequently asked questions:
How much does NFT marketplace development cost on average?
The average cost to build an NFT marketplace would be around $80K – $300K.  It is challenging to calculate the exact cost due to the different sets of features that the platform can contain.
How long does it take to build an MVP of an NFT marketplace?
If you are developing a platform from scratch, it will take 6 to 18 months, depending on the complexity of the product.
What features can bring more profit to an NFT marketplace?
Blockchain technologies make it possible to trade NFTs freely and make it easier to work with digital assets. In addition, it is essential that your marketplace contains features:

– Storefront
– Advanced Search and Filters
– Creating Listings
– Bidding Option
– Wallet
– Ratings