Technology has become an essential component of business and research. Educational institutions have embraced increasingly digital teaching methods that make paper-based assignments and submissions obsolete to prepare students for the workplace. The potential user base for educational software platforms is continually growing as more students get degrees each year.
According to Statista, the global market for educational software generated $11.04 billion in revenue in 2022 and will reach $11.6 billion by 2025. Leading online learning platforms, like Coursera, offer thousands of online courses in partnership with leading universities and corporations. However, if you wonder how to create an educational app, first, it's a good idea to grasp some of the top EdTech startups.
This article will review seven top EdTech startups 2024 and share the expertise of an education software development company WeSoftYou. You will learn how the products we create, such as Living Security, Circle Economy, and Go-Rilla, bring in a new era of educational technology, enhancing student engagement and digitizing learning for the benefit of our clients. 
Top 7 Erupting EdTech Startups to Keep an Eye on in 2024
How to build an eLearning website like Coursera or Udemy? We have selected seven popular educational software from different niches to help you decide what educational product you want to create. After reading this section, you will know about the EdTech market's demand. Let's review our top EdTech startups in the world to watch this year.
Wonderschool
Essay Service
SplashLearn
Aeroclass
Primer
Beetle
GO1
Wonderschool: All-In-One Child Care Software Solution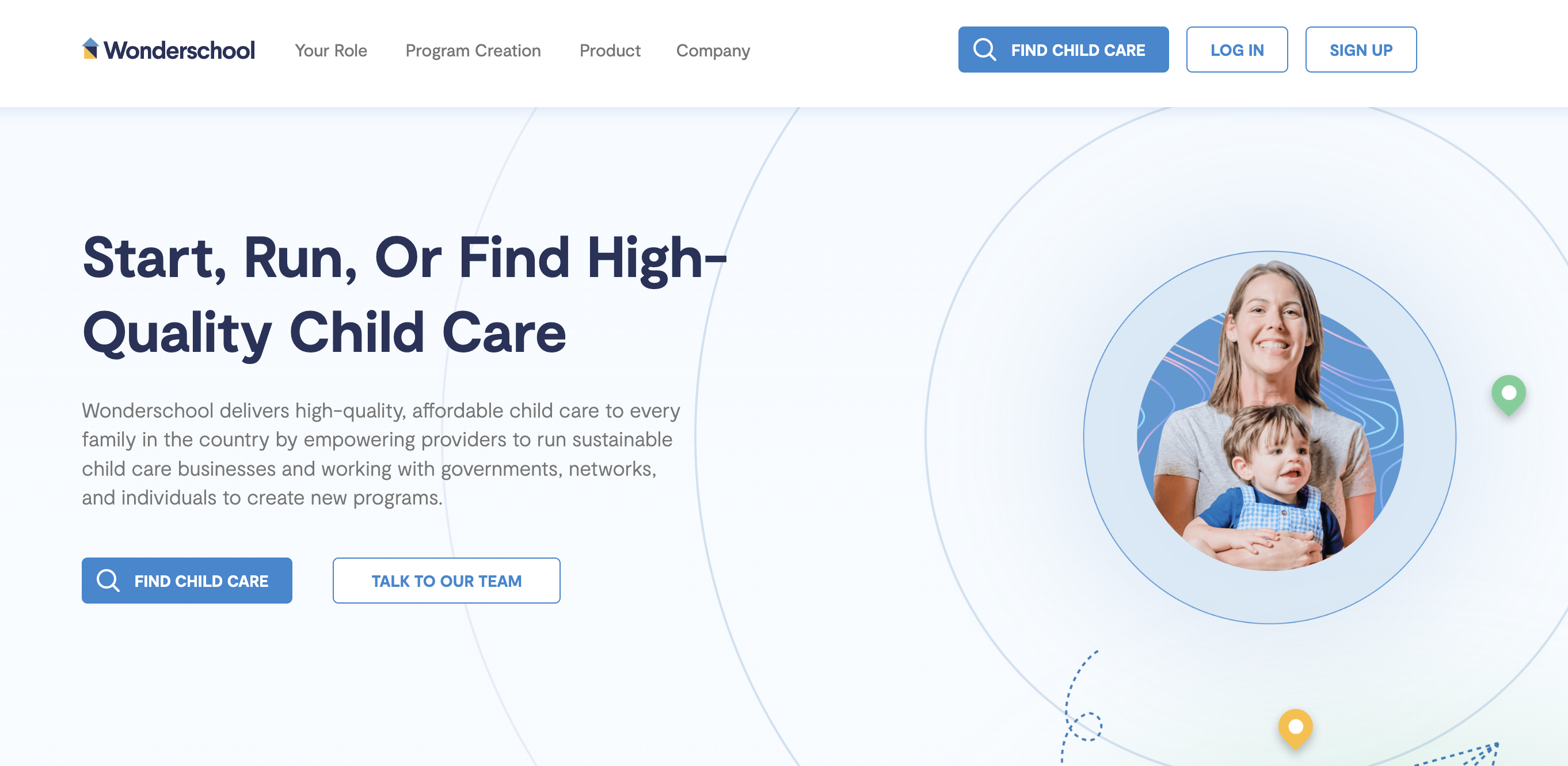 Wonderschool was founded in 2016 in San Francisco Bay Area, California. Its co-founder and CEO is Chris Bennett. Chris encountered many parents concerned about finding daycare and educators who could not pay for a nursery for their kids while at work. For both families and teachers, he was aware that there had to be a more effective solution to this problem.
Chris and other co-founders established Wonderschool to give all families access to top-notch early childhood care. The education platform enables users to launch preschools, infant and toddler programs, and other educational endeavors without leaving their homes. The software helps small schools promote themselves to potential students and parents and manage typical administrative tasks like enrolling and billing.
Now, the platform empowers new and seasoned providers to manage their in-home businesses while offering a critically important service to families in their communities. Wonderschool's funding reached $25 million in Series B financing in 2022. Now, it is valued at $99 million.
With a comprehensive software platform created for non-technical users, it is one of Fast Company's most creative EdTech companies that enable caregivers to open a school in their homes. In 2022, Wonderschool was recognized as one of Time's 100 Most Influential Companies.
Essay Service: A Professional Paper Writing Solution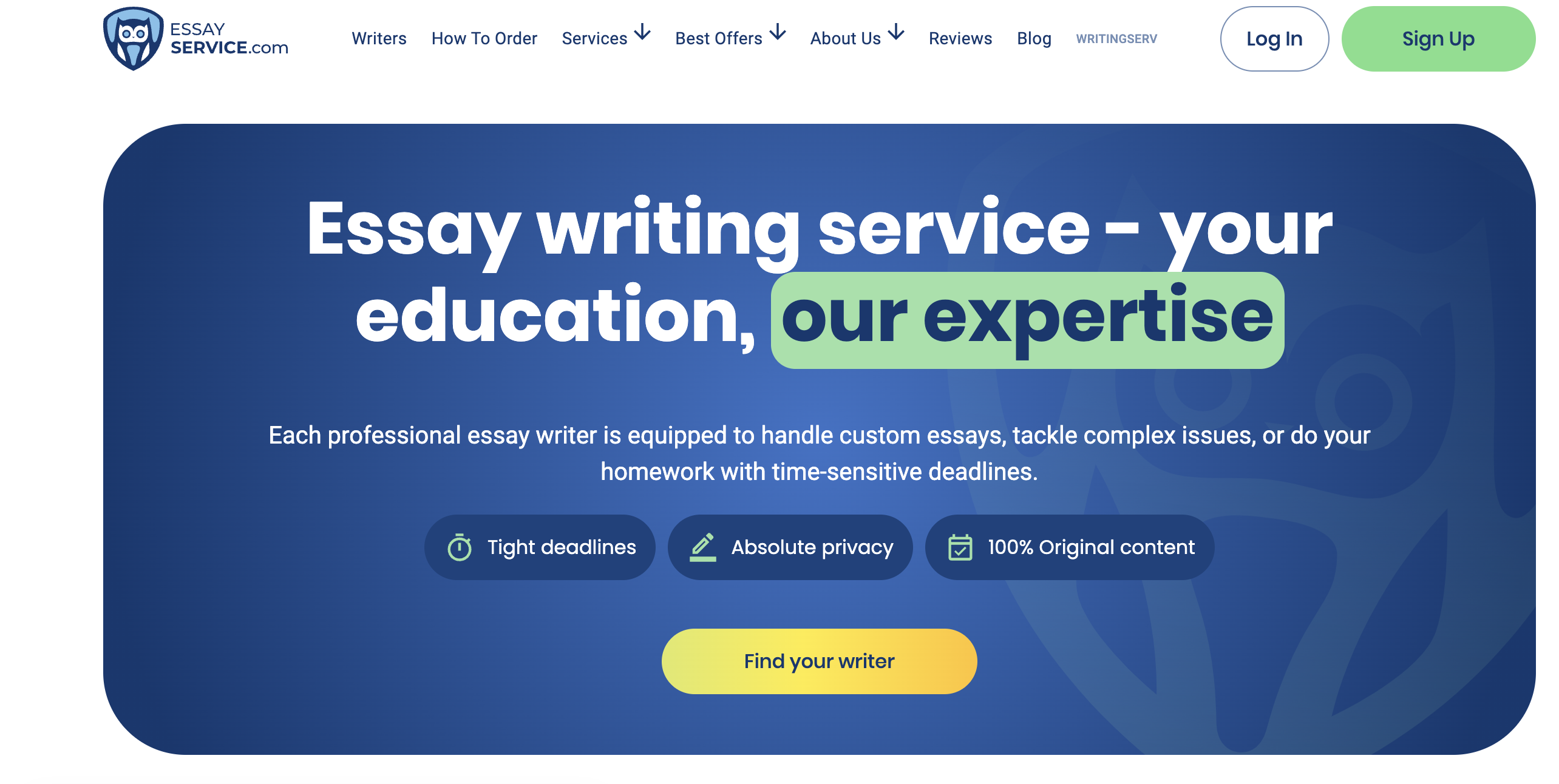 Writing essays and other types of written assignments are an integral part of any college and university education. Professional paper writing services help students to advance their writing and train them to adhere to different academic formatting style standards. As more students get degrees each year, paper writing services are a promising idea for an educational software platform.
Essay Service is one of the top EdTech startups 2024 that offers such services to students. It provides top-notch online writing services that connect struggling students with carefully chosen professionals. It is a reputable platform partnering with some of the best expert essay writers available online. 
Each essay writer at Essay Service has the expertise to handle customized essays, deal with challenging situations, and assist students with homework assignments. Based on the performance and client feedback, the authors at Essay Service are ranked. To get the best writer for the project, a student can look through the profiles of the platform's experts.
To get started, a student must create an account before proceeding. The registration process is quick and easy, taking only a few minutes. A password and a working email address are requirements for this process. After that, a learner can place an order specifying the number of pages and the deadline for a task. These two factors affect the cost of the paper writing service. The longer the due date, the more affordable the price for the service is.
Essay Service assists with various types of the writing assignments such as essays, annotated bibliographies, book or movie reviews, case studies, editing and proofreading, reports, literature reviews, reflective writings, research papers, business plans, term papers, presentations, speeches, research proposals, admission essays, and more.
SplashLearn: Fun Math and ELA Program for PreK-Grade 5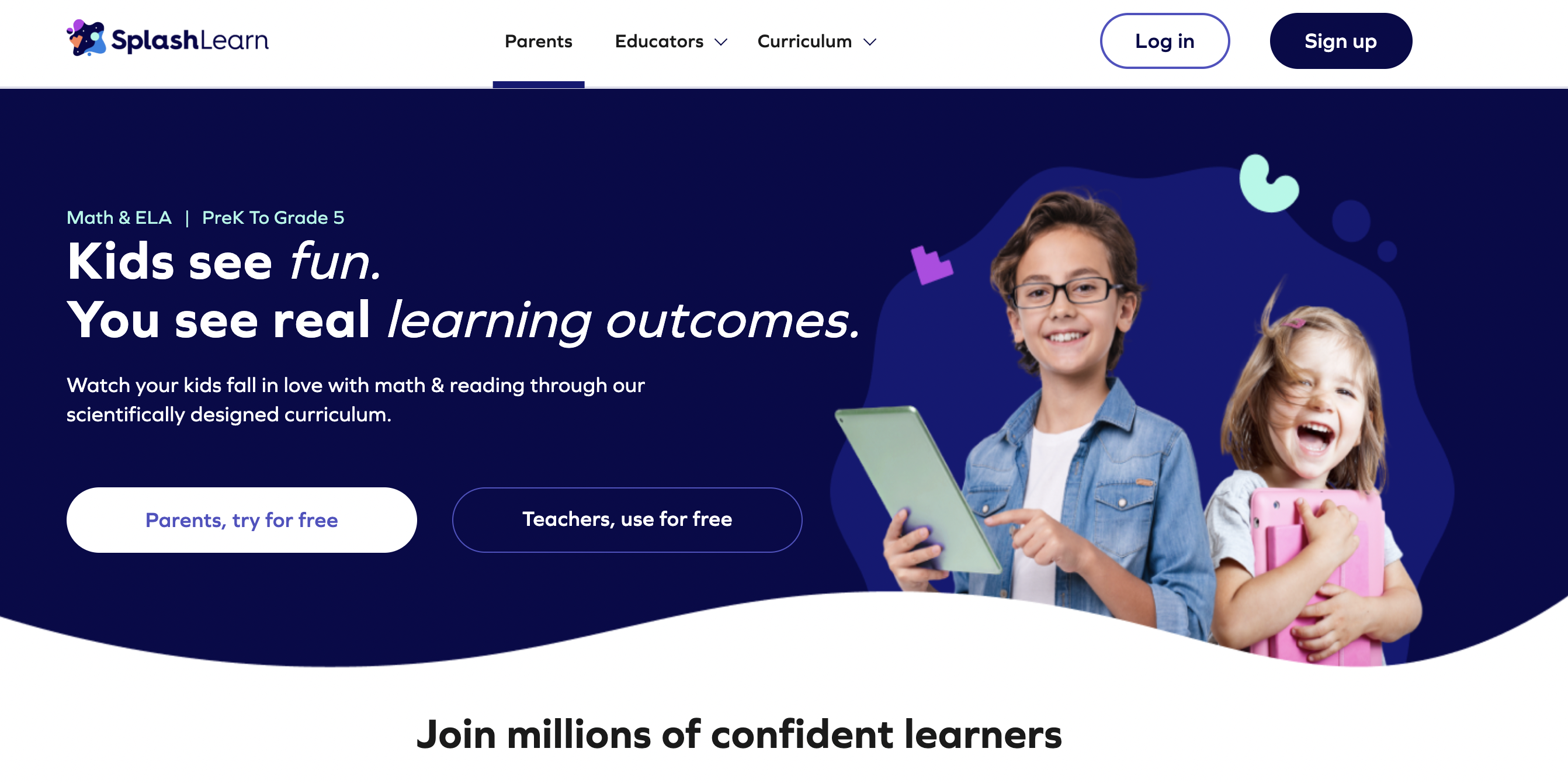 SplashLearn is a flagship product of StudyPad EdTech startup. The mission of StudyPad is to change K–12 education by making it engaging and tailored for every student while preparing them for 21st-century skills. The company was founded in 2011 and is headquartered in San Francisco Bay Area. Currently, it has over 200 employees.
With the widespread use of smartphones, tablets, AR, and VR, StudyPad is ideal for capitalizing on the significant expansion in the education technology sector. Through its highly engaging, individualized program SplashLearn, StudyPad is revolutionizing how elementary school students in grades K–5 learn and study math.
Over 40 million students worldwide have used SplashLearn, accessible on all digital platforms (iOS, desktops, and Android). It has received numerous honors and has frequently been featured by Apple.
SplashLearn offers kindergarten through fifth-grade kids game-based interactive math and reading lessons. There are two separate interfaces for parents and teachers on the platform. Both types of users can take advantage of the free trials. There are various level-based math and ELA (English and Language Art) games for classrooms and homeschoolers.
The platform's curriculum aims to engage young learners with scientifically-designed games, strengthen fundamentals, and boost confidence by encouraging level-appropriate learning experiences. According to the platform's website, children who play SplashLearn more than four times a week increase their learning by more than 77% during the first two months.
Aeroclass: Aviation Training Courses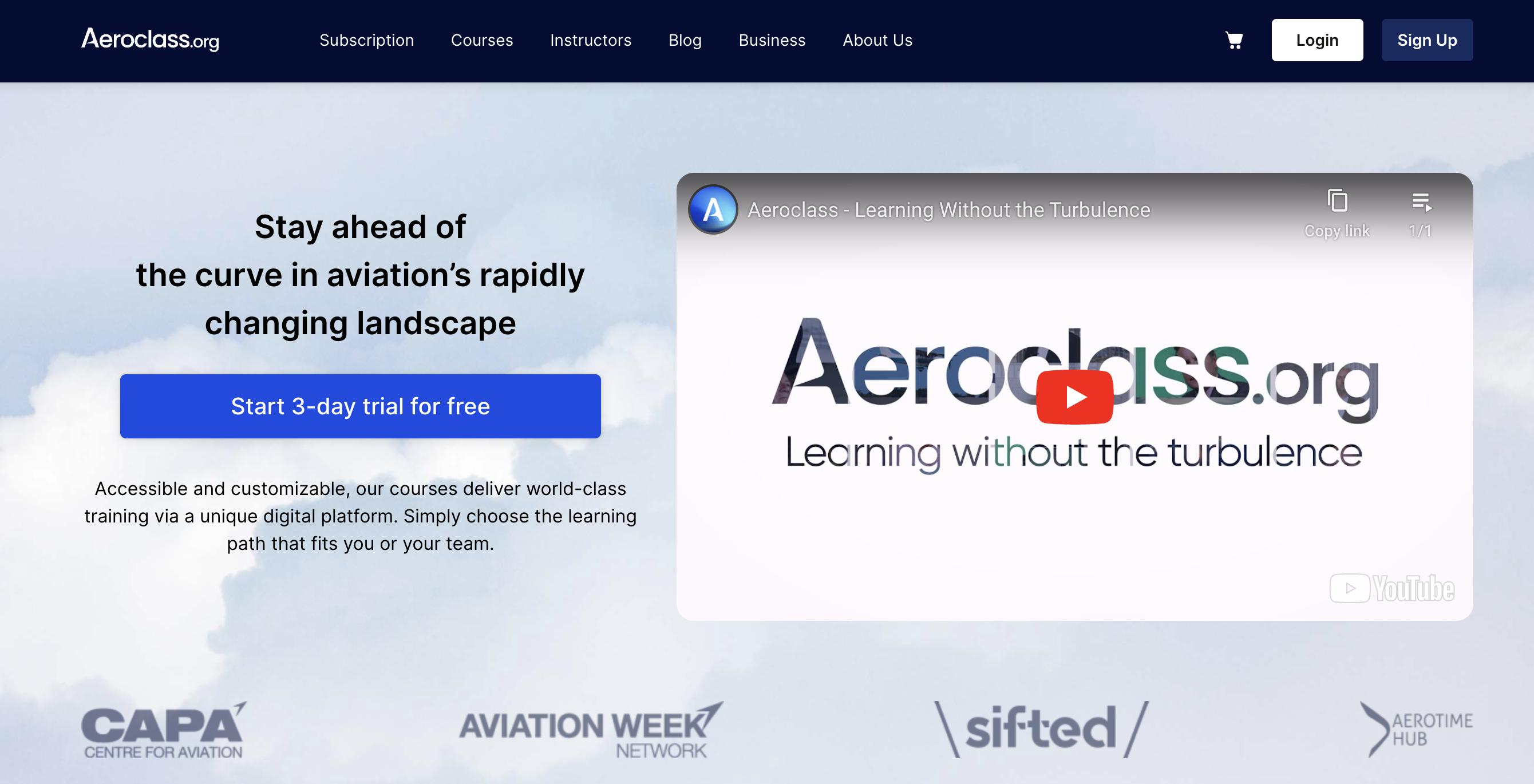 Aeroclass is an e-learning platform created exclusively for aviation market professionals to customize learning paths and solutions to upskill and reskill the aviation workforce. It combines the most recent IT developments, cutting-edge learning methodologies, and technologies with the expertise and experience of famous instructors worldwide to create a digital learning infrastructure targeted at the aviation industry.
The mission behind Aeroclass is to make high-quality aviation training available to everyone, assisting leaders in supporting their teams and achieving KPIs and providing opportunities for professionals and students to advance their careers. Aeroclass aims to unlock a valuable resource of a wealth of experience within the aviation sector to provide customer-focused aviation training content in the most accessible way.
Aeroclass offers aviation training programs to meet various aviation specialists' financial, scheduling, and educational requirements. On the platform, learners can find multiple video courses, virtual classes, online training, microlearning, and Aeroclass Plus lectures available for subscribers.
The platform offers three subscription packages: Standard, Professional, and Enterprise. Standard and Professional packages can be paid on a monthly or annual basis. The enterprise package is explicitly tailored to the company's needs. There is a 3-day free trial available for Standard and Professional packages.
Primer: An Online Community for Children from 7 to 14 y.o.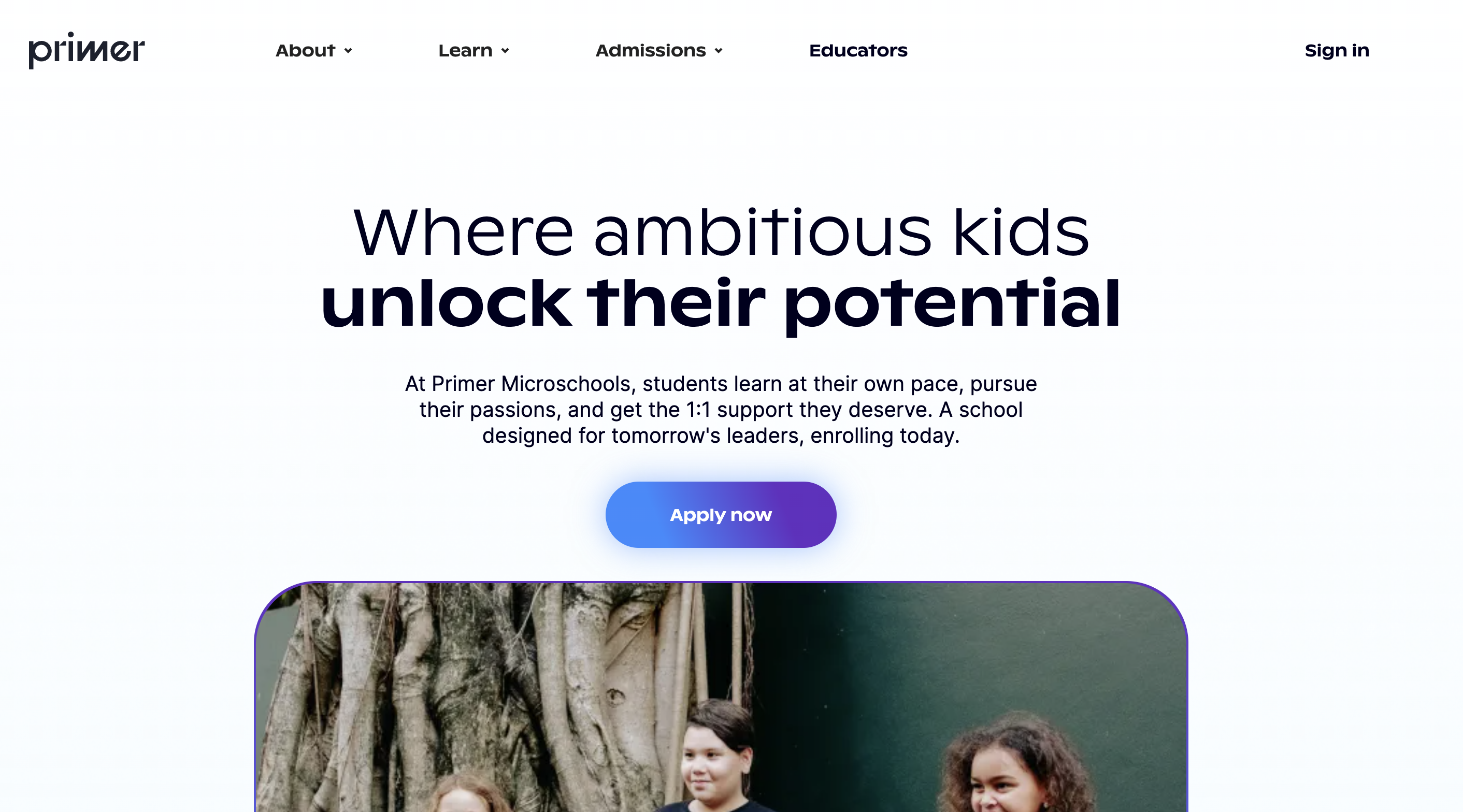 The next on our list of top EdTech startups 2024 is Primer. It is an online community where children from 7 to 14 learn to code video games. The school was founded in 2019 and is headquartered in San Francisco Bay Area. The purpose of Primer is to empower the young people of tomorrow to think independently and to be more ambitious and creative. The company is developing a new educational system that values children.
Primer claims there is a need for a new educational system in which we appreciate what children learn inside and outside the classroom. Students should not only focus on passing tests but also learn how to tackle real-world situations and acquire cognitive skills rather than just knowledge.
In the classroom, Primer aims to provide each student and instructor the freedom to forge their paths, pursue their interests, and take charge of their education. Outside the classroom, the school is on a mission to support every family and work in partnership with them, providing a clear view into their child's day and the chance to make a significant difference in their education.
Primer offers an innovative approach to teaching with personalized, self-paced, and passion-driven learning. The small, student-centered communities that comprise Primer's schools allow kids to develop their talents, discover their passions, and receive individualized support from committed teachers. Students at Primer acquire the knowledge and mindset necessary to take charge of their education and evolve into lifelong learners.
Primer's curriculum encourages students' critical thinking, creativity, and problem-solving skills. Each lesson is specifically chosen to enable students to learn at their own pace and master each skill. The technology-enhanced curriculum offered by Primer allows students to study more and receive daily one-on-one assistance. Core academics at Primer include math and English Language Arts (ELA).
You can read more on learning management system design inspiration in our blog.
Beetle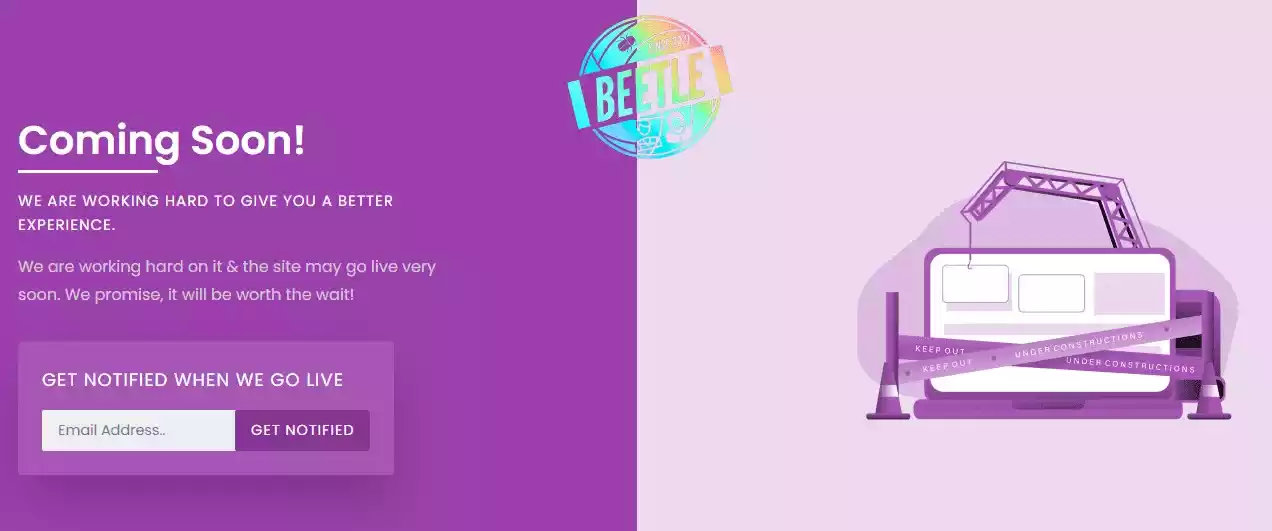 Beetle launched in 2021 as an educational community for high school and college students. The startup's idea is to aggregate all the details about jobs, talents, and internships under one roof to eliminate every college student's struggle. Additionally, the founders hope to encourage teen mental health by building an online community where people may network.
Beetle is now in its research and development stage as a pre-stage startup. The community will run on an AI-based platform. Users will be able to access the platform via a web browser as well as through an Android/iOS app. The community aims to solve students' issues, such as anxiety about falling behind in their studies or the fear of failing to land an internship or a job.
Numerous websites are available today for various tasks, such as discovering a career opportunity for the current generation, receiving professional coaching, or gaining access to quality mental health care. Beetle aims to aggregate valuable information from such websites to make them available on a single platform. The key benefit would be that all services would be relatively inexpensive and that more than 85% of the platform's content would be free.
Go1: Transformational Learning Through Online Courses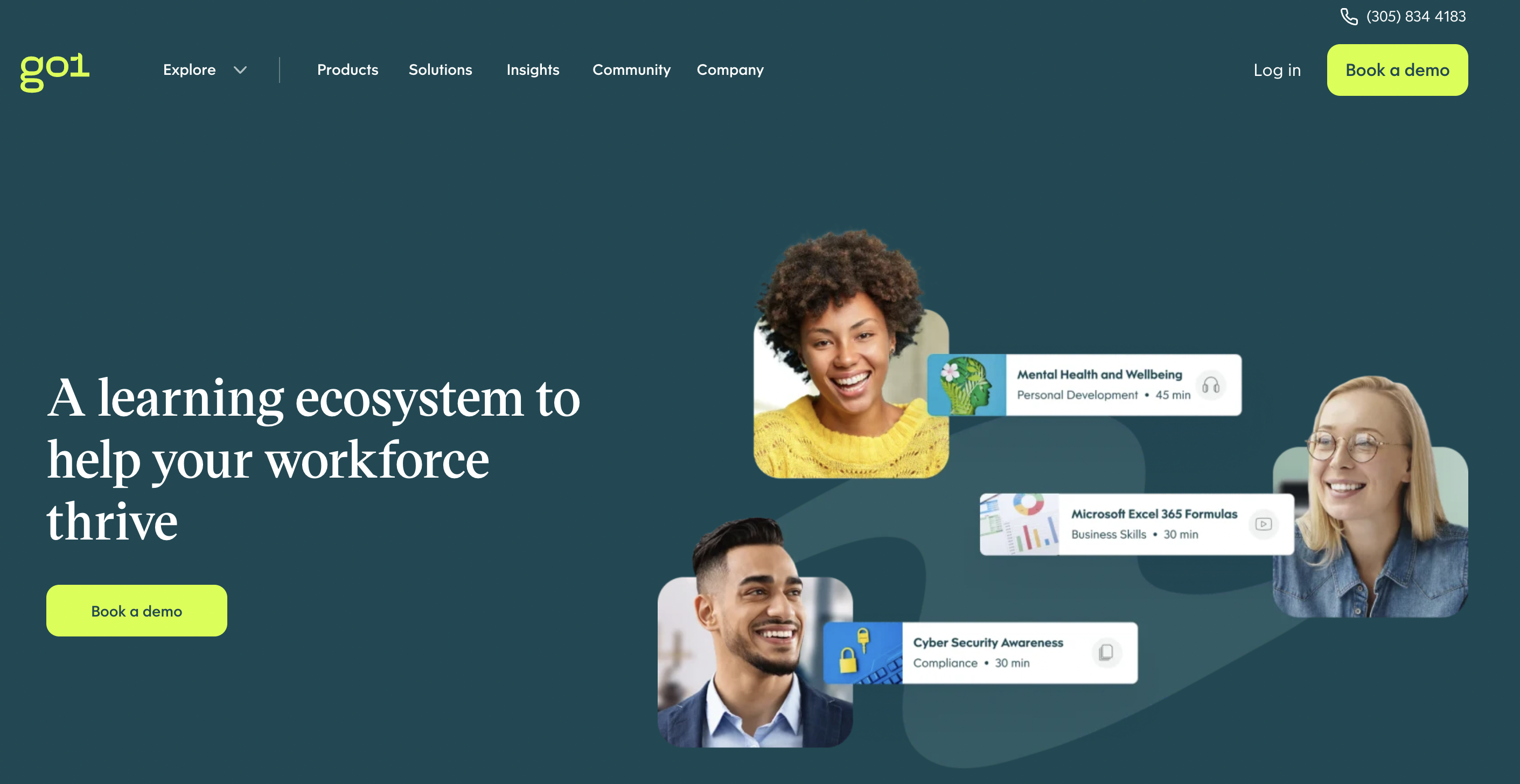 Go1's dynamic platform and on-demand training enable businesses to upgrade their personnel. The goal of Go1 is to foster a love of learning and develop positive potential. Go1 allows people to grow to face the future, and we give entrepreneurs a chance to achieve their strategy. Go1 is a well-known leader in online education and learning, and it continues to collaborate with some of the world's biggest businesses to serve various markets and sectors.
Go1 emerged in Australia. In 2015, Go1 joined the Y-Combinator accelerator, leading to the organization's global expansion and opening of offices in Malaysia, South Africa, the United Kingdom, and South Africa.
The platform offers learning solutions to small businesses, startups, enterprises, governments, and content creators. The Go1 products include Go1 Content Hub, Go1 Connect, and Go1 Platform, and integrations.
The Go1 Content Hub is the most extensive digital learning library in the world that unites more than 200 providers housing their content in one place. The Go1 Connect facilitates content delivery for eLearning creators of all sizes. The Go1 Platform provides an easy-to-use SCORM-compatible solution for any company requiring a distinct stand-alone platform. Integrations allow Go1 to partner and integrate with any existing e-learning platform.
WeSoftYou Expertise in EdTech Industry
WeSoftYou is an education software development company that offers open and transparent EdTech development process to deliver top-notch solutions. With our educational solutions, your company will gain from more student engagement and learning digitization Let's review some of our success cases in educational software development.
Living Security: Gamified Сybersecurity e-Learning Web Platform for Fortune 500 Enterprises
Living Security provides realistic cyber security training using an "escape room" experience. The company's primary objectives are to lower cyber risk and build user cybersecurity awareness. The WSU team contributed to digitizing current security awareness training and created the first fully remote human risk management platform for cyber security. We made it accessible to more than 1000 organizations worldwide.
Circle Economy: E-Learning Content Management Aggregator for Circle Economy
Circle Economy is a social enterprise that separates the demands for resources and growth to create natural and regenerative industrial systems. The company is on a mission to hasten the transition to a circular economy by developing scenarios for how to get there. The portal developed by WeSoftYou offers a collection of 2,000 case studies on the circular economy, as well as frameworks for circular strategies and policy tools available on the Knowledge Hub to eliminate the knowledge barrier on the topic.
Go-Rilla: CRM Performance-Based Advertising Finance Platform
Go-Rilla is a performance-based mobile, video, apps, and Facebook advertising agency. It gives publishers and advertisers access to premium channels while providing them with volume from DSPs and major brands. Our team has designed a sophisticated CRM side for this platform with billions of monthly impressions and offers. It combined a kind smile, clever technology, committed service, and sophisticated targeting options for apps, mobile, video, and social inventory.
Break Into EdTech Industry with WeSoftYou
Emerging technologies drive expanding distance education applications and facilitate the continued growth of the global education software market. The reviewed top EdTech startups 2024 prove a high demand for educational software solutions in various niches, from preschool education to specialized courses like aviation and software development. 
If you want to launch your EdTech startup in 2024, you may require help from a trusted vendor with relevant expertise. WeSoftYou is an award-winning education software development company that encourages students to dive into the learning process and benefit your business. We deliver the following educational software solutions:
Business training software;
Academic software;
Self-education software;
School management systems;
AI educational applications.
Contact us to discuss your EdTech solution idea and get an estimate.
FAQ
What is EdTech?
EdTech, or education technology, is the introduction and use of technology in education. It combines computer technology, software, and educational theory and practices to assist learning. Educational technology is based on theoretical knowledge from various fields, including communication, education, psychology, sociology, artificial intelligence, and computer science. It includes several areas, such as learning theory, computer-based training, online learning, and m-learning, which use mobile technologies.
Why is EdTech so popular?
One of the main advantages of EdTech, leading to its popularity, is its accessibility and flexibility. EdTech allows students to obtain instruction and training at their speed and time. While some students absorb knowledge better through reading, others gain more from visual information. EdTech allows students to learn from the resources they find most valuable and practical.
What are the top 3 EdTech trends in 2024?
Emerging technologies, such as extended reality, will drive the development of the top EdTech startups 2024. Among the industry's top trends for this year should be mentioned gamification of learning, customizing of learning processing using data, and the use of augmented reality and virtual reality to transform online classrooms.