WeSoftYou, INC., was named the fifth-fastest growing service company in the world and #1 in Ukraine, showing exceptional results in 197.2% of growth. That follows recognition of being the TOP 1 Web Development company and TOP 2 amongst all the App Developers in the world. And this is just in 3 years from the company's beginnings!
The 100 fastest-growing companies rank is based on their absolute revenue growth rate from 2019 to 2020, and spans B2B providers in such industries as technology, health, gaming, e-commerce, financial services, etc.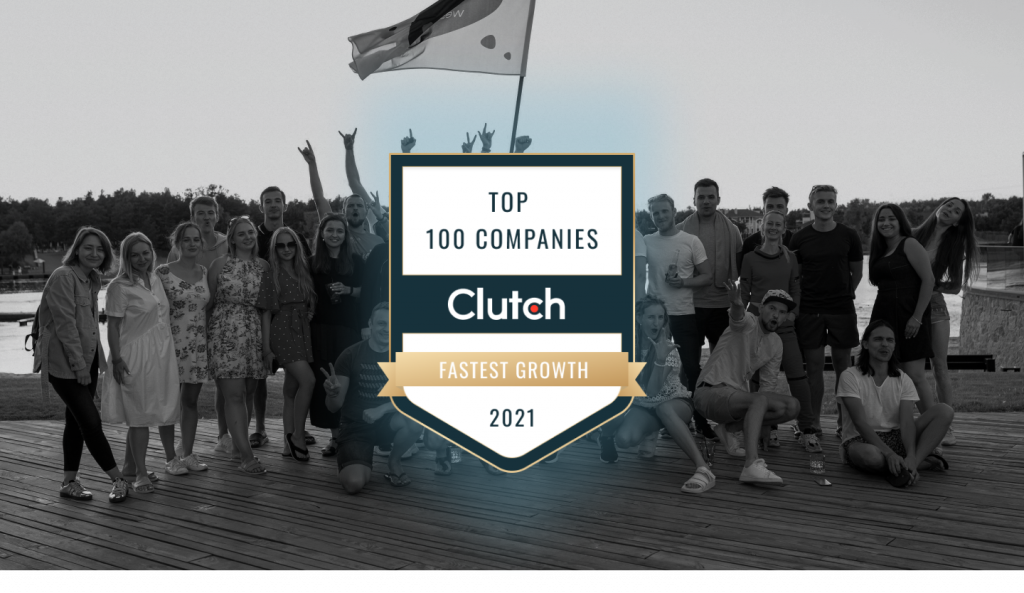 Clutch.co official press-release from 8th of June, 2021 – here.
Founded in 2018, WeSoftYou's showing stable results with at least 95% growth year on year. Being already multi-awarded company with just 3 years operating on global market and with such respectful recognitions as: Innovators of the Year by Payoneer, Breakthrough of the Year by Upwork, TOP B2B company by Clutch.co, mentioned in Forbes, and others, WeSoftYou sets a new leadership standard in custom product development. We united Processes and Product into the invincible framework, helping us to achieve business results effectively. Today, we are focused on the delivery of the Software You Would Love into tomorrow. You can find WeSoftYou's products in an array of industries including Healthcare, e-Learning, Retail, CryptoCurrency, Fintech, Adtech all around the world.
WeSoftYou experienced another year of growth in 2020, working simultaneously on 20+ projects globally, including strategically important projects for the Department of Justice in California, Audi, Texas startup Living Security, who recently has raised $14m in round B, and other projects with missions. The company is also working on the internal products that will help grow asymmetrically too, edging closer to $1b company soon. Get a sneak peak on us here:
Maksym Petruk, CEO and Founder at WeSoftYou, notices:
"Although Clutch conducts in-depth market research on the firms featured on their platform, the most important factor in determining a firm's quality is what their clients have to say about them."
And after 15 total reviews, we maintain a rating of 5 out of 5 stars, with our clients sharing things like: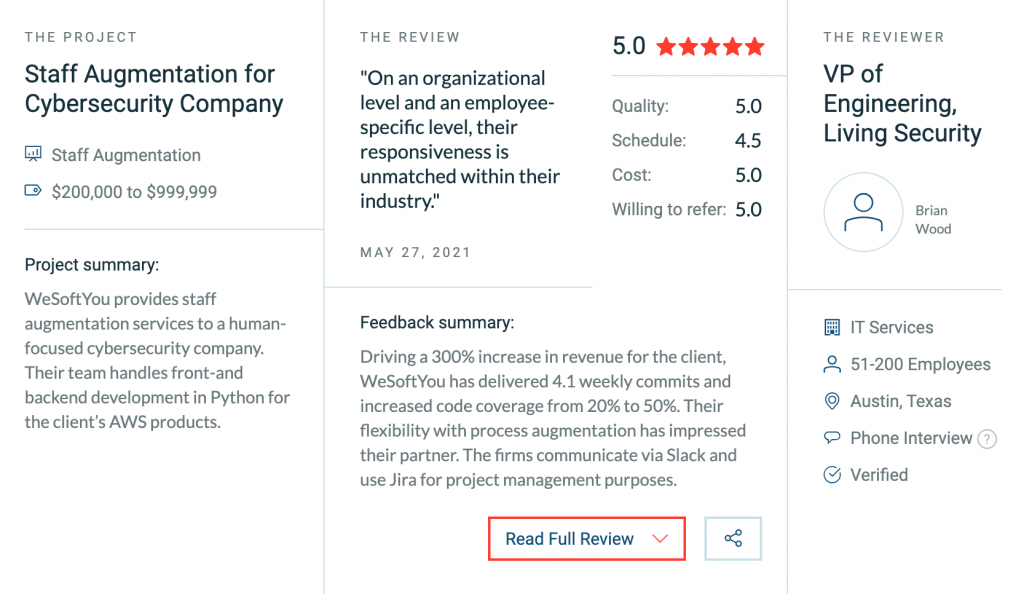 We strive to prove ourselves as a reliable partner to every firm we work with, and reviews like this help us know how we are doing. We cannot wait to see what else our clients have to say about us, not from the prospect of praise, but the chance to continue improving ourselves and our services.
And now it's time to express our gratitude:
to our clients who entrusted their business engineering to us and gave us a chance to prove our capabilities;
to our employees for their dedication and selfless work and the ability to deliver the best service.
Thanks to you our company managed to grow by 197.2% in 2020! As a result, we've hired dozens of people and added new clients! And now WeSoftYou, INC. is named a world leader.