With the FinTech industry soaring past $133 billion, businesses are eager to tap into its vast potential. One such is the emergence of top Banking as a Service API providers, game-changing solutions that seamlessly integrate banking services into applications, unlocking a world of possibilities.
BaaS (Banking-as-a-Service) lets companies offer their customers a comprehensive suite of financial services, from payments and transfers to account management and compliance. Yet, with a growing demand for such solutions and numerous players in the market, choosing the right BaaS provider is critical.
That's where WeSoftYou comes in. With a profound background in FinTech application development services, we are your trusted guide to finding the ideal BaaS provider. In this post, we'll explore the leading solutions and share helpful tips on choosing one that corresponds to your unique needs and goals.
Top BaaS Providers in the Market: 11 Best Picks
Let's get straight to the business and look at the top Banking as a Service API providers. Here's an ultimate list of certified and reliable vendors: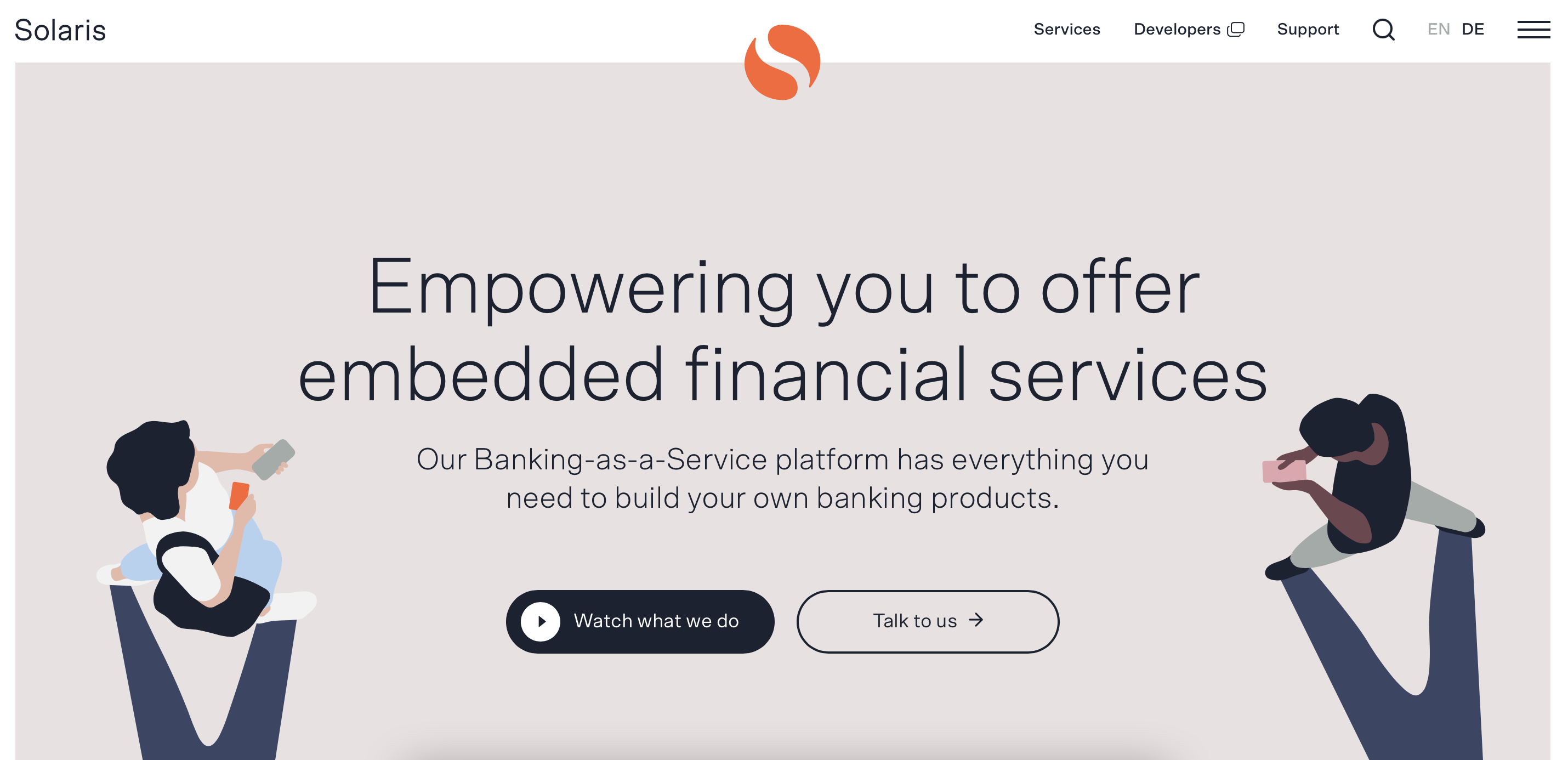 Solaris is a Berlin-based BaaS provider known for its comprehensive banking platform. Their API-driven infrastructure enables businesses to build fully licensed financial products in various industries, with FinTech, eCommerce, and marketplaces being the most common. Solaris's services include digital banking, digital assets, wallets, and KYC verification.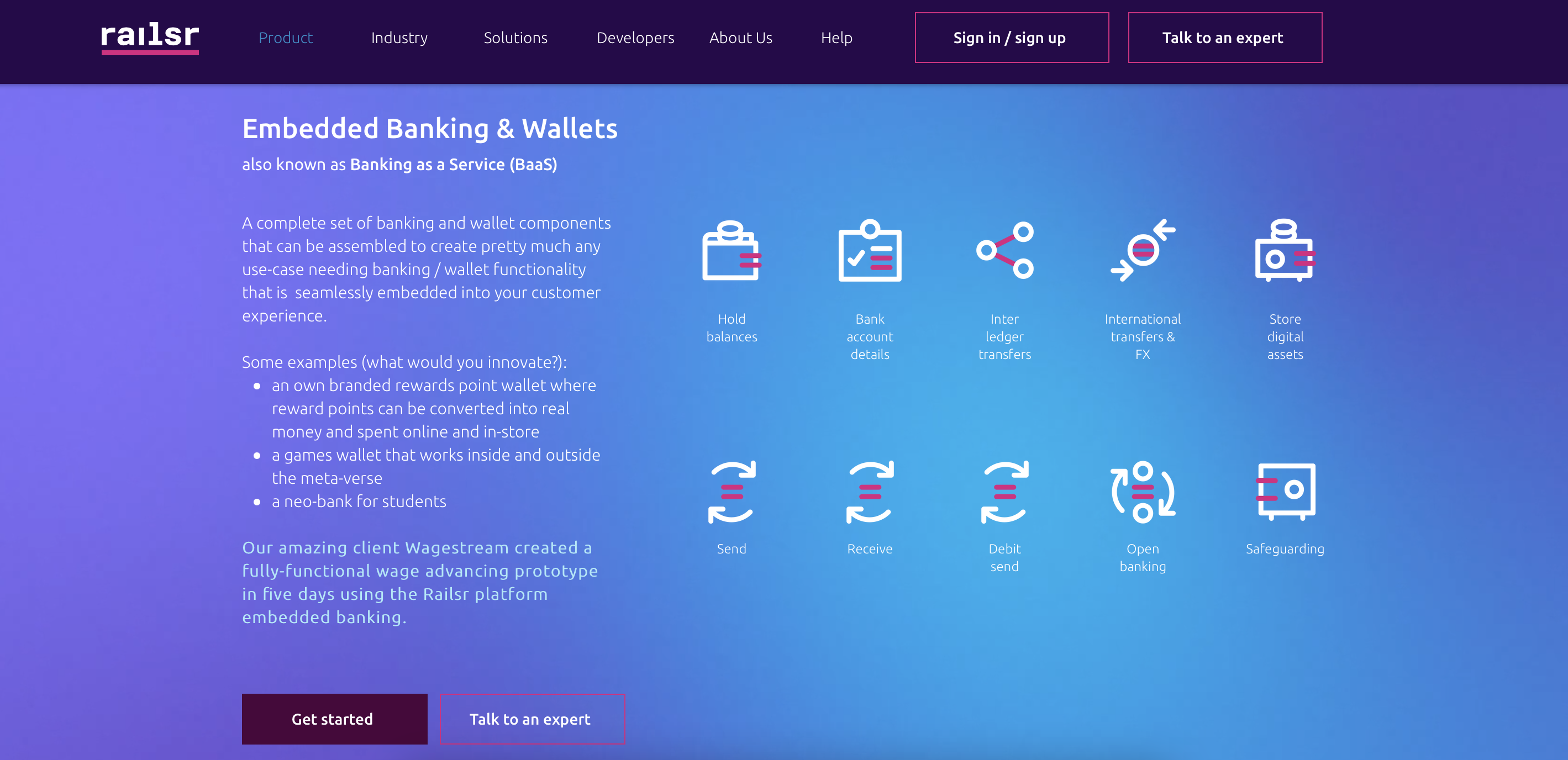 Railsr offers an innovative BaaS platform that allows businesses to embed financial services into their products. Their API suite includes payments, open banking, digital asset storage, international transfers, regulatory compliance, and rewards point wallet capabilities. It works best for FinTech, retail, and entertainment, yet, the vendor states their solution suits any industry.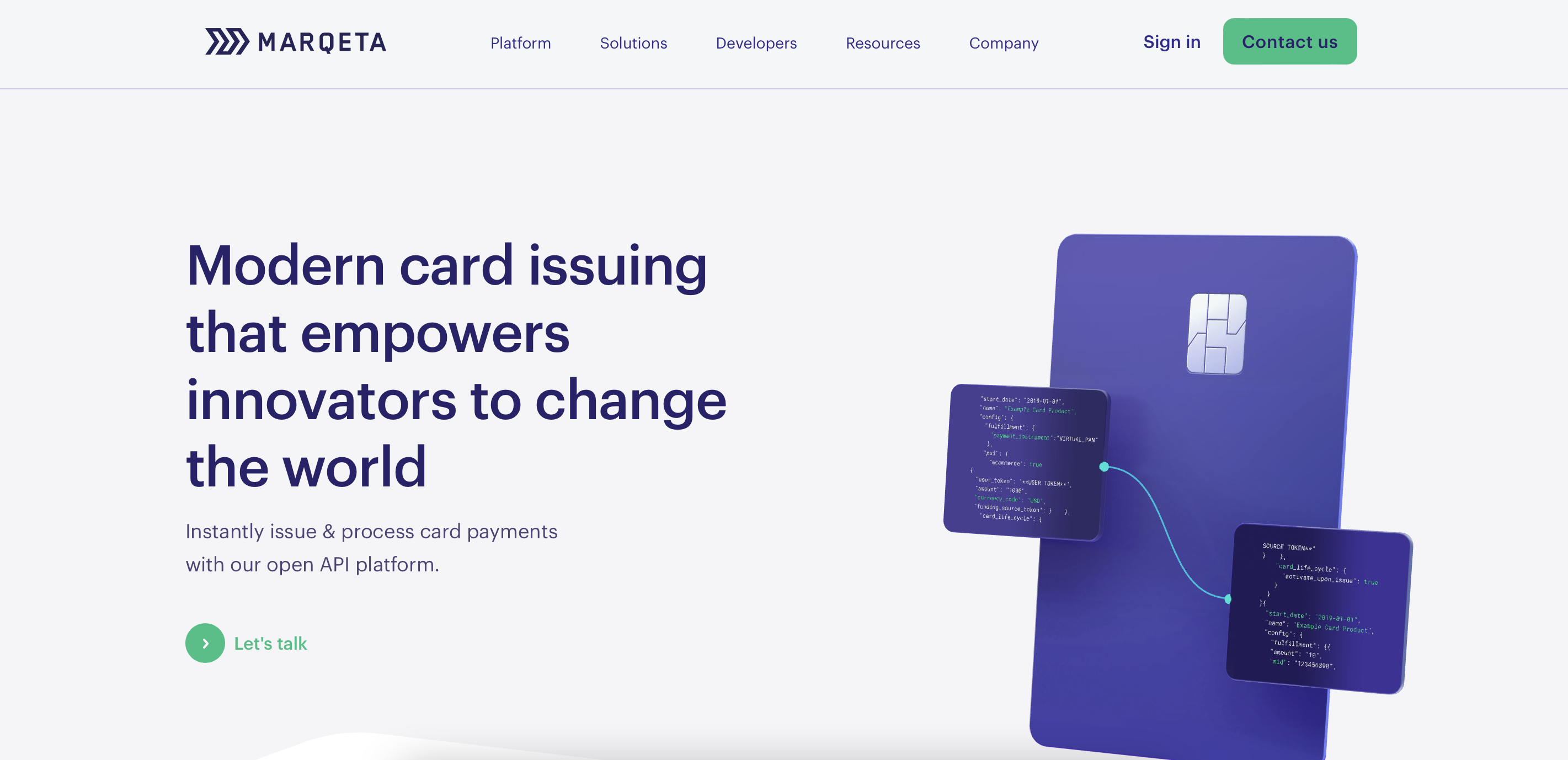 Marqeta is a leading BaaS provider specializing in card issuance and payments. Their modern infrastructure enables businesses to issue and manage custom payment cards efficiently. Marqeta serves industries like FinTech, eCommerce, and on-demand services, offering real-time authorization, programmable payment controls, transaction insights, and robust developer support.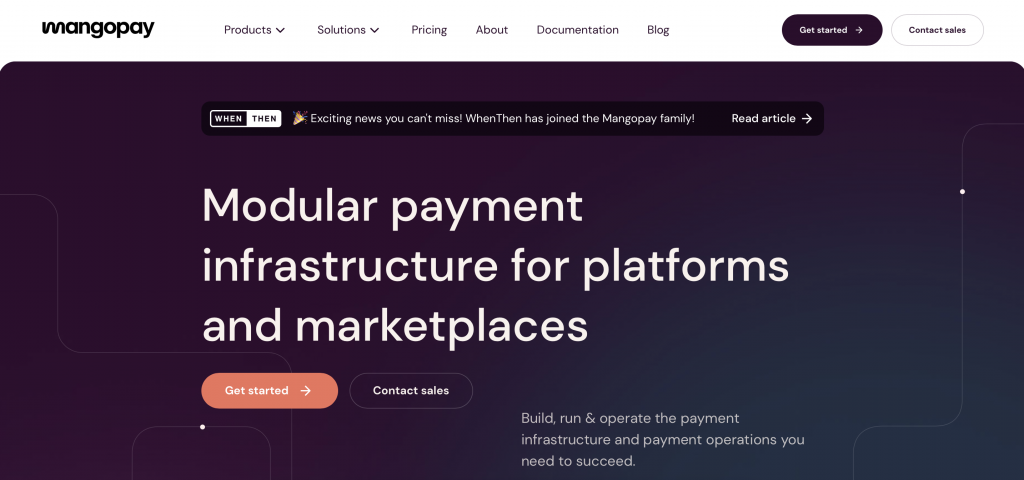 Mangopay provides BaaS solutions tailored explicitly for B2B, B2C, and C2C marketplaces, crowdfunding platforms, and online retail businesses. It facilitates secure payment flows and fund management, offering such critical features as virtual IBANs, white-label payment solutions, and e-wallets.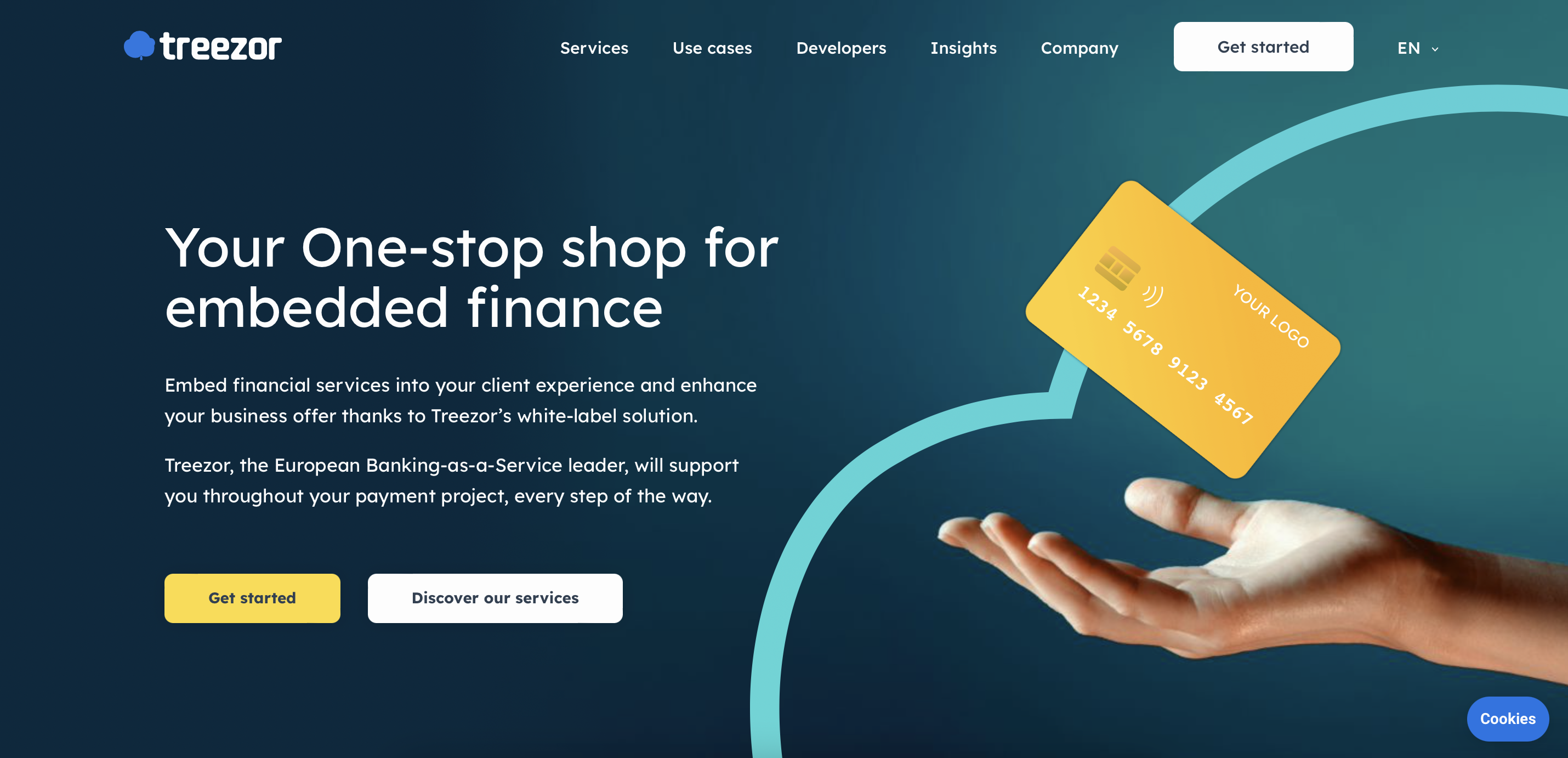 Treezor is a European BaaS provider that offers a comprehensive range of banking services, including payment processing, e-wallets, card issuance, and KYC compliance. Their solutions work well for financial institutions, mobility, neobanks, and employee benefits.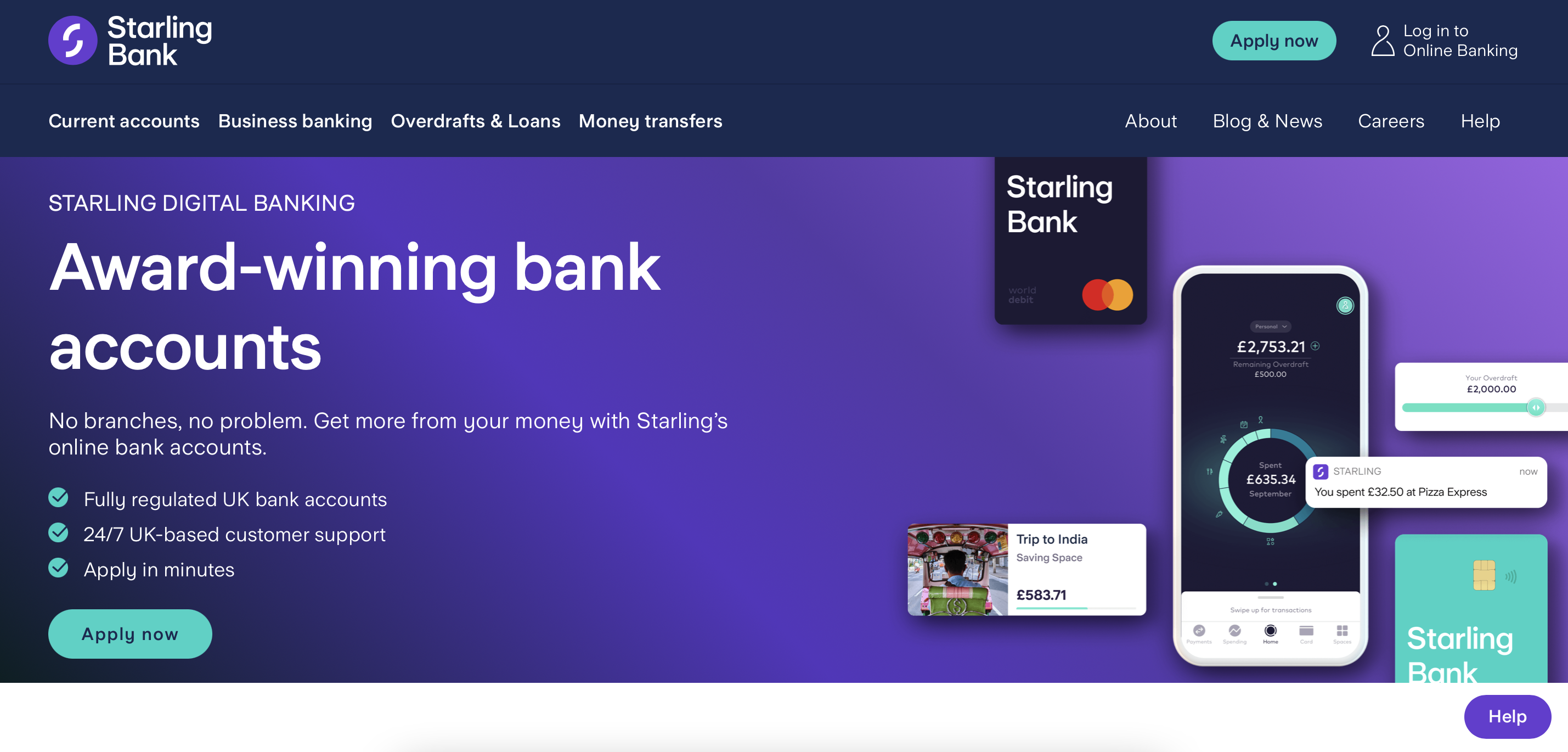 Starling Bank is a digital bank that provides BaaS capabilities through its banking platform. They offer payments, bank accounts, and cards to businesses in FinTech, marketplaces, and accounting software. Starling Bank's advantages include its user-friendly interface, developer-friendly APIs, and full banking license.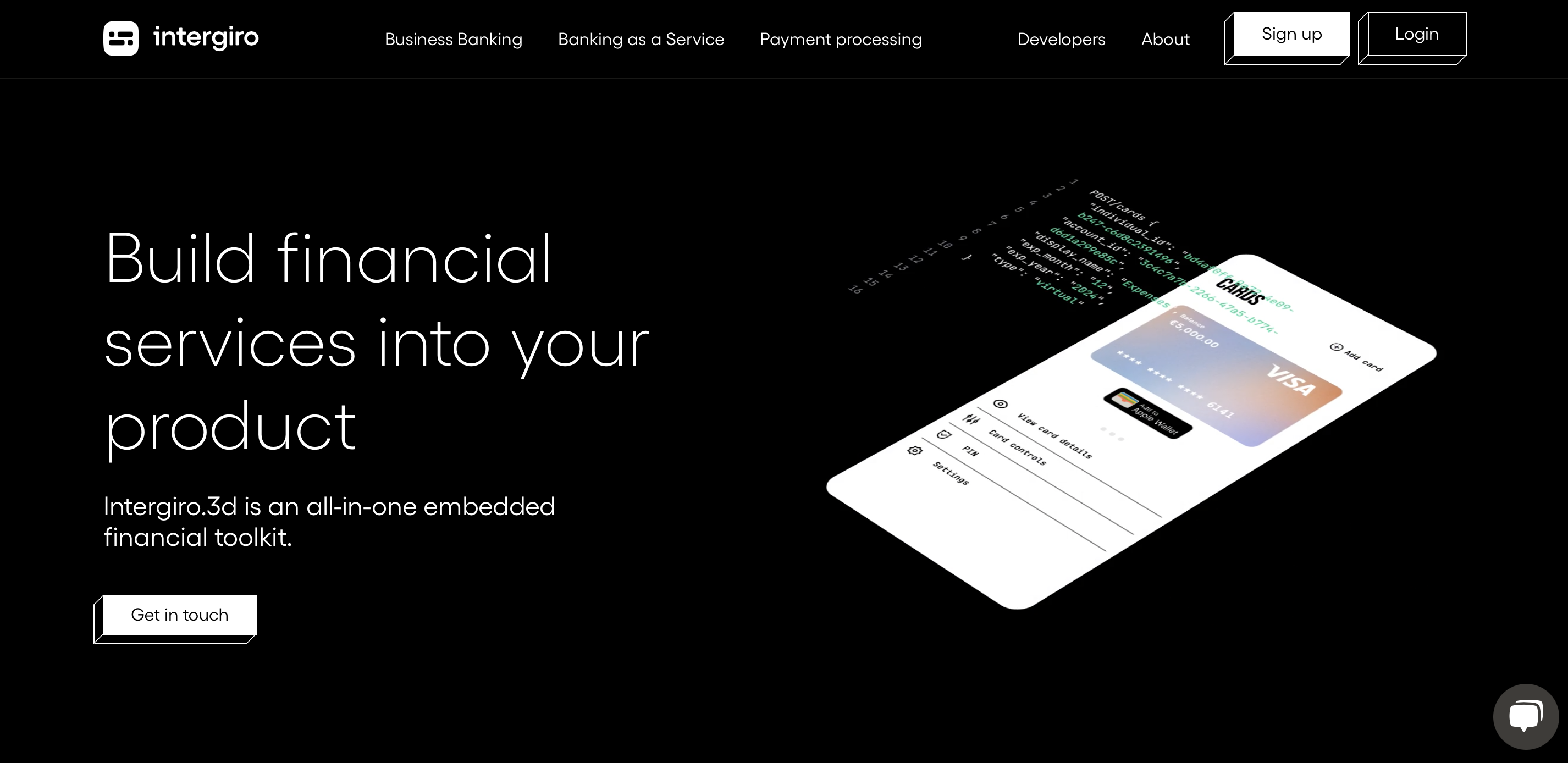 Intergiro is a BaaS provider that targets startups and established businesses in retail, neobanking, and crypto. Their platform offers features like smooth onboarding, multi-currency accounts, payment processing, and analytics.
Mercuryo focuses on providing cryptocurrency-related BaaS solutions. They offer a range of features, including payment processing, fiat and cryptocurrency exchange, scam protection, and regulatory compliance. Mercuryo supports multiple cryptocurrencies and blockchains and partners with such crypto wallets as MetaMask and Trust Wallet.
You may also be interested in learning about one of WeSoftYou's projects in the cryptocurrency and blockchain industries, a crypto exchange platform NDAX.io.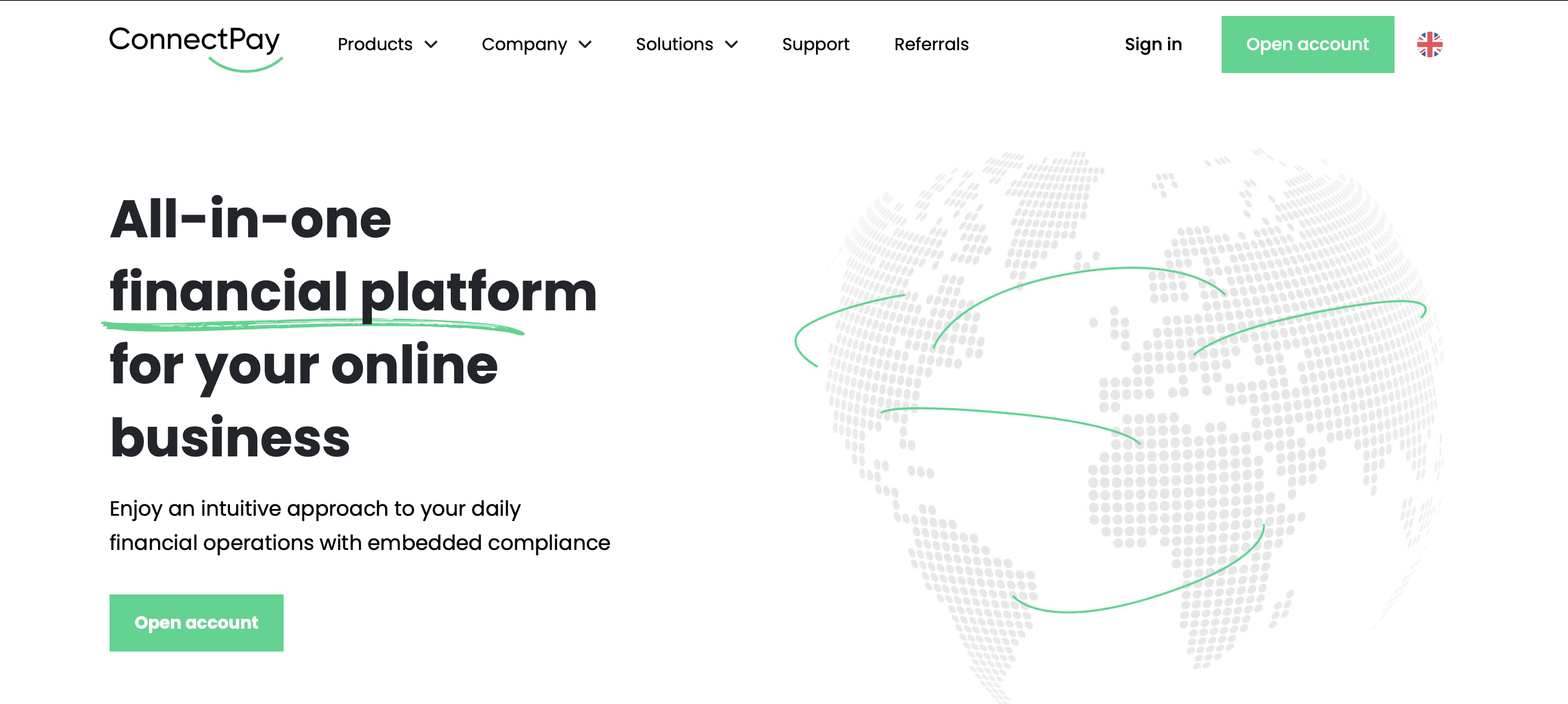 ConnectPay is an all-in-one BaaS platform that caters to FinTech, eCommerce, marketplaces, and online gaming businesses. Their solution offers such services as multi-currency accounts, payments, and card acquisition. It also provides an efficient onboarding process, competitive pricing, and a strong emphasis on security.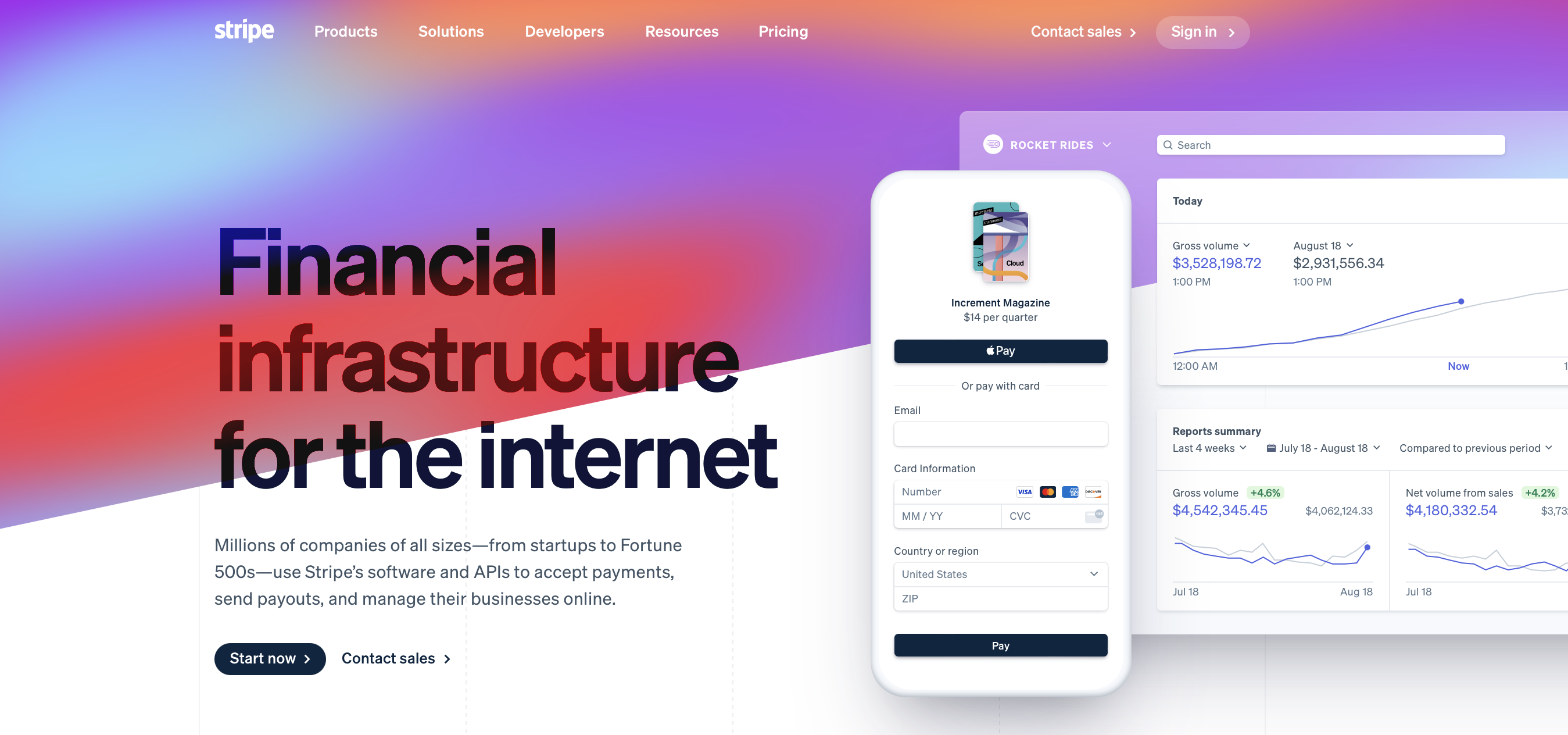 Stipe is a well-known financial infrastructure provider with numerous use cases, including eCommerce, SaaS, marketplaces, crypto, and global businesses. It features payments, subscription billing, business financing, and card issuance. The platform also offers extensive documentation and developer-friendly APIs.

ClearBank is one of the top Banking as a Service API providers offering robust banking services for integration. Focusing on security and regulatory compliance, it caters to industries like FinTech, payments, digital banking, and eCommerce. Its scalable solution empowers businesses to enhance their offerings and deliver a seamless banking experience to customers.
How to Choose a BaaS Provider: Factors to Consider
Each of the above BaaS providers brings its unique strengths and offerings. But when choosing one, businesses must carefully evaluate several factors. Let's explore them in detail:
Business Needs
Assess your business requirements and objectives before choosing a BaaS provider. Consider the financial services you aim to offer, the industries you cater to, and the level of integration required, and ensure the vendor's offerings align with those.
Budget and Pricing
Evaluate your budget and analyze the pricing models your potential BaaS providers offer. Consider setup fees, transaction costs, and ongoing maintenance charges. Also, compare the pricing structures of different providers to find the one that provides a cost-effective solution without compromising the required functionality and quality.
Regulatory Compliance
Verify the BaaS provider's licensing, regulatory compliance, and adherence to industry standards. You may also want to ensure they have the necessary permissions to operate in your target markets.
Security
Security is vital when dealing with financial services. Thus, assess the BaaS provider's security measures, including data encryption, authentication protocols, and intrusion detection systems. Evaluate their track record in preventing security breaches and their commitment to data protection to safeguard your business and customer data.
Scalability
Consider your business growth potential and evaluate whether the BaaS provider can handle your scalability needs. You should also confirm their infrastructure can handle increasing transaction volumes, user growth, and additional features as your company expands.
Customer Support
Reliable and responsive customer support is crucial when partnering with a BaaS provider. Evaluate the provider's support channels, response times, and expertise. You want to look for a vendor that offers a prompt resolution of any issues or technical challenges.
Customization Options
Examine the customization level the BaaS provider offers. Your financial services may require specific branding, user interface customization, or integration with existing systems. A flexible vendor that allows extensive customization will help you create a tailored user experience that reflects your brand.
And here are several more tips. Take the time to evaluate multiple providers, request demos or trials, and seek recommendations from industry peers to ensure the best possible fit for your BaaS requirements.
Top BaaS Providers: Successful Case Studies
Do you want to create a mobile bank app or power your online store with payment options? In this case, it's critical not only to choose the right BaaS provider but also to explore real-life examples of implementing BaaS solutions. Here are some case studies:
Case Study #1: Lyft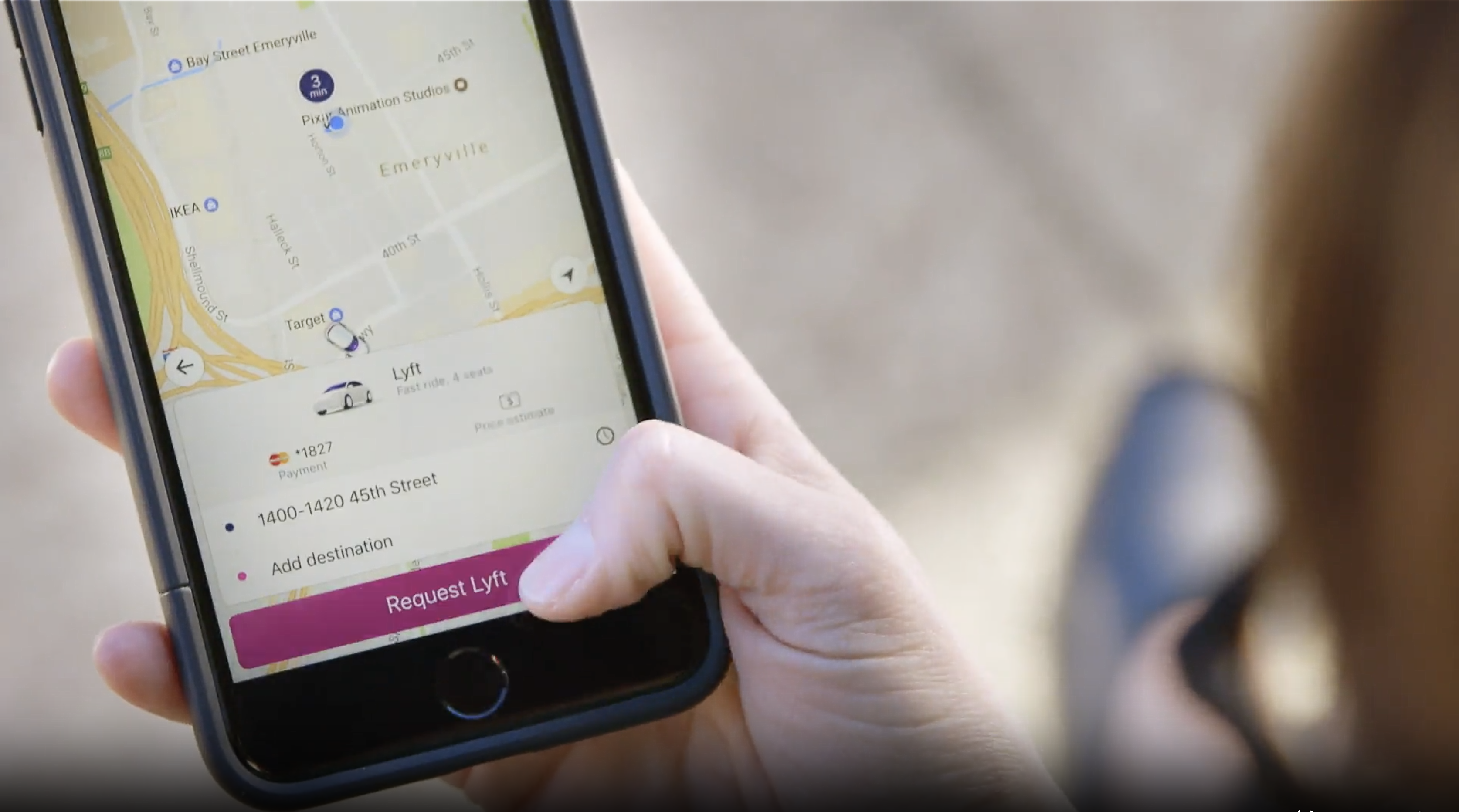 As a leading ride-sharing platform, Lyft needed a seamless and secure payment solution to handle transactions at scale across different markets. They required a flexible payment infrastructure that could integrate with their app and provide a smooth payment experience for both drivers and passengers.
That's why Lyft partnered with Stripe. The ride-hailing company accessed a reliable and scalable financial infrastructure by integrating Stripe's APIs into its platform.
With Stripe's BaaS solution, Lyft successfully processed millions of transactions securely. Stripe's advanced fraud prevention measures ensured secure payments, while their international support allowed Lyft to expand its services to various countries. On top of that, over 40% of all Lyft payouts were made through Stripe's Express Pay feature.
Case Study #2: Kiabi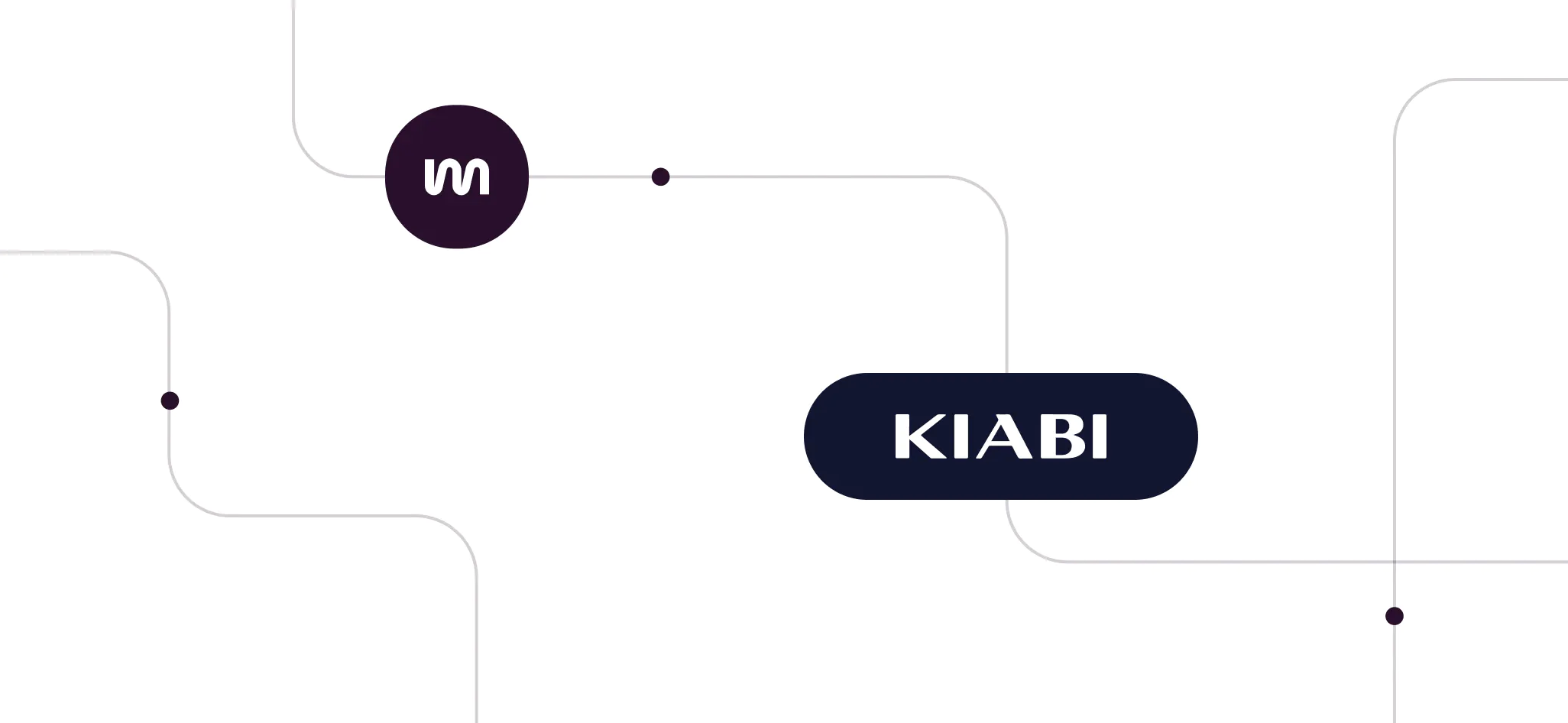 Kiabi, a popular fashion retailer operating internationally, sought to enhance its customers' shopping experience by offering seamless online payments, secure transactions, and efficient refund processes. They needed a reliable BaaS solution to handle complex payment flows, ensure regulatory compliance, and provide a user-friendly interface. As a result, Kiabi partnered with Mangopay, the best BaaS for marketplaces and eCommerce.
By leveraging Mangopay's BaaS APIs, Kiabi significantly improved its online payment processes and customer satisfaction. Mangopay's integration allowed the retailer to offer multiple payment methods, ensuring a convenient shopping experience for clients. The robust payment infrastructure also facilitated secure transactions, reducing the risk of fraud.
Case Study #3: Vivid Money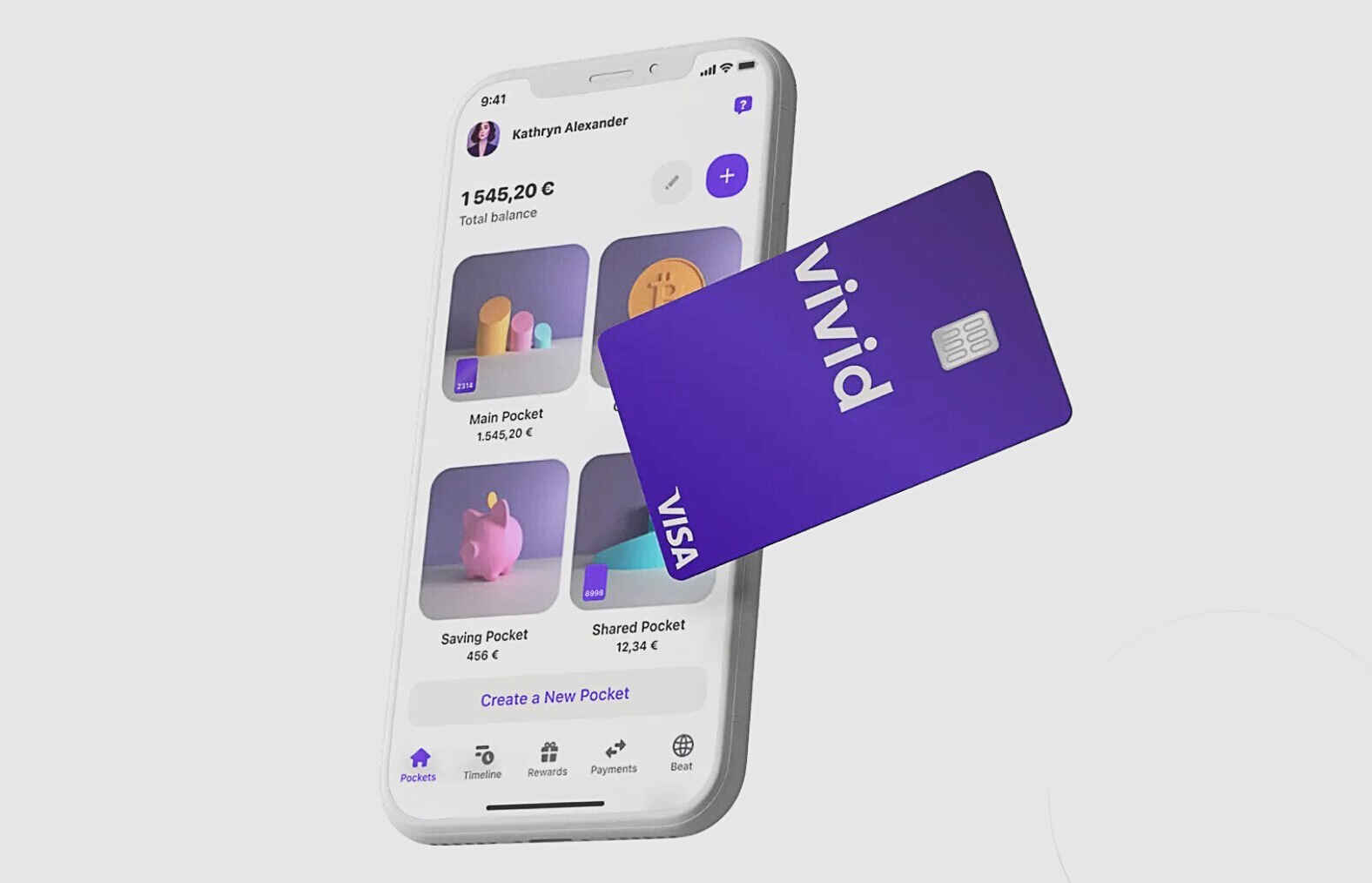 Vivid Money, a FinTech startup aiming to offer a modern and comprehensive banking experience, faced the challenge of building a secure and scalable banking infrastructure from scratch and applying for a banking license. They decided to leverage the BaaS services to comply with regulations and provide core banking functionalities.
Thus, Solaris offered Vivid Money an all-in-one banking infrastructure solution. That included numerous sub-accounts, multi-currency accounts, unique IBANs, and investment tools. The BaaS vendor also provided a cloud-based API infrastructure for scaling capabilities. With the help of Solaris, Vivid Money could issue credit cards with their branding as well.
By leveraging Solaris's BaaS solution, Vivid Money successfully launched its neo-banking platform, offering customers to pay with over 100 supported currencies. Robust APIs allowed Vivid Money users to open accounts and manage their finances seamlessly through the app. The partnership with Solaris enabled Vivid Money to rapidly scale its operations, attract a large user base, and enter four European markets in just a year.
Case Study #4: Pixpay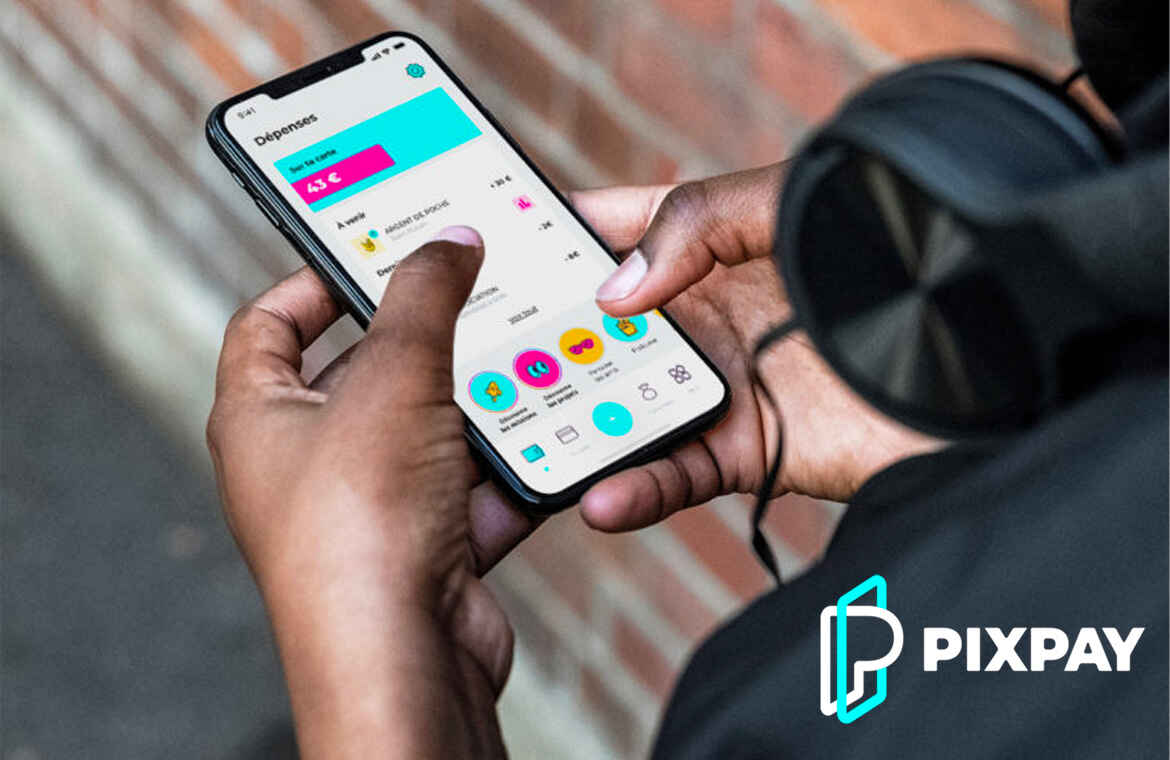 Pixpay aimed to deliver an innovative banking solution tailored for teenagers and their parents. They required a robust BaaS provider that could handle age-specific features, compliance requirements, and seamless integration with their mobile app while ensuring the highest security level.
As a result, Pixpay partnered with Treezor to deliver financial services that cater to young audiences. By leveraging Treezor's BaaS solution, Pixpay launched its neo-banking platform, gathering over 380,000 teenage users, and offered hyper-customization of payment cards. On top of that, Treezor ensured fast time-to-market by implementing their BaaS solution in just six months.
Conclusion
Banking as a Service has revolutionized the financial services industry, enabling businesses to leverage banking infrastructure and payment solutions without extensive development and regulatory hurdles. Yet, choosing a reliable BaaS provider may be a challenge.
Hopefully, WeSoftYou has backed you up with the top Banking as a Service API providers and provided tips on selecting the right one for your business. Evaluate your needs, budget, compliance, security, scalability, customer support, and customization requirements and choose the best fit. Yet, if you are confused about which BaaS vendor will work for your particular project and niche, we've got you covered.
At WeSoftYou, we understand the significance of choosing the right provider and offer profound expertise in the FinTech domain. Our team has extensive experience helping businesses identify suitable BaaS solutions, integrate them seamlessly, and optimize their financial services. With numerous projects like Good Dollar under our belt, we can assist you toward a successful BaaS implementation. All you need to do is to contact our team.
FAQ
Q1: What is BaaS?
Banking-as-a-Service, or BaaS, is a model that allows non-financial businesses to integrate banking and financial services into their applications and platforms using APIs. Owing to this, companies can offer payments, transfers, account management, card issuance, and other features without building their banking infrastructure.
Q2: What are the benefits of BaaS?
The primary advantages of BaaS include reduced time-to-market for financial services, lower development and infrastructure costs, regulatory compliance, and seamless integration with existing systems. Businesses can also benefit from a wide range of banking functionalities while focusing on their core processes.
Q3: What are the top Banking-as-a-Service providers?
Some of the top BaaS providers in the market include Solaris, Railsr, Marqeta, Mangopay, Treezor, Starling Bank, Intergiro, Mercuryo, ConnectPay, and Stripe. They offer a range of banking infrastructure and payment solutions, each with unique features, target industries, and advantages.